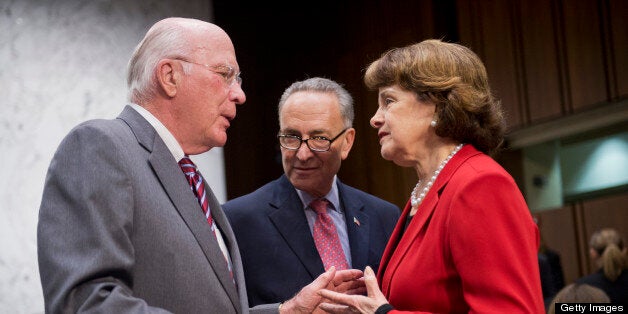 What I have heard after visiting 18 cities in six weeks is that people around the country believe that nothing can happen in Washington, D.C. They are basically right. So I am very grateful today to report the one exception.
On Tuesday, the Senate Judiciary Committee approved a new comprehensive immigration reform bill with a bipartisan vote. Did you hear that: "bipartisan." Amid heartbreaking news of the destruction, grief, and heroism we have seen in Moore, Okla., from one of the worst tornados in American history, millions of Americans found a reason to be hopeful.
This historic immigration bill now goes to the full Senate, where it has a real chance of passing and changing the lives of 11 million aspiring Americans. These are the "strangers" talked about throughout the Bible, and about whom Jesus said, in Matthew 25: how we treat them is how we treat him. That realization has caused a literal biblical conversion in the evangelical Christian community, which with the help of law enforcement officials and business leaders has done the impossible -- changed Washington, D.C.
Self-interests, special interests, and even conflicting principles all put this life-changing proposal in grave danger. But in a town defined by gridlock, a group of eight senators crafted a bipartisan proposal that passed with only minor change. The bill reflects agreements reached by the AFL-CIO and Chamber of Commerce; imagine that. It isn't perfect and no single legislator got everything she or he wanted, but the key elements that many of us have been fighting for are intact. That really is a triumph of the common good.
Sojourners and many others have been clear that immigration reform must include a roadmap to citizenship for aspiring Americans. This legislation would allow millions of people to become full participants in our nation's economy and provide them with a real opportunity in an American future. Congress can both grow our economy AND help our immigrant brothers and sisters by passing this reform legislation.
Now the legislation moves to the Senate floor for consideration by the full body. In another hopeful sign, Republican leader Sen. Mitch McConnell has promised not block it, and he even expressed hope about passing comprehensive reform legislation -- a very encouraging sign.
Now is the time to build on this momentum and keep up the pressure on our political leaders in Washington. Evangelicals are doing this via the Pray4 Reform Challenge, which will involve events across the country featuring pastors and church members praying and acting to help pass this legislation. See our website for details.
I am asking every member of the Sojourners community and all reading SojoMail, everyone who is part of our network, to take action on behalf of passing this very important bill. Here is what you can do to help in the next few weeks.
Dedicate a time of prayer for immigration at your office, school, church, or prayer group.
Organize a "See You At the Pole" style event in which three or more people gather at a flagpole, front of church, courthouse, etc., and ask friends, your local church, or colleagues to join you.
Arrange a prayer meeting with one of your legislators.
Immigration reform may pass in Washington -- despite Washington. If we succeed it will be because of the social movement that has formed about this clear moral and biblical issue and the changing voting demographics that forced Washington to pay attention. These are both very hopeful developments, but the immigration reform bill needs to pass for that hope to be realized.
No matter what other things you care about and other issues you are involved in, I ask you to express your faith convictions and political citizenship on behalf of changing this brutal and broken system and helping to save the lives of 11 million of God's most vulnerable children. It is true: as we treat the strangers is how we treat Christ. And the time to act is now!
Popular in the Community