The Khmer Rouge killed 1.7 million people during their reign in Cambodia from 1975 to 1979. Emad Rahim, born into this disaster, took time to share his journey from the killing fields to the classroom.
Emad started life on a concentration camp, where he witnessed countless murders, including most of his family, before he, his mother, and remaining sister escaped by foot to Thailand. He is the epitome of a survivor; fighting his way to the U.S., through gangs and ghettos of New York, through dyslexia to earn his doctorate, and ending as an award-winning entrepreneur and educator.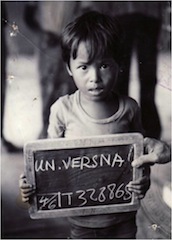 Emad Rahim at refugee camp in Thailand
Emad taught me about resilience, commitment, and mentorship -- three keys essential to the survival of both himself and his career. During an emotional few hours, he exposed the truths behind the well-kempt, hip-looking professional that sat before me.
SURVIVING GENOCIDE
Steve Mariotti: How did you get out of the camps?
Emad Rahim: My mother escaped the camp in the middle of the night. The number of Khmer Rouge guards was decreasing because of the ending war and their own fights and killings. They were starting to execute people faster to get rid of evidence. This is why my mother took the risk of escaping to Thailand with some other families. They walked for days before they reached the border.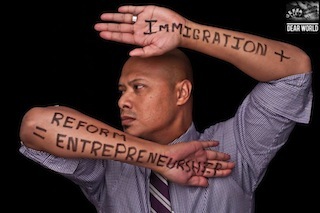 The journey also took the life of a few people; one stepped on a landmine and others died of sickness. I got sick -- some people told my mother to bury me because I looked so pale and was extremely weak. I was crying a lot and people worried that my cries would be heard by the Khmer Rouge.
SM: How did you get to the U.S.?
ER: We were sponsored by several Catholic families from New York. I remember sleeping in churches and staying with different American families when we first arrived to the country. The majority of Cambodian refugees that came to America were sponsored by similar faith-based organizations, charities and families.
SM: What became of your family?
ER: My mother witnessed my father being tortured in the camp and held my older brother in her arms while he died of starvation and sickness. My father was eventually executed -- his entire side of the family was wiped out during the genocide.
In a refugee camp in Thailand, my mother met my stepfather, my younger sister was born, and, my mother adopted my older sister as a teenager. We also took in a young man that would become my uncle.
Six of us came to this country together. My mother and stepfather eventually had my brother and baby sister. My stepfather was extremely abusive to all of us -- we now know he was suffering from PTSD. But when I was 14 years old, his abuse reached a tipping point and we got into a serious brawl. The police got involved and removed him from our house. I have not seen him since.
EXCELLING IN ENTREPRENEURIAL EDUCATION
SM: How did your experiences in Cambodia during the holocaust teach you as an educator?
ER: It taught me that nothing is impossible. It gave me the will to fight and overcome my adversities. Like many refugees that came to this country, we were extremely poor, uneducated, scared. We struggled to sustain what was left of our broken families. To my mother, education was our way out of poverty and violence.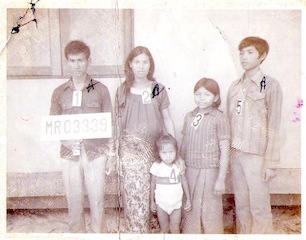 SM: Tell me about your high school and college experiences.
ER: I struggled with dyslexia and was participating in gang activity and putting myself in a lot of dangerous situations in the streets. I found the idea of higher education intimidating and classwork discouraging. My learning disability crippled my self-esteem. After graduation, I went to community college where my struggles continued. I would eventually be placed on academic probation and lose some of my financial aid.
SM: How did you get past the difficulty of high school and community college?
ER: I excelled in my studies when I understood my kinesthetic learning style. Once I understood this and saw tangible results, I became passionate about learning.
I found success when I discovered nontraditional education. At SUNY Empire State College I received guided mentorship and support in my education, and three years later, graduated. I realized that I was not "disabled," but was fully capable, given the right learning environment, support and guidance from the faculty.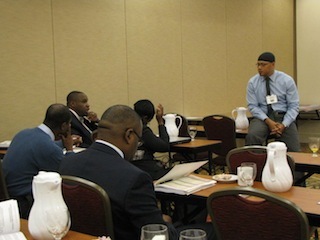 SM: What are you doing now?
ER: At Oklahoma State University, I am an endowed Entrepreneur-in-Residence. I lecturer, mentor entrepreneurship students and teams, assist on technology commercialization projects, support local Entrepreneurship Clubs and faculty projects, and do some community outreach. I am the CLO at Global i365, and support a few startups in South Africa.
At the University of Chicago, I work closely with the local nonprofit community to further develop my understanding and skills in nonprofit leadership.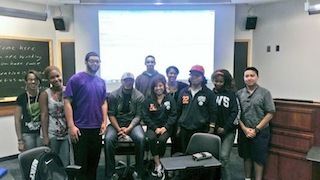 LOOKING AHEAD
SM: What inspires you?
ER: My father's legacy ends with me, and now my daughters. I have no excuse to give up considering what my mother went through to get me here. My strength to move forward is guided by that reality. It is also the reason why I am so passionate and excited to work with young adults and children. I have the opportunity to use my own experience and struggles to motivate others to fulfill their dreams and aspirations.
SM: What are your goals for the future?
ER: I am finishing my biography and a film project. I still have not gone back to Cambodia. Everyone in my family has, except me. I would like to film a documentary of me returning back to Cambodia for the first time and tracing my father's footstep. The documentary would also capture my reunion with my mother's side of the family. I want to use the book and film to inspire and motivate young people -- help them aspire to new goals.
Special thanks to Maya Horgan and Lauren Bailey for helping craft this article.
CORRECTION: A previous version of this post incorrectly captioned the first picture as "Emad Rahim at concentration camp in Cambodia." The picture was taken at a refugee camp in Thailand. The post has been updated to correct this.
Calling all HuffPost superfans!
Sign up for membership to become a founding member and help shape HuffPost's next chapter