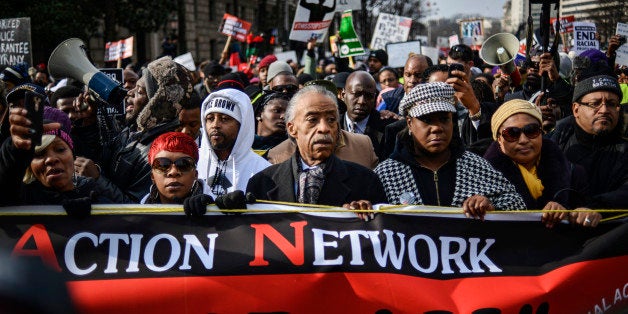 On January 14, thousands will converge in Washington, D.C. as the Dr. Martin Luther King Jr. holiday begins -- just six days before Donald Trump's inauguration. We will rally and put him (and the nation) on notice that there are some things that will not be changed no matter who is president and what party dominates the House and Senate. Protecting the civil rights of citizens and the voting rights of people that have been excluded, providing health care for all Americans and equal opportunity should supersede any of the beltway partisan fights that we are inevitably headed into. Some have given their lives and others dedicated their lives to try to make Dr. King's dream a reality, and now they have added to that mission by preserving the legacy of President Obama. Groups come and go, elections come and go, but some things must remain constant and non-negotiable.
Next month, the family of Michael Griffith will mark the 30th anniversary of the racially charged killing of their 23-year-old son who was hit by a car as he ran from a group of white teens wielding bats and other weapons in the white ethnic neighborhood of Howard Beach, Queens. I was among the leadership mobilizing and bringing justice in that horrific incident that led to the imprisonment for those responsible, and began a series of high profile cases for justice that I and National Action Network (NAN) have been involved with for over a quarter of a century. But at the same time that we were marching for accountability for Griffith's death, and later for Yusef Hawkins' death (killed by a white mob in Bensonhurst, Brooklyn), Donald Trump was fighting and ultimately settling with the federal government over charges that he and his father were discriminating/excluding certain groups from their buildings and properties -- precisely what we were talking about and fighting against.
In the late '80s, while we were working to ensure the presumption of innocence of five Black and Latino men falsely accused of the rape of a white female jogger in Central Park, Trump was busy buying full-page ads in several major newspapers calling for their execution. Over the years, I've seen him try to befriend us, but we never forget and never will let him forget that we saw his core beliefs and his capacity to play to the worst elements in his home borough, in his home city. I don't know what Trump really believes, but I do know his record. I've said to my fellow activists -- from millennials to NAN members to the elders in Black ministry -- that we are uniquely positioned to deal with this urban/business/entertainment New York persona who will now be President of the United States because we've had to deal with him and that persona our entire lives.
Rudy Giuliani, who is reportedly a leading candidate for Attorney General, was mayor of New York City when we had to grapple with the police killing of unarmed Amadou Diallo, as well as the assault, rape and sodomy of Abner Louima. While we were successful in getting those officers responsible prosecuted after mass mobilization and protests, we cannot underscore the dangerous climate that permeated the City and left many in the Black and Latino community fearful and marginalized. Giuliani as mayor did nothing to assuage those fears, and instead exacerbated them by both his rhetoric and actions. We will never forget.
We are now going into an era where we don't have graphic pics of southern sheriffs, but what we do have are those kinds of New York entertainment-types fanning the flames and catering to blue collar Staten Island America which is why we are prepared to fight because we have spent most of our lives fighting this before and won. This isn't about partisan politics; we are simply telling President-elect Trump that we won't compromise on certain basic values that Dr. King and others gave their lives for just because we were not successful during this election. We may have lost, but we have not lost the ethics and commitment America has to the principles of civil and human rights for all.
Trump says to give him a chance; we will and always have. But he cannot deny that every time since the '80s, he used that chance to stand on the other side of the issue -- issues that are important to us. I hope he grows, and I hope he can emerge differently but we will not wait and we will set an atmosphere that will aid that growth by our mass action and constant vigilance. Dr. King once said that there are two types of leaders: thermometers that judge the temperature in the room, and thermostats that change the temperature in the room. As one that has faced the Trumps and Giulianis for three decades, I know that the only way to make them grow or sweat is to change the climate. We're ready.
Calling all HuffPost superfans!
Sign up for membership to become a founding member and help shape HuffPost's next chapter