One of the most tired clichés in Supreme Court lore is the idea that today's dissents are tomorrow's majorities.
It's a thing. Ruth Bader Ginsburg knows it.
Dissents are often lonely, loud and legally insignificant. The person dissenting is hardly celebrating. On occasion, the dissent may offer a call to action, or maybe a few words of guidance for lawyers, lawmakers and legal minds wanting to try new things or bring about reform. Dissents may get quoted for clicks; at worst, they fall on deaf ears.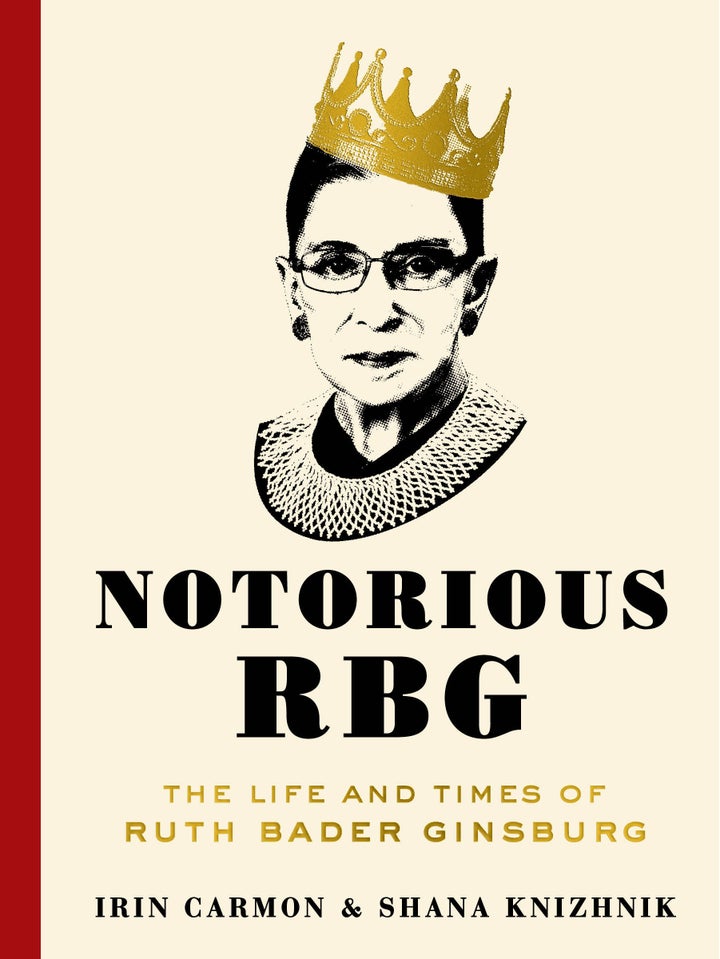 That's not to say that Carmon and Knizhnik have written a dry legal book, let alone a treatise on equal-protection jurisprudence -- though the text has enough law, case citations and even substantive annotations to some of Ginsburg's most notable writings to give you a solid sense of where she stands on the issues that matter to her.
No. At heart, Notorious RBG is a shrine. Open it at a random spot, and you'll find an unabashed, adoring tribute to Ginsburg, whom Carmon in no uncertain terms describes as someone who "has been extraordinary all her life."
Carmon and Knizhnik are self-professed #millennials, and so they styled the book as their generation would -- part biography, part coffee-table book, and part casebook brought to life with interviews, illustrations, charts, memes and fan art. If the written page could play an RBG rap, it'd be in the book, too.
Notorious RBG is a colorful reimagining of a Tumblr page Knizhnik created in 2013, while she was still in law school at NYU. The site is in many ways a kind of pop-art compendium honoring Ginsburg, relying on submissions and link-outs from across the country to show the ways the diminutive, 82-year-old justice has inspired young women -- and men -- to do great things.
The big irony of Notorious RBG is that, for all its exuberance, it's also rooted in the notion of Ginsburg as the Supreme Court's great dissenter. The book and the Tumblr page both trace their origins to a dark moment in the law: the near-death of the Voting Rights Act of 1965, which a conservative Supreme Court all but destroyed in 2013 by insisting "things have changed dramatically" since its passage during the civil-rights era.
That woeful decision, Shelby County v. Holder, drove Knizhnik to start the Tumblr and other young people to share what Ginsburg had to say in the case -- a dissent so scathing it merited both a written opinion and an oral courtroom rebuttal to Chief Justice John Roberts, who stopped short of announcing that racial animus toward minority voters no longer existed.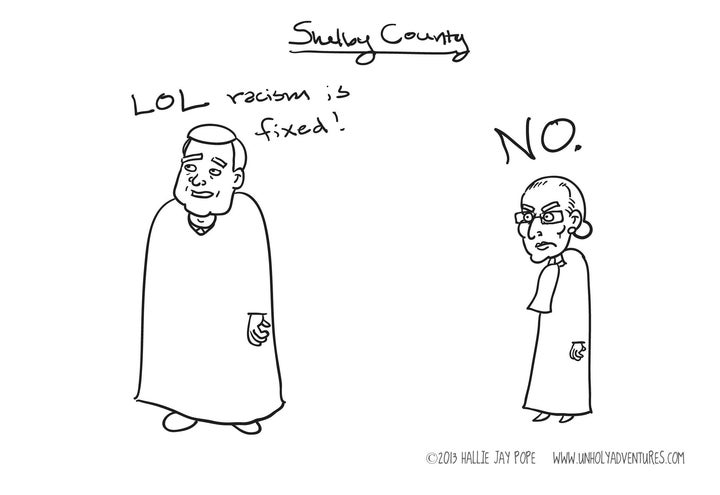 "Hubris is a fit word for today's demolition of the VRA," Ginsburg wrote at the time. But Carmon adds this bit of inside baseball, which is known only to those who care about the law and are familiar with the justice's flashy ways: "Look around her neck. When the jabot with scalloped beads glitters flat against the top of RBG's black robe, it's bad news for liberals. That's her dissent collar."
And from there, Carmon -- she wrote the words and did the reporting, while Knizhnik contributed more reporting and curated the visuals -- takes us through all the moments Ginsburg had to stand up and dissent. As a young wife and mother trying to navigate the patriarchal culture at Harvard Law School and the legal profession more generally. As a caretaker to her husband, Marty, when he had cancer. As a law professor at Rutgers and later Columbia. As she laid the groundwork for equal recognition of women under the law in cases like Reed v. Reed. As she rose to the podium to argue a landmark case before the Supreme Court. As she ascended to the bench after decades as a noted law professor and civil-rights lawyer.
All of those milestones came with obstacles no men at the time faced. Gender discrimination was part and parcel of Ginsburg's journey, and she faced it and even beat it in court with grace, gentleness and small, incremental steps.
In this respect, Notorious RBG paints a different picture from the radical tattoos and Instagram shots Ginsburg's admirers upload to the Internet. As Carmon's retelling of the justice's life and times makes clear, her dissenting ways haven't been so much loud protestations, but stately and elegant nudges aimed at bending the law towards progress slowly, one case at a time.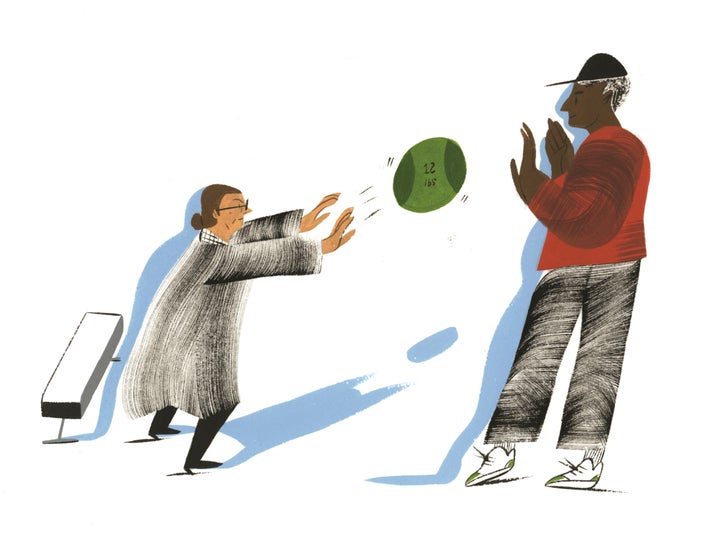 Sometimes the nudging has been effective, as when Ginsburg dissented in Ledbetter v. Goodyear Tire and Rubber Company -- effectively throwing the ball at Congress to fix the Supreme Court's retrograde reading of Title VII of the Civil Rights Act of 1964, making it harder for women to sue over discrimination in the workplace.
With a Supreme Court poised to lurch further rightward in its current term and a slew of cases threatening to undo the very victories Ginsburg has spent a lifetime on, Notorious RBG -- for all its fun and levity -- is also a grim reminder of all the heavy lifting she still has to do. Her work here is far from done.
Calling all HuffPost superfans!
Sign up for membership to become a founding member and help shape HuffPost's next chapter