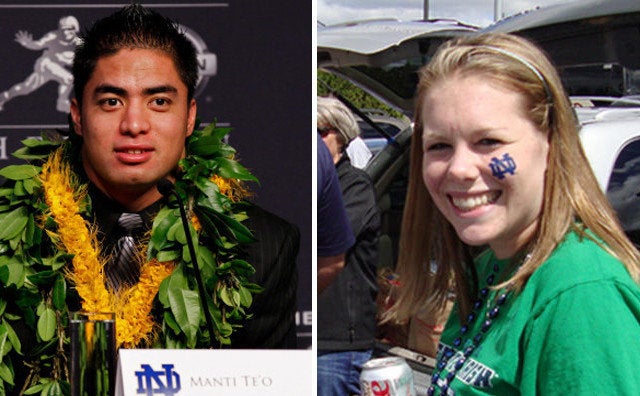 University of Notre Dame administrators showed greater concern to the news that Manti Te'o's girlfriend and her death were a hoax than when they learned a real student committed suicide 10 days after accusing a university football player of sexually assaulting her.
Lizzy Seeberg, 19, was a freshman at Saint Mary's College in Notre Dame, Ind., when she said she was sexually assaulted Aug. 31, 2010, by a Notre Dame player in his room, according to the National Catholic Reporter. The day after the attack, Seeberg reported the assault in a handwritten statement to campus police. In the days that followed, a friend of the player sent her text messages, including one that warned, "Messing with Notre Dame football is a bad idea," according to National Catholic Reporter. Seeberg killed herself Sept. 10 of that year.
A detective "waited to speak to the accused because that is the school of thought he subscribes to in investigative work, much as a journalist will wait to speak to the target of an investigative exposé until the end," university spokesman Dennis Brown told The Huffington Post Thursday in an email. "Yes, we could have acted a bit more quickly, but we believe it was better to be thorough than fast in order to avoid the rush to judgment that has taken place in other high-profile cases."
In Te'o's case, Notre Dame administrators said they hired private investigators to look into the player's fake Internet girlfriend after T'eo reported discovering the hoax. At a Notre Dame press conference on Wednesday, athletic director Jack Swarbrick wept while publicly supporting Te'o, a few hours after the website Deadspin exposed the fakery.
Brown insisted the university acted no differently in the two cases. Brown said there was no cover-up, and Seeberg was not ignored "in any way." He said Notre Dame investigated the attack as soon as Seeberg reported it and shared the information with the prosecutor's office.
"The county prosecutor has seen all of the evidence and not only decided against filing charges, but also stated in his December 2010 news release that Ms. Seeberg's story was in 'conflict' with the accounts provided by the accused student and two students who were with them that night, including a friend of hers, and that her story was 'inconsistent' with cell phone records," Brown said.
"We will not suspend a student based on an allegation, and certainly won't suspend one when the evidence supports his story, as the prosecutor stated," Brown added.
Brown said there has been an "impression" that Seeberg was raped. "In fact, it was an allegation of touching above the waist," Brown said. "He says it was consensual. She says it wasn't."
The football player accused by Seeberg was never publicly named. His lawyer, Notre Dame alumnus Joe Power, told National Catholic Reporter that Seeberg's story was a "complete, phony lie" designed to ruin the student's good name.
A university hearing completed in February 2011 concluded that the student was not responsible for violating the university's sexual misconduct policy and, as a result, no disciplinary action was taken. St. Joseph County Prosecutor Michael Dvorak had previously declined to charge the athlete.
Seeberg's parents, Tom and Mary, issued a statement after the school's hearing, calling the news "not at all surprising." They said Notre Dame's investigation into their daughter's complaint was "wholly inadequate."
Related
Popular in the Community