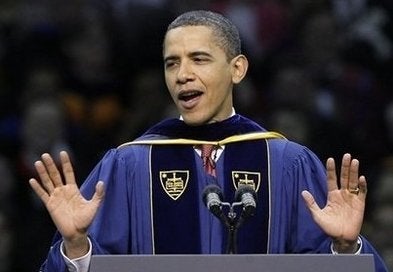 President Obama told Americans that he would be pushing for more transparency in government. Today his administration really took on that call by including a protester's shout in the official transcript of the President's Notre Dame speech. The transcript was emailed to the press after the speech.
In the run up to the speech, news reports highlighted protests by anti-abortion activists who disapproved of the Catholic university's invitation to the pro-choice Obama. While the numbers of protests were small compared to the attention they received, White House Press Secretary Robert Gibbs noted on Friday that the President would acknowledge the controversy in his speech. The President did so by calling for common ground on the issue of abortion. He also asked that people "do so without reducing those with differing views to caricature."
For the White House to acknowledge a protester in an official transcript really highlights the controversy, giving a heckler, temporarily, the same volume as the President. On the flip side, the reaction to the heckler was also included in the emailed transcript. The chorus of "Yes, we can!" and "We Are ND!" carried forth the stronger message that the President received a huge, warm welcome from the student body. Perhaps, by showing the reaction of many to one protester, the White House was able to show how much smaller the group of dissenters was compared to those who were open and excited to listen to the President.
See the partial transcript below:

THE WHITE HOUSE
Office of the Press Secretary
_________________________________________________________________
For Immediate Release May 17, 2009

REMARKS BY THE PRESIDENT IN COMMENCEMENT ADDRESS AT THE UNIVERSITY OF NOTRE DAME

University of Notre Dame
South Bend, Indiana

3:06 P.M. EDT

(this is excerpted from below the third paragraph in the speech)

THE PRESIDENT: I also want to congratulate the Class of 2009 for all your accomplishments. And since this is Notre Dame --

AUDIENCE MEMBER: Abortion is murder! Stop killing children!

AUDIENCE: Booo!

THE PRESIDENT: That's all right. And since --

AUDIENCE: We are ND! We are ND!

AUDIENCE: Yes, we can! Yes, we can!

THE PRESIDENT: We're fine, everybody. We're following Brennan's adage that we don't do things easily. (Laughter.) We're not going to shy away from things that are uncomfortable sometimes. (Applause.)

Popular in the Community