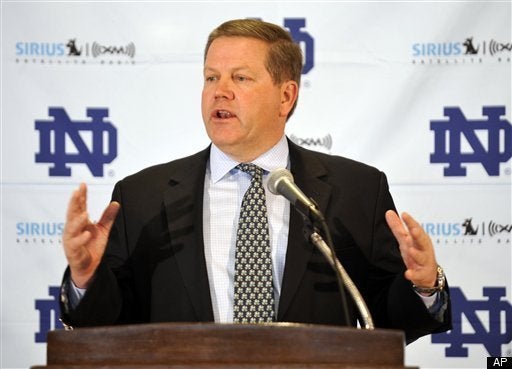 The University of Notre Dame football program is coming under intense scrutiny for its handling of an allegation of sexual abuse that may have led to a young girl's suicide.
Lizzy Seeberg, a 19-year-old freshman at neighboring St. Mary's College, apparently told Notre Dame police that she had been sexually attacked by a football player in early September. Nine days after the report, Seeberg overdosed on prescription medication in her room in what authorities believe to be a suicide.
After an important win over Army at Yankee Stadium Saturday, Notre Dame football coach Brian Kelly was confronted with questions about the university's handling of the situation.
''From my standpoint, as the head football coach, I think it was made clear that the university is going to deal with any matters of this nature,'' Kelly said Sunday in a teleconference with reporters. ''One of the reasons why I came to Notre Dame is I have the same standards that our university does.

''That's all I can give you relative to the specifics. We're going through that process. I don't want to be short or seem as though I have canned answers because I don't, other than that I know the university has a process in place for things of this nature.''

Frustrated with a seeming lack of progress, Seeberg's parents have hired a federal investigator to look into Notre Dame's handling of the incident.
School spokesman Dennis Brown told the Tribune that the university police are working "closely and collaboratively with local law enforcement agencies, including the St. Joseph County Prosecutor's Office."
But so far the athlete hasn't been charged with any crimes. As such, his name hasn't been made public, and he has refused requests to comment on the matter.
Seeberg's isn't the only tragic death around the Notre Dame football program this year. Last month, 20-year-old junior Declan Sullivan was filming a team practice from a video tower when it collapsed, and Sullivan fell to his death.
Calling all HuffPost superfans!
Sign up for membership to become a founding member and help shape HuffPost's next chapter