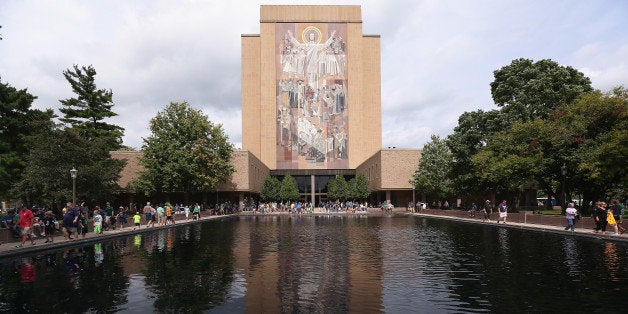 The University of Notre Dame, which the documentary "The Hunting Ground" prominently accuses of botching rape cases, is the subject of a U.S. Department of Education civil rights investigation into complaints that sexual harassment victims were tormented by the school's bewildering system for handling sex cases.
The Catholic university, which on Friday plans to screen the documentary on its campus in South Bend, Indiana, has been under investigation by the department's Office of Civil Rights for nearly two years, and hasn't publicly disclosed the probes. Two 2013 filings, obtained by The Huffington Post, portray the school's complaint process as a confusing mire of inaccurate information and dodged responsibility, bouncing victims along for months without explanation.
Notre Dame has called "The Hunting Ground" inaccurate and says the film fails to acknowledge the school's efforts to combat sexual violence. The film highlights the case of Lizzy Seeberg, a student at nearby Saint Mary's College who committed suicide in 2010 after reporting that a Notre Dame football player violated her. "The Hunting Ground" argues that Notre Dame didn't promptly investigate Seeberg's case, and that campus police officers were told not to contact football players.
Notre Dame released a statement before the film's showing, praising discussions generated by documentary. But the school said the film is "wrong in unsupported and inaccurate assertions that the university sought to suppress crime statistics and shield athletes from investigators."
Notre Dame did not respond to request for comment about Department of Education investigation. The students involved in the complaints asked to remain anonymous to avoid retaliation.
The revelation that Notre Dame is under federal review shows that the Education Department is investigating many more U.S. colleges and universities for their handling of sexual harassment than was previously known. The department's Office of Civil Rights had said previously that it is investigating the handling of sexual assault cases at 105 colleges and universities.
But Notre Dame hasn't appeared on the department's list because the tally only notes investigations involving sexual assault -- and not sexual harassment. The Education Department confirmed Thursday that its Office of Civil Rights is investigating 137 colleges and universities for their handling of either sexual violence or sexual harassment cases.
Both complaints allege that Notre Dame failed to thoroughly investigate sexual harassment cases, and that victims struggled to get officials to explain the process. Multiple officials weren't clear on what constituted retaliation under Notre Dame policies, and students reporting sexual harassment were sent in different directions to report their concerns, the complaints allege.
One student said she was told she hadn't made a formal Title IX complaint after she had emailed details of several incidents to three administrators. Administrators promised to investigate one academic department based on a student's testimony, according to the complaints, but then decided not to proceed.
One of the complaints alleges that the school's Title IX coordinator told a student she had never dealt with a student-on-student sexual assault case. The administrator also was said to have asserted that Notre Dame wasn't bound by 2011 Education Department guidance on sexual violence because it was "opining on what in an optimal universe, universities would do."
The Office of Civil Rights concluded a similar probe of Notre Dame in 2011, saying the school had "not always clearly instructed as to the processes that would be followed after a report of sexual misconduct or sexual assault was made." The lack of clarity served as "a source of confusion" for victims, the probe concluded. The university told federal officials at the time that it would ensure its policies and procedures reflected the Education Department's 2011 guidance.
Responding to the university's statement criticizing his film, Kirby Dick, the Academy Award-nominated director behind "The Hunting Ground," said the complaints against Notre Dame show that the school's improvements have been insufficient.
"Interviews with more than two dozen sources including current and former students, current and former employees as well as parents confirm that Notre Dame has a history of mishandling sexual assault cases, discouraging survivors from reporting and shielding athletes from investigators, all of which suppress crime statistics," Dick said.
Dick said he applauds Notre Dame for screening the "The Hunting Ground" on its campus and hopes the film spurs "the reforms needed to best protect students."
Support HuffPost
The Stakes Have Never Been Higher
Related
Popular in the Community