San Francisco's a funny place.
You think you know the city, and then you take a right turn through a door you've walked past a million times and suddenly you're in a world you never even knew existed.
Take, for example, the nondescript archway on the south side of Hayes Street between Van Ness and Franklin. Step inside and you'll be greeted with an unexpected sight--one of the city's finest theaters, sitting tragically unused for decades, soon to return its former splendor.
Facing the extended closure of its current home at the Herbst Theate inside the War Memorial & Performing Arts Center, venerable San Francisco institution City Arts & Lectures is taking on the ambitious project of restoring the Nourse Auditorium to serve as its permanent home base.
Despite what its Beaux-Arts design, soaring proscenium and regal hanging chandeliers might suggest to a modern eye, the 1,800-seat Nourse Auditorium began life as the in-house theater of San Francisco's Commerce High School in 1927.
When the high school closed in the 1950s, it no longer played host to school plays and weekly assemblies. Rather, it became a top cultural destination for performing arts organizations to put on events. City Arts & Lectures founder Sydney Goldstein remembers coming to the Nourse as a girl to see performances by Pete Seeger, Allen Ginsberg and the Pickle Family Circus.
It functioned as a standard performing arts space until the 1980s, when San Francisco Superior Court Judge Ira Brown was looking for a suitable venue for what the the Los Angeles Times once called "the largest and most complex trial in the history of California...perhaps the United States."
At the time, the city didn't have a courtroom that could accommodate a trial of that magnitude, so $210,000 was spent converting the Nourse into a makeshift courthouse. The trial lasted two years and, after its conclusion, the theater fell into disuse.
The rest of the old high school remained in use as offices for the San Francisco Unified School District; however, the Nourse became nothing more than a storage facility. The district could no longer use the auditorium for school functions because it didn't meet safety requirements for events involving students and had little interest in renting it out for private events, even though it did meet standards for non-student events.
Thus, one of the city's grand theaters gradually filled up with desks, boxes and other detritus of the San Francisco school system.
It was only recently, when City Arts started looking around for a suitable location to move to after the Herbst Theater shuts down for a major, two-year remodeling project in the spring of 2013, that anyone started seriously considering the idea of returning the Nourse to its former glory.
Goldstein initially dismissed fixing up the Nourse as prohibitively expensive but then, after touring a number of similar theaters in Cuba, she got it back into her head as a possible option. She realized the repairs needed to get the auditorium into working condition were relatively inexpensive--at least compared the often-astronomical cost of making building upgrades in San Francisco.
With as little as a million dollars, City Arts believes it can end up with a space housing twice the seating as its current venue. Goldstein notes that, had she had access to the Nourse in 1996, City Arts could have hosted Terry Gross interviewing Gladys Knight on its home turf instead having to transfer to the larger, albeit less convenient, Masonic Center atop Nob Hill.
Additionally, Goldstein plans to open up the theater to other local arts organizations like San Francisco Performances and SF Jazz. "None of us can get as much access to the Herbst as we want," she said. "I see us opening this space up for use for a long time to come."
Even so, don't expect the lecture series to alter what it does just because it suddenly has room to stretch out. "Were not turning into rock and roll; we're not going to change what we are," said Goldstein.
City Arts & Lectures hopes to have final renovations on the theater complete by early next year so it can seamlessly transfer from the Herbst to the Nourse without having to cease production or temporarily shift to another space.
Donations going toward the theater's renovation can be made here.
Check out this slideshow of pictures from the currently under-construction theater: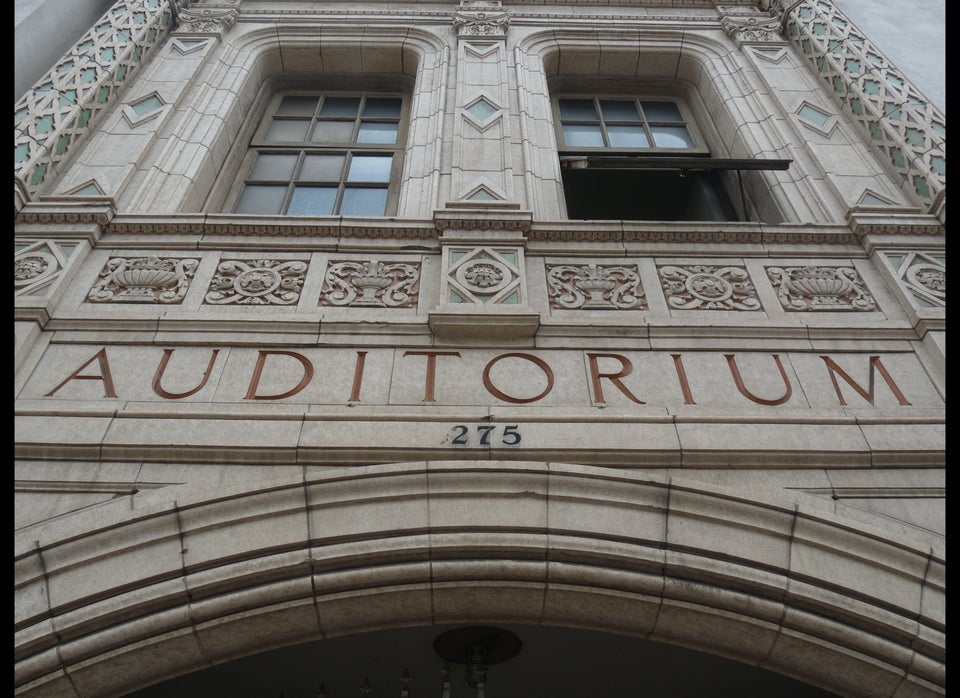 Correction: The article originally referred to Sydney Goldstein as Sydney Goldstein-Breyer and stated she toured theaters in Europe instead of Cuba.
Popular in the Community