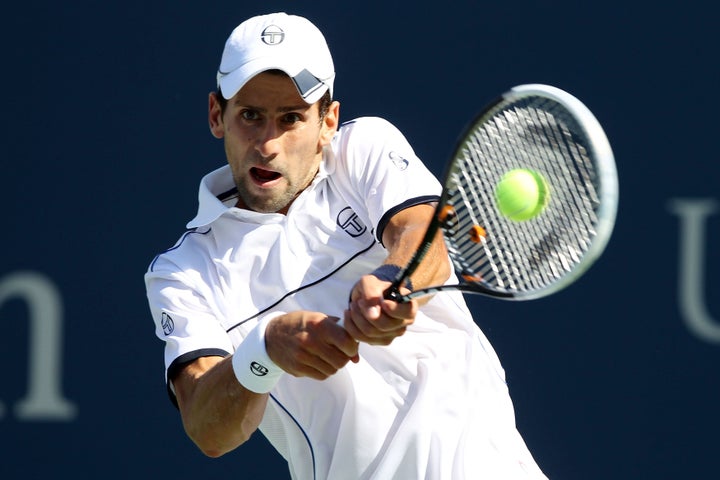 FLUSHING, NY -- Arthur Ashe Stadium is kinda huge. You don't quite realize that when you see it on TV, and even once you're inside it, and look up, and try to calculate its size, it's a tough gauge. Arenas are easy; they're finite. Arthur Ashe shoots up and up as it juts out bit by bit, and then it's all star-dotted sky instead of championship banners and catwalks and bulging scoreboards, which somehow throws off all of one's spacial senses. It's my first time here, and I guess 12,000. Can't be bigger than the Garden, I'm thinking. Turns out it's 22,547.
None of them making a sound.
OK, so it was probably only three-quarters full, but still. Distractedly conversational murmurs occasionally thwarted by screams pleading for random-giveaway United Airlines trips to Sydney and Paris ("Paris, France!," it was made very clear.) is the running theme of the night. In the first match, Caroline Wozniacki, world No. 1 and general all-around lovable smiling gracious Dane, casually overpowers Dutchwoman Arantxa Rus, whom my seatmates all agree should lend a consonant or two from her first name to her seemingly truncated last. 6-2, 6-0. Wozniacki hits the ceremonial balls to fans in those upper decks, and she calls it a night.
Few more fireworks are promised by the second match, another obliteration-in-waiting over an unseeded opponent by the other No. 1, Serbian robo-player Novak Djokovic. Let me clarify. Djoko's on-court antics are anything but mechanical: he's all (generally) charismatic histrionics and self-mocking and patient waiting to imitate John McEnroe in a way John McEnroe actually seems to find enjoyable. Rare skills indeed. But his game is pure automated efficiency. He doesn't have the splendorous grace and imagination of Federer, or even the damaging force of Nadal. He's big, he's strong, he's systematic, he has all of the shots, and he makes most of them most of the time. I'm not complaining, and actually quite like the guy, but his game doesn't make you say "I can't believe he just did that," it makes you say "Damn, it's gotta be a bitch to play against this dude."
Our lucky foe who gets to say that tonight: plucky Argentinian Carlos Berlocq (more extra consonants!), current world No. 74 and wearer of some very divisive plaid shorts (I loved 'em), who has never been out of the second round in a Grand Slam. Going against Djoko, that's clearly not changing tonight. The crowd settles in for another beat-down. Berlocq wins the match's inaugural point with some impressive pizazz, then takes much of the next 45 minutes struggling to put together five more. He's screwed. First two sets, 6-0, 6-0. The "Novak is going to win this 18-0" text from my buddy, mildly audacious at the time, is now the least original thought in the building. The focus of my group has become being the first to successfully Google the quickest Grand Slam men's match. (Answer!: 1881 Wimbledon, William Renshaw over The Reverend John Thorneycroft Hartley, 37 minutes. And that was a final somehow.)
And then it starts to happen. 3rd set, Djokovic up 1-0 and 40-30, the Argentine serving. They trade about 10 groundstrokes before Novak decides to pull a backhand drop shot, which for good measure spins away from Berlocq, who somehow manages to hurry to the net and return it deep into the corner. Djoko casually floats a deep lob over his head, which Berlocq sprints to and circles while resisting a dazzling but ultimately worthless between-the-legs shot, and keeps it in play.
Djoko's pretty set up here, and hurls another one into the deep corner, but Berlocq's there once more, returning it to start a grip-your-armrests rally of seven consecutive volleys. As Novak sits placidly waiting for the ball to come magnetically to him, Berlocq's pulling obliques lunging side to side. It's only a matter of time. Eventually he pops one up too high to Novak's righthand side, and Djokovic, looking like he was out having some fun against his kid niece, guides the gentlest overhead slam in tennis history into the hardcourt to take the game. All three-quarters-of-22,547 fans uncork a beautiful mob-scream of "what a point!" joy, then become audibly upset that Berlocq unleashed every shot in his toolbox, and couldn't even push it to deuce. Djoko half-fake exults as the Plaid-Shorted One spins himself in circles and smiles the smile of someone who's having the time of his life despite being completely exasperated.
But the place is beyond buzzing now, and Berlocq knows it. In the very next game, a serving Novak's in trouble, simply staring as a Berlocq ground stroke clips the net and floats by for 15-40, before eventually busting out a huge ace to save a break and force 30-40. Djokovic is well-known for his problems with chronically over-bouncing the ball before he serves; he's basically the free-throw-shooting Karl Malone of tennis. People strongly dislike it, so he's been working on limiting his bounces, but the word on tour is that when he gets nervous, especially in a tough spot against Nadal or Federer, he relapses, and just keep bouncing. He's bouncing quite a lot at the moment. Nerves, in a 6-0, 6-0, 2-0 match.
Chance now readily available, Berlocq seizes it, breaking up a quick rally with a huge line-shearing backhand for the game. Challenge? No challenge! He did it!! It sounds like there's 222,547 in there now, as Berlocq throws his head back, stares at that never-ending sky, flings his arms up high, and looks like he just won the whole damn thing. The crowd keeps hooting, hollering, cat-calling, whistling, and mispronouncing Berlocq's name at shouting volume as he fittingly gets to take a seat and sponge it all up during the TV commercial break. It's like the reverse of a no-hitter: deep down, not even the opposing team's fans want one of those broken up. Even if you lose, you're still watching history. Berlocq couldn't have had more than 12 actual fans of his own in there, but for about one minute, he had everyone in a towering stadium going bonkers, for him. For about one minute, Carlos Berlocq was kinda huge.
REAL LIFE. REAL NEWS. REAL VOICES.
Help us tell more of the stories that matter from voices that too often remain unheard.