Which is better: a real Democrat, or someone who just talks like one?
Maggie Hassan, Democratic Governor, is running for the Senate seat occupied by Kelly Ayotte, Republican.
In a state which may vote blue this November, Ayotte goes to great lengths to sound independent, almost like a Democrat. But is she?
For instance, does she support her party's Presidential candidate?
Ayotte states: first, she will stand up to Donald Trump when he is wrong; second, she will not endorse him; third, she will not campaign by his side; and fourth she does intend to give him her vote, and has widely shared that decision.
So is that a yes, or a no?
Governor Hassan's position is easier to follow. She is for Hillary. She stands beside Secretary Clinton, speaks in favor of her, and proudly campaigns at the candidate's side.
Well, what about the issues? Is there a significant difference?
On the question of the Supreme Court vacancy, (President Obama's nomination of Merrick Garland is currently being blocked by a Republican Senate), Ayotte sat down for a meeting with Judge Garland, and called a press conference about it. But then she also announced her support of Senate Leader Mitch McConnell (R)'s denial of Garland's nomination--until the new President comes to power.
Governor Hassan's position? Straightforward: the Republican-controlled Senate should do to its Constitutional duty, and hold a vote on Merrick's nomination.
Social Security? Judging by her vote for the Republican budget as offered by Paul Ryan, Ayotte wants to cut federal funding for this crucial program, privatize it, and replace it with vouchers.
Hassan? she is committed to "fight any attempt to privatize Social Security".
Medicare? Again, look to Ayotte's vote in support of the Ryan budget, which "would end Medicare as we know it".
Hassan? She "will always fight for medicare."
Obamacare? Ayotte voted numerous times to delay, diminish, or do away with it altogether. Her party's position would deprive an estimated 21 million Americans of their newfound medical care coverage.
Hassan says: "Obamacare helps working American families afford health insurance", and strongly supports its medical benefits for her state.
And my key issue, the embryonic stem cell research restricted by former President George W. Bush, but approved by President Obama?
According to her August 11, 2010 statement on the Christian Coalition Survey, Kelly Ayotte would "prohibit... human embryonic stem cell research...(and) would ban such research."
To be clear on Governor Hassan's position, I contacted her office and received the following statement:
"Governor Hassan supports President Obama's 2009 Executive Order that removed barriers to responsible scientific research involving stem cells and the Governor will work to ensure that this critical research can continue going forward."--personal communication
This is not small. Right now, my paralyzed son Roman Reed's best hope of ever walking again is the stem cell research Hassan supports, and Ayotte would ban.
And did you hear about Ayotte's hearing on the Sandy Hook school massacre?
Among the speakers was Erica Lafferty, daughter of slain Sandy Hook Elementary School Principal Dawn Hochsprung. Ms. Lafferty confronted Ayotte over her vote against expanding background checks for gun purchases.
Referring to Ayotte's comment that expanded background checks would be a burden on gun store owners, Lafferty asked:
"I am wondering why the burden of my mother being gunned down in the halls of her elementary school isn't more important than that."
Ms. Ayotte, who has received $81,905 from the gun lobby as well as earning an "A" rating from the National Rifle Association, responded with sympathetic comments--but her position remained unchanged.
Ms. Lafferty turned and walked away, leaving the meeting room.
Asked why she was leaving, she responded:
Let us hope New Hampshire voters feel the same.
To find out more about Maggie Hassan, visit her website: http://maggiehassan.com/
Chip in a few bucks if you can, try to balance the overwhelming financial advantage held by Republicans.
Why should you care? Above all else: the Supreme Court. If Hillary Clinton achieves the Presidency, she will need four new Democratic Senators--without whom the Republican blockage of Supreme Court nominees may go on.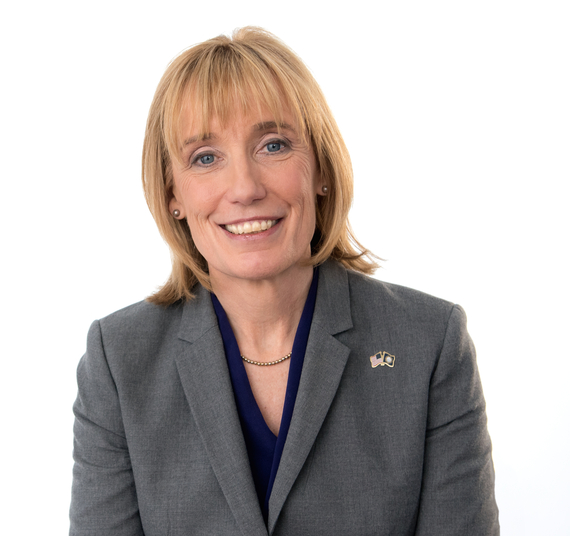 Maggie Hassan could bring us to a balanced Senate: 50 Democrats, 50 Republicans. With the Vice President presiding, President Hillary's Supreme Court nominees would be guaranteed a hearing.
And a strong Supreme Court could sweep away the webs of campaign contribution corruption, which presently defile our electoral system.
And the alternative, re-electing Republican Kelly Ayotte?
That would be promising dinner to a hungry child--but giving only empty words instead.
Don C. Reed is the author of the new book, "STEM CELL BATTLES: Proposition 71 and Beyond", available now from Amazon.com
REAL LIFE. REAL NEWS. REAL VOICES.
Help us tell more of the stories that matter from voices that too often remain unheard.