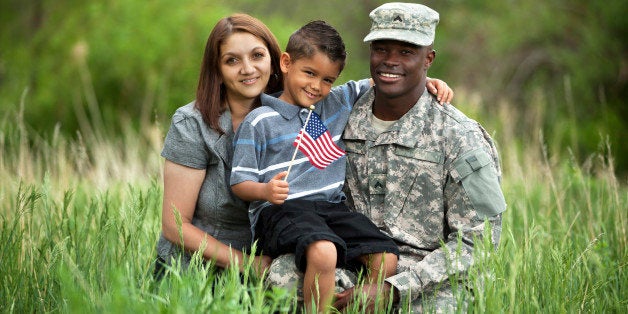 November is a busy month, marking the beginning of the holiday season and the season for giving thanks. It's a month for our nation to come together, be grateful for where we have been, where we are and where we are going. I'm especially grateful because my 10th great-grandfather, Governor William Bradford, braved the unknown and came to America on the Mayflower to start life anew. I suppose it's in my DNA to be living a life that supports and cherishes the importance of our nation's freedom.
November is known as Military Family Appreciation Month. In 1996, the Armed Services YMCA launched a month long celebration to promote the support of military families. The concept was a hit and now every November, we focus on the dedicated commitment military families give to support their service member and our country.
The military family unit is unique. Just ask any military child where they are from because it usually sounds something like, "I was born in Missouri but I've lived in 5 states so far and I'm moving overseas next. Home is wherever the military sends us." Behind every service man or woman there are family members who provide the strength and devotion soldiers need to focus and remain strong for the mission ahead, because a strong family supports a strong military.
Communities and businesses across the nation are joining together offering programs and incentives to honor military families. Hiring a military spouse also supports military families. The mobile military life often requires military spouses to put their careers on pause. However, remote employment opportunities allow military families to achieve professional and financial stability, lending a supportive hand not only to the military spouse but the solider, the family and the nation.
Military families are resolute that the strength of the community is a key component to thriving in a great nation. With each move military families are welcomed into a military community that lends support where needed. Although military families are unable to put down deep roots, military families are passionate about commitment. We want to be a part of your community and are able to provide support and expertise to our communities remotely, when needed.
I encourage you to show your appreciation for military families by reaching out to your local community and have businesses Hire Just One military spouse to work remotely. Encourage your financial advisor to hire a military spouse accountant, your lawyer to hire a military spouse attorney, your coffee shop or restaurant to hire a military spouse social media guru, or your local clinic to hire a nurse on call. With more than 6 million small businesses in America we can easily create D.R.E.A.M.S and Hire Just One military spouse for remote employment.
REAL LIFE. REAL NEWS. REAL VOICES.
Help us tell more of the stories that matter from voices that too often remain unheard.