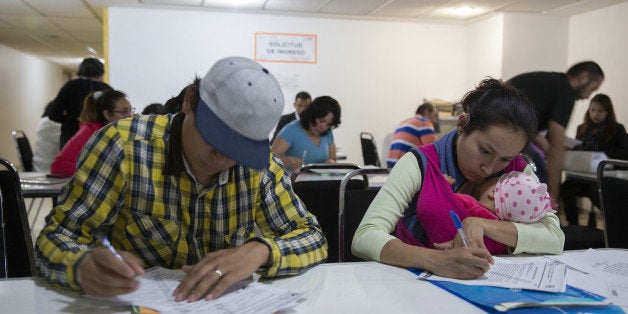 The U.S. economy added 321,000 jobs in November, as the unemployment rate remained at 5.8 percent, the Bureau of Labor Statistics reported Friday.
More from the Associated Press:
WASHINGTON (AP) — U.S. employers added a whopping 321,000 jobs in November, the biggest burst of hiring in nearly three years and the latest sign that the United States is outperforming other economies throughout the developed world.
The Labor Department also said Friday that 44,000 more jobs were added in September and October combined than the government had previously estimated. Job gains have averaged 241,000 a month this year, putting 2014 on track to be the strongest year for hiring since 1999.
The unemployment rate remained at a six-year low of 5.8 percent last month.
The robust job gains come after the economy expanded from April through September at its fastest pace in 11 years. The additional jobs should support steady growth in coming months.
Average hourly wages rose 9 cents to $24.66 last month, the biggest gain in 17 months. Yet in the past 12 months, hourly pay is up just 2.1 percent, barely ahead of the 1.7 percent inflation rate.
The job gains were fueled in part by strong hiring in retail, temporary services and transportation and warehousing. Those increases likely reflect seasonal hiring for the winter holidays. Shipping companies have announced ambitious plans: UPS has said it expects to add up to 95,000 seasonal workers, up from 85,000 last year. FedEx plans to hire 50,000, up from 40,000.
But the hiring also extended across many other parts of the economy. Manufacturers added 28,000 jobs, the most in a year. Education and health services added 38,000. And professional and business services, a category that includes temps but also higher-paying jobs in fields such as accounting and engineering, gained the most in four years.
The data could raise pressure on the Federal Reserve to raise interest rates early next year. Many economists have forecast that they won't do so until around June of 2015. The Fed has kept rates near a record low of nearly zero for six years, in an effort to lift borrowing and spending.
"As Fed officials keep stressing, the decision is data dependent and these data are pretty conclusive: Labor market conditions are improving at breakneck speed," said Paul Ashworth, an economist at Capital Economics.
The improving U.S. job market contrasts with weakness elsewhere around the globe. Growth among the 18 European nations in the euro alliance is barely positive, and the eurozone's unemployment rate is 11.5 percent. Japan is in recession.
China's growth has slowed as it seeks to rein in excessive lending tied to real estate development. Other large developing countries, including Russia and Brazil, are also straining to grow.
Most economists say the United States will likely continue to strengthen despite the sluggishness overseas. The U.S. economy is much less dependent on exports than are Germany, China and Japan. U.S. growth is fueled more by its large domestic market and free-spending consumers, who account for about 70 percent of the economy.
That trend helps support the steady U.S. job growth. Most of the industries that have enjoyed the strongest job gains depend on the U.S. market rather than on overseas demand. Retailers, restaurants and hotels, and education and health care, for example, have been among the most consistent sources of healthy hiring since the recession officially ended in 2009.
Manufacturing, which is more exposed to overseas ups and downs, has added jobs for most of the recovery but in smaller numbers. That is a likely reason why pay growth has been tepid since the recession ended. Companies and industries that are more exposed to international competition typically pay higher salaries.
Most recent figures on the economy have been encouraging. Americans are buying more cars, which will likely keep factories busy in coming months. Auto sales last month rose to their second-fastest pace this year. Car sales are on track to rise 6 percent this year from 2013.
And a survey by the Institute for Supply Management, a trade group of purchasing managers, showed that services firms expanded at nearly the fastest pace in eight years last month. Retailers, hotels, construction firms and other service companies added jobs, the survey found, though more slowly than in October.
The ISM's separate survey of manufacturing firms showed that factories are expanding at a brisk pace. New orders and order backlogs rose, pointing to steady growth in coming months.
There have been some signs of moderating growth. Consumer spending rose only modestly in October. And businesses ordered fewer big-ticket manufactured goods that month, excluding the volatile aircraft category. That indicates that companies are holding back on investment.
As a result, most economists have forecast that the economy will slow in the final three months of the year to an annual pace of 2.5 percent. That would be down from a 4.3 percent pace from April to September, the fastest six-month pace since 2003.
Support HuffPost
The Stakes Have Never Been Higher
Related
Popular in the Community