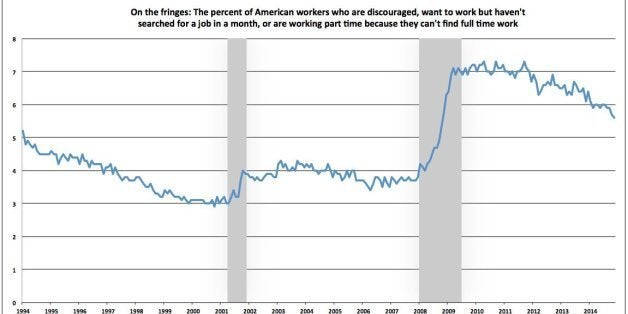 Today's jobs report was great, but the U.S. labor market still has a long way to go before it's back to pre-recession health. Which means it's far too soon for the Federal Reserve to start trying to slow things down.
The U.S. economy added 321,000 jobs in November, the Bureau of Labor Statistics reported on Friday, way past the 230,000 jobs economists expected. November was the best month for job growth since January 2012, and this year has been the best year for job growth since 1999. We are on a record streak of 50 months of unbroken job gains.
That's all great, but here are three important points to consider before you get carried away by bolded, caps-lock headlines and exclamation marks. Janet Yellen and the Fed have been debating whether the labor market is as tight as suggested by the unemployment rate -- 5.8 percent, the lowest in more than six years. If it is, then the Fed might have to start raising interest rates to cool the economy down sooner rather than later. Today's report is another good indication that the job market is still not strong enough for the Fed to start raising rates, even if that's what the bond market seems to think.
1) One great month is still just one great month. As big as that 321,000 number is, it's a bump in the steady trajectory of what has been an amazingly consistent, but not quite good enough or fast enough, jobs recovery. This chart of the year-over-year change in jobs, by Bloomberg's Matthew Boes, shows why America doesn't just need one month like November. We need many more months like it.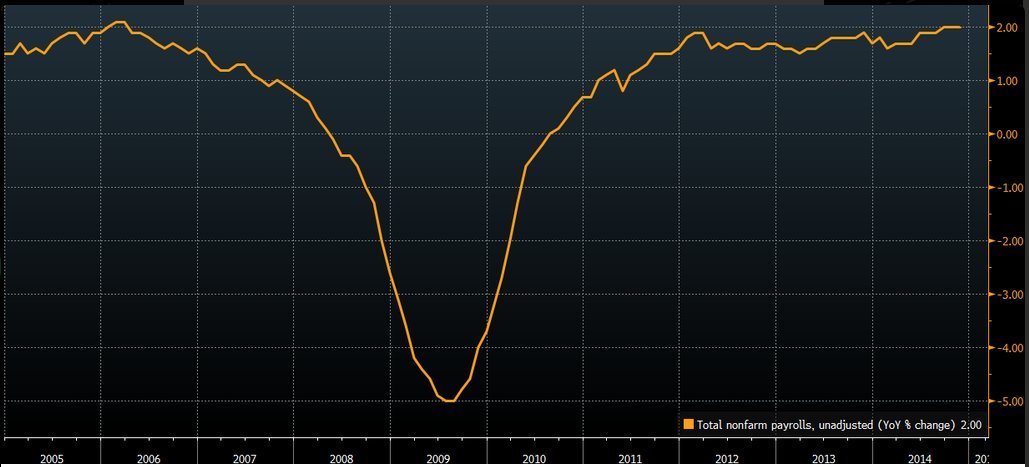 2) Wages, wages, wages. They were up 2.1 percent in November compared to last year. Exciting! And definitely a good thing. But not enough of a good thing. The key, as Equitable Growth's Nick Bunker highlights in the chart below, is context. Wage growth is stalled well below the Fed's 3.5 to 4 percent target.
When it comes to pay rising significantly faster than inflation, it really hasn't been America's day, week, month, or even year(s). If we get more months with big job growth, big wage growth becomes more likely. But as any worker knows, hopeful signs for future pay raises aren't the same as a bigger paycheck this week.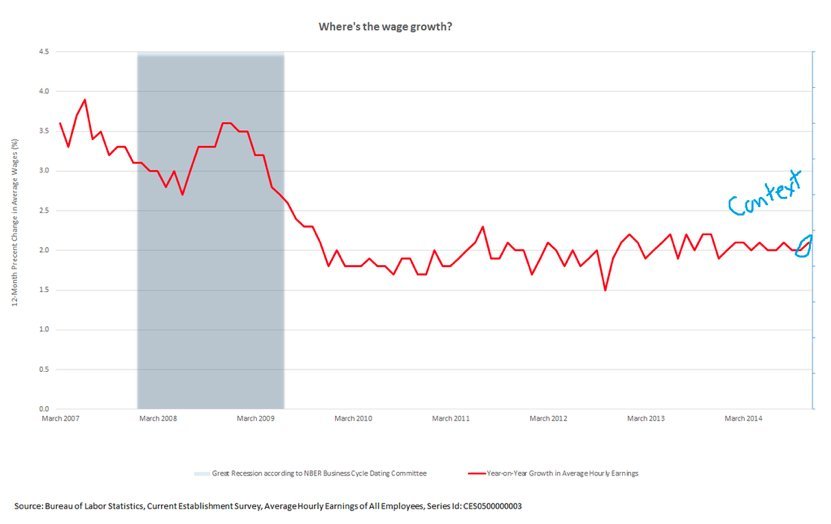 3) There are fewer Americans on the labor market's fringes, but still far more than is healthy. Below, you can see a chart, courtesy of Quartz's Matt Phillips, of the falling number of Americans who are working part-time jobs because they can't find full-time employment. The decline is great, but there are still about 2 million more Americans working part-time when they want full-time work than before the recession.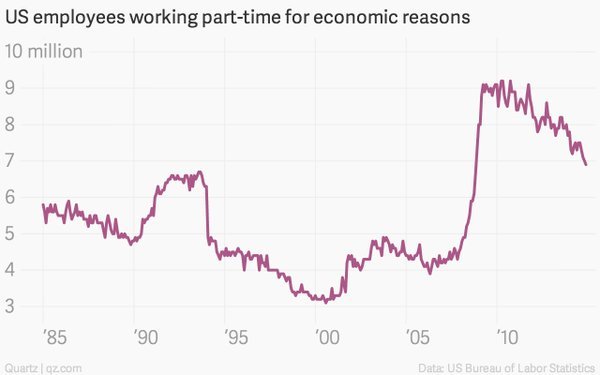 Here's another way to look at the same story. The chart below is a broader definition of unemployment (called U-6), minus the better-known unemployment rate (called U-3). What you are left with is a group of people who either: a) aren't looking for a job because they don't think they will find one; b) have looked for a job in the past year but not recently; or c) are part-time workers who can't find full-time work.
This group represents all the workers who are ready to be put to better work. It's a measure of what economists call "slack" in the labor market. There's still a lot of it, and way more than before the recession.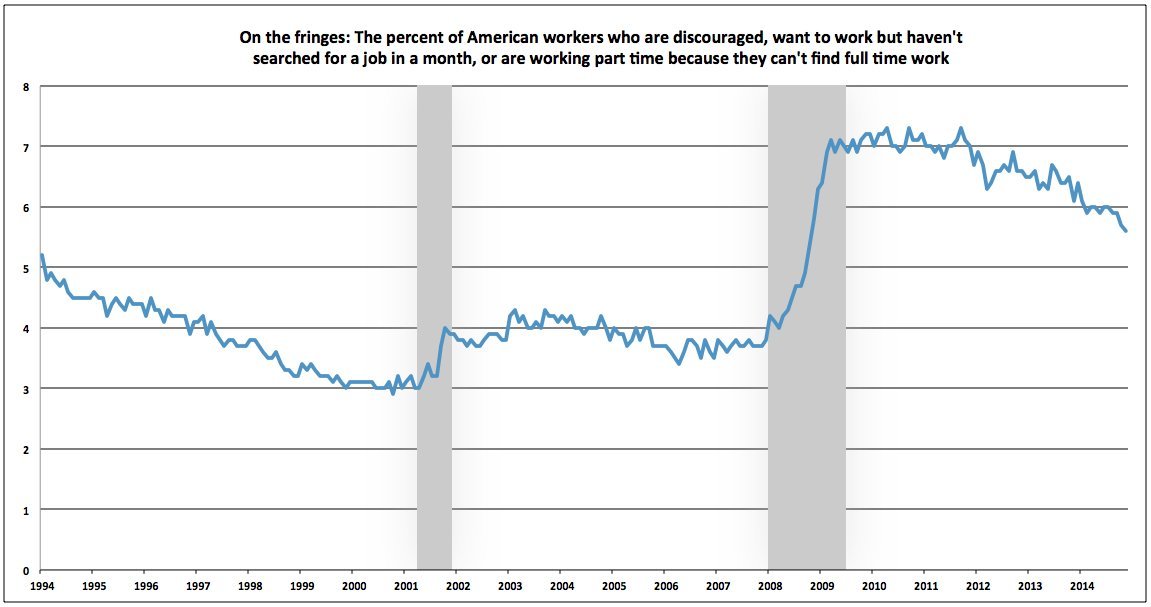 The labor market is like late-70s fashion: Still far too much fringe.
America is making progress in undoing the damage of the recession, but not enough yet. And certainly not enough for the Fed to start raising interest rates.

Calling all HuffPost superfans!
Sign up for membership to become a founding member and help shape HuffPost's next chapter