Here are this week's top current exhibitions throughout the Western U.S. as selected by ArtScene and Visual Art Source editors and contributing writers.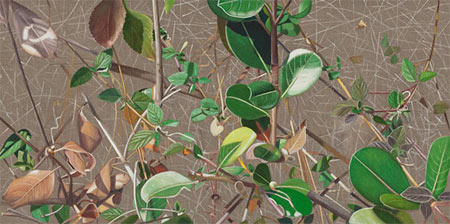 Astrid Preston, "inbetween," 2010, oil on canvas, 24 x 28", at Craig Krull Gallery.

Continuing through November 20, 2010
Craig Krull Gallery, Santa Monica, California

"East west spring fall" showcases a significant leap forward in Astrid Preston's landscape close-up oeuvre. No press release is necessary to prompt recognition of the influence of Japanese art as well as Japanese flora itself. In addition to a few of her particularly recognizable sun-drenched, close-up paintings of plant leaves, in several works here she takes her realism very nearly to abstraction. Smaller paintings of branches from 2008 and '09 feature dense webs of lines that almost depart from figure-ground, were it not for the evidence of their high-concentrated light source.

"Orange Haiku" is the most intriguing of a series of square paintings with painted squares within, leaving a roughly 3-inch border of un-primed linen canvas exposed around the edges, in this case with just a handful of thin branches merging into a large swath of the orange -- the Zen of line and color. "Wind from the East" has Preston's now-trademark sun-spattered leaves stretching out across an unprimed linen background, with a few white, skeleton-painted leaves dancing around the edges. "Three Cherry Blossom Trees" is even more spare, the super-thin skeins of the foreground tree in all-white, floating in and out of the branches of its adjacent neighbors. Preston's willingness to go this spare, leaving a lot of real-estate unpainted, is an admirable stretch for her, demonstrating a willingness to not only integrate Eastern aesthetic premises, but also to reach beyond her own comfort zone.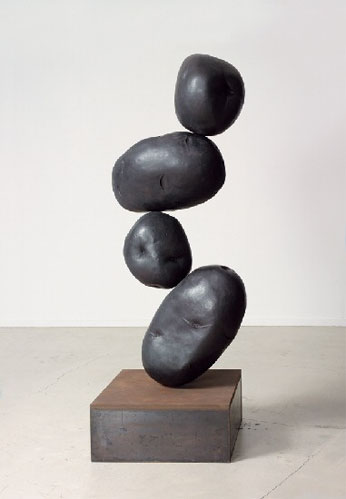 Charles Arnoldi, "Milestone," 2001, cast bronze, 67 ½ x 34 x 22", at Charlotte Jackson Fine Art.
In "Charles Arnoldi: 1998-2001" a rigorously selected body of work bears witness to the artist's commitment to redefining the generative possibilities of Post-Minimalist practice. Responding to the challenged viability of painting during the rapid ascendance of new media, the artist's "Sticks" series back in the late 1960s interrogated the limits between painting and sculpture, communicated abstract gestures with found materials, and engendered a productive exploration of the relationship between line and volume. Consisting of jagged assemblages of painted twigs and branches, these now canonized works have contributed to the sustaining of the evolution of abstraction and enunciating a thorough reappraisal of painting's key prerogatives.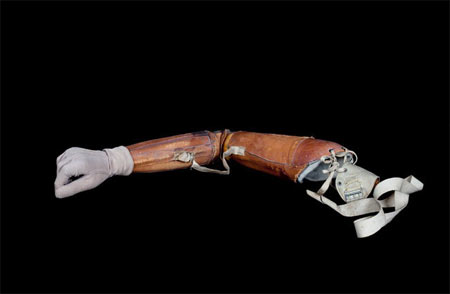 Catherine Wagner, "Right Arm III," 2010, lightjet print, 22 x 34", at Stephen Wirtz Gallery.
Catherine Wagner's photographs of splints -- the medical devices used to stabilize injuries and often associated with war wounds -- and antique prostheses are riveting. Each of these technically precise images shows one device against a flat black background in gentle, even light; the device appears to float in the space. Isolated, showing fine detail, these images are intense. Splints and prosthetics are highly personal. They're held tight or molded to the body and worn for protection and recovery, repair. Thus, the title of the exhibition "Reparations," implying making amends. It's a loaded concept especially in this time of multiple international conflicts, and also an indirect path from which to approach such difficult subjects. Wagner points us in a hopeful direction.
Wagner deliberately chooses to photograph splints and prostheses made at various points through history, thus there is a didactic angle that displays the progression that's been made in this field of medicine. For all of their references and dramatic portrayal, these are highly evocative pieces. For some, they illicit fear, repulsion, or sadness. But they also symbolize healing and help: everything will be set right, allowing for a return to normal life. Behind each object, we know there is a story, perhaps glorious, perhaps tragic, perhaps comic. The absence of the person who wore the device begs the question of his or her fate. And then they are, in many cases, intriguing simply as sculptural pieces. These direct, thought-provoking images convey the power of a well-chosen and expertly photographed subject.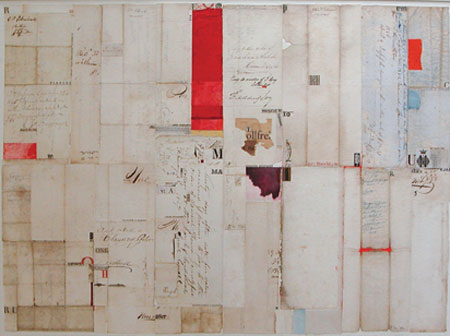 William Dole, "Proxy," 1975, collage, watercolor, ink, typography on paper, 16 x 21 5/8", at Tobey C. Moss Gallery.

Continuing through December 30, 2010
Tobey C. Moss Gallery, Los Angeles, California

While teaching at UC Santa Barbara, Elliott Evans, a colleague of William Dole's, passed along half a collection of handmade Japanese paper from the 1870's (the other half went to the Smithsonian). Borrowing a technique from his years of working in watercolor, Dole mounted the delicate paper on gessoed board so it could hold a wet medium without warping. Early compositions tended to closely resemble the landscapes that inspired them, but realizing that, "Making something that looks like something else can get awfully cute," Dole took his work in a more abstract direction.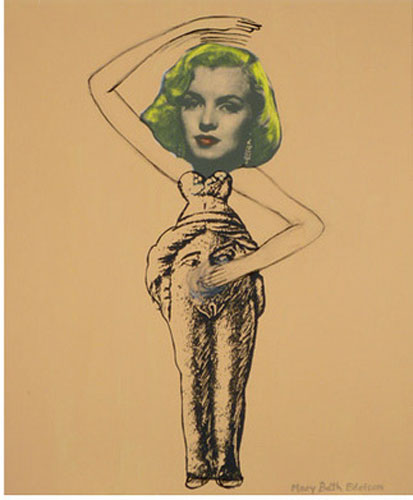 Mary Beth Edelson, "Marilyn Monroe Never Got To Be: Two Things at Once," 1997, at the McKinney Avenue Contemporary.
Continuing through December 11, 2010
McKinney Avenue Contemporary, Dallas, Texas

Pixie-like and ageless, Mary Beth Edelson is a woman with wisdom of the postmodern ages. Her work is borne of a revolutionary politics of the body of the 1960s that became the codified and self-righteous gender politics of Feminism in the 1970s.

"Collage Wall: History 1971-2010" offers a retrospective gaze onto the heady times of feminist activism. The collages are made up of long tendrils of carefully cut fabric on which are glued cutouts of tiny female heads interspersed with mystical symbols of female power, such as Medusa, Venus Kali, and the Irish Sheela-na-Gig. Reinforced by "Here's to the Boys in the Navy," two diaphanous sheets of fabric hanging from the ceiling on which are drawn two images of Marlene Dietrich in military uniform, there is a strong sense of feminine craft and Hollywood nostalgia in this small exhibition. Edelson heads off potential weakness and cliché by way of language in the form of hand-drawn questions about the construction of gender in mixed-media drawings of Hollywood starlets, such as Mae West, Judy Garland, and, from a later era, Lynda Carter.
Powerfully contradictory messages abound here - craft is elusive, subtle, and, at the same time, crafty, the feminine whisper screams out for staunch autonomy. The work comes across as strikingly dainty and even pretty in some circumstances. Helen Reddy's roaring woman arrives wrapped in the taupe, perfumed gauze of yesterday's Hollywood femme fatale.

- Charissa Terranova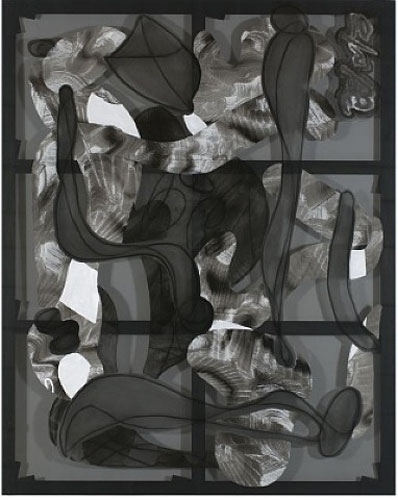 Christian Bonnefoi, "urekaVIII-8, m/m," 2010, mixed media, 98 ½ x 78 ¾", at Riva Yares Gallery.
Continuing through December 20, 2010
Riva Yares Gallery, Scottsdale, Arizona

The organic forms in Christian Bonnefoi's mixed media works seem to pop off the surface when viewed from a distance, yet adhere to the artist's canvas when viewed close. Another artist might leave the viewer in a cloud, but French artist Bonnefoi imbues a frankness into his work that turns out to be quite inviting. Bonnefoi exhibits six pieces from his 2009-10 "Eureka." The 6-foot-wide pieces use acrylic, cut paper and other media in collage fashion on stretched dark mesh fabric.

The improvisation of the pieces is joyful, despite the mostly dark paint and shadows. The interconnected pieces of cut paper seem to spring out from the mesh in sinuous forms resembling bird wings, fish, snakes, eggs and other elements of nature. Bonnefoi lets the viewer in on his trick: under the see-through mesh are window-pane-like stretchers. All ingredients work together - even the white walls of the gallery - to reveal shadows and depth. It's as if the forms jump through the windowpanes to revel in the essence of painting.

- Deborah Ross
ArtScene and Visual Art Source are the in print and online resources to fine art galleries and museums in Southern California and the Western United States. Visit us online or pick up a copy for complete listings of art venues and editorial Reviews, Recommendations and Previews of the best current exhibitions. Be sure to visit our Openings Calendar page so you can plan visits to the latest exhibitions--of wherever you may be in the Western States.
Want to opt-in for a free subscription to stay current every day on our Weekly Newsletter, as well as new shows, events and (if you are an artist) artists' calls? It's easy.
Related
Popular in the Community