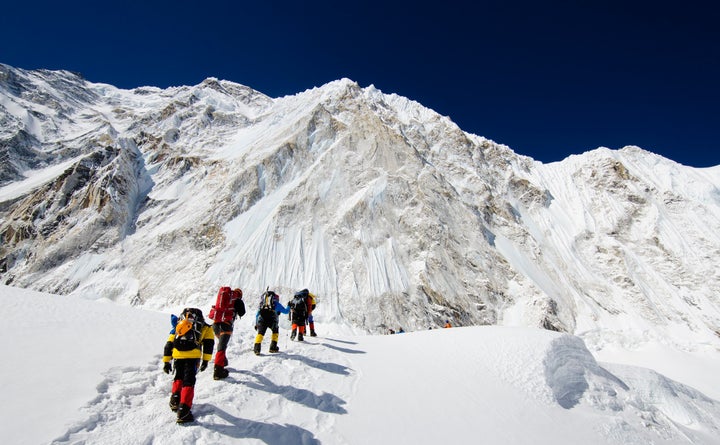 Climbers have been complaining for years that Mount Everest has become too crowded, making it both unpleasant and hazardous for those attempting the climb. 
Just last week, Junko Tabei, who in 1975 became the first woman to conquer the world's highest peak, expressed her concern about the hundreds of mountaineers who try to climb Everest every year.
"Government needs to control such crowd[s]," she added, per the Himalayan Times. 
It seems Nepal may have been listening.
According to The Guardian, Nepal says it will only grant Everest permits to those climbers aged 18 to 75 who can prove they've already scaled mountains that are higher than 6,500 meters (or about 21,325 feet).
Everest measures 29,028 feet. By comparison, North America's highest peak, Alaska's Denali, is 20,321 feet.
"We cannot let everyone go on Everest and die. If they are not physically and mentally fit it will be like a legal suicide," said Kripasur Sherpa, the country's tourism minister, this week.
"The disabled or visually impaired people usually need someone to carry them, which is not an adventure. Only those who can go on their own will be given permission," he added.
There are no such restrictions today, however. Hundreds of people attempt to climb Mount Everest every year. In 2013, 658 climbers made the summit.
"The fact that so many climbers, lots of them wealthy beginners, have managed to reach the top in recent years means that every May several hundred inspired people will try for the summit in one of the weather windows, resulting in dangerous bottlenecks packed with climbers," wrote mountaineer Andy Cave in 2012. 
Every year, many people die while attempting Everest. In 2012, for instance, at least 10 people perished on the mountain.
That year, a South Korean man said he suffered snow blindness, delirium, and hypothermia after he was forced to wait for hours for hundreds of climbers to pass him as he attempted to descend from the summit. His companion died during the descent. 
"There were so many people," Song Young-il told The Telegraph. "There were 300 to 400 people going to the summit and we got stuck in a traffic jam. We had to wait 200 meters from the summit and we became snow blind. We waited for four hours. We couldn't see."
Various suggestions to limit the number of people on the mountain have been floated in the past, including increasing the already-astronomical charges to climb the mountain.
Many veteran mountaineers have also pressed for bans on novice climbers, who are seen as liabilities due to their reliance on sherpa guides and their inability to help other mountaineers during times of trouble. 
Such ideas, however, have thus far amounted to naught. 
Ang Tshering Sherpa, president of Nepal Mountaineering Association, told The Guardian that he doubts Nepal's new ban will actually be implemented.
Such rules have been discussed in the past, he said, but "earlier such plans were aborted because of pressure from human rights organizations and foreign embassies."  
The Nepalese government has insisted, however, that it is determined to establish new restrictions. 
"The Everest summit should be dignified and an issue of glory, so for that the ministry is working on introducing some limits," Mohan Krishna Sapkota, acting secretary of the ministry of tourism, said this week, per Stuff.co.nz. 
REAL LIFE. REAL NEWS. REAL VOICES.
Help us tell more of the stories that matter from voices that too often remain unheard.