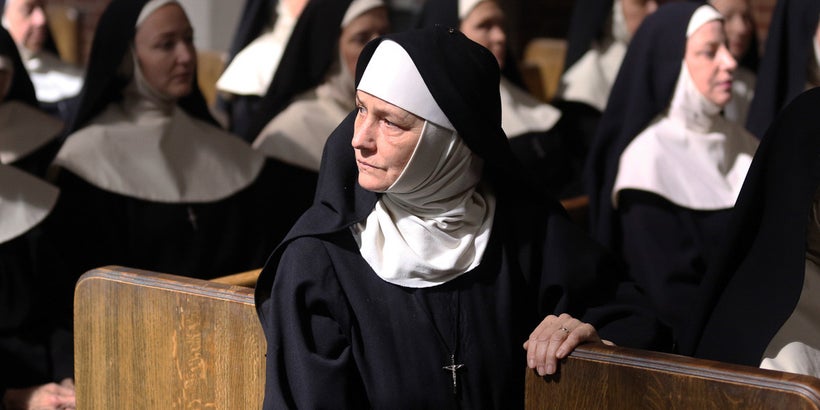 Writer-Director Margaret Betts' outstanding new film Novitiate shows us all we need to know about religion.
Betts doesn't yell it from the highest steeple like Luis Bunuel's classic "Simon of the Desert." Nor does she self-consciously try to outrage our bourgeois sensibilities like Ken Russell's lascivious "The Devils."
Instead, she roles out her message slowly and carefully, in the deliberately paced, strongly acted, economically written tale of young Cathleen Harris journey to Novitiate.
At age sixteen, with little life experience, Cathleen has chosen to become a nun. Up to that point, her life has been turbulent. Her abusive father has left her to be raised by an immature, impulsive though supportive mother. Cathleen withdraws from social relationships both at school and in the family. At an age when most young girls grow through their engagement with the wider world, Cathleen shrinks her world. She seeks solace in religion's sanctuary, training to be a nun.
But the training only substitutes religious society and structure for that of the world outside the nunnery. Reducing social interactions doesn't necessarily elevate those that remain. Applying artificial rules only magnifies dysfunction.
Reverend Mother (Melissa Leo) rules with an iron fist, arbitrary and capricious. The girls are taught to substitute inquisition for inquiry, routine for discovery. Personal cruelties are the revelation of self criticism sessions. Punishments are imposed to break the spirits not educate or heal the soul. Still the girls' natural compassion survives likes weeds growing through concrete.
Cathleen carries the film's narrative line in her experiences and relationships inside the convent. Will she find fulfillment, piety and love - spiritual or corporeal?
Counterpoint to this protagonist's pilgrim's progress are two somewhat muted, though immensely powerful scenes of conflict: Julianne Nicholson's tough love mother confronting Melissa Leo's authoritarian Reverend Mother . . . and Dennis O'Hare's marvelous cameo as Archbishop McCarthy calling out the Reverend Mother for her refusal to implement Vatican II's liberal church reform.
By film's end, Bett's delicate coming of age tale has provided us with a canny view of how authoritarianism functions in a closed system: the organized spirituality that would have us believe in a snake that talks, an eternally burning bush and the virgin birth would lock away young women for their entire lives in solipsistic canonical celebration.
The beauty of an austere contained life that promises comfort has yielded to the sacrifice of critical thinking in order to embrace irrational theology. Human emotions are bound at the altar of dictum. But Bett's provides the spark of hope that stubborn fight against rationality and change are ultimately doomed. In an age of high fundamentalism, that is nothing less than a small miracle.
REAL LIFE. REAL NEWS. REAL VOICES.
Help us tell more of the stories that matter from voices that too often remain unheard.
This post was published on the now-closed HuffPost Contributor platform. Contributors control their own work and posted freely to our site. If you need to flag this entry as abusive,
send us an email
.