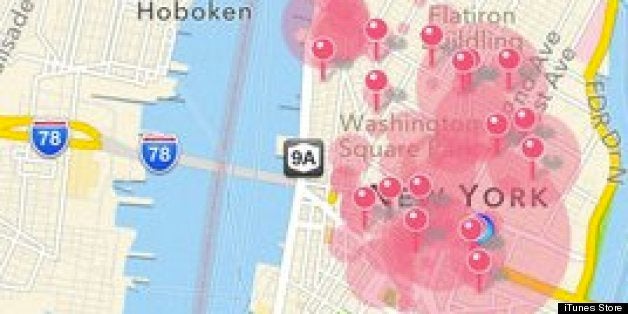 Imagine, for a moment, that you aren't Chloë Sevigny, plugged in to every social event happening in any city (like some digital clarvoyant). Now imagine that you live in a digital age where accessibility is plentiful and that you don't have to be famous to get the run down on the down low. Behold, the beauty of modern technology.
On a recent Thursday, I was nearing the end of the workday and found myself short of things to do. Working off a tip from a friend, I downloaded an app called Now., which launched its 3.0 version via the iTunes Store last week. Now. is a lifestyle app that tracks events in your area, aggregating all surrounding venues, as well as live-streaming visual data from others who have checked into that event.
Not being especially tech savvy, the app sat on my phone for a few days before I so much as opened it. Feeling particularly adventurous, I fired it up and started fumbling around haphazardly.
What I discovered was an app with a smooth interface that immediately pinpointed my location on a map. After a moment loading, Now. littered my surrounding area with dropped pins. As I scrolled over numerous highlights, a live-stream of photos popped up under a headline and location for the hotspot. One particularly large circle around the corner from my office informed me that Bowmont was playing a free set at Chez Andres at the Standard East Village. Bingo.
Upon arrival, the event was packed. More people began snapping photos on Instagram, and the hot pink circle around the Standard's dropped pin grew in size. I reopened the photo stream and found that the app was gathering uploaded pictures and video of what it was I was seeing in front of me in real time. Had I been hesitant about attending, I could have waited elsewhere for users to actually show me whether it was worth going.
In order to see how this all worked, I reached out to the app's developer, Ben Broca, for some insight.
"Now. takes the masses of photos and videos taken on social media publicly -- like Instagram photos, Vine videos, tweets, Twitter photos -- and uses this information to show you what's trending," he explained. The app works on the basic idea that people will share information with their friends at places where something they enjoy is happening. Now. consolidates this information to connect you to the places around you that are being shared at a viral level.
"This isn't another social network, this is a discovery tool," he said. "It shows you objectively what's happening in your city. It's a tool to make people aware of the restaurants, the bars, the galleries around you and objectively tell you where's hot. We don't ask you to check-in - we provide you with a living map."
Apple just featured Now. in its "New and Noteworthy" section of its App Store (it's free and available for iOS). If you needed any further convincing to give this thing a whirl, there's that too.
View the Now.'s video preview below.
Popular in the Community