Ahead of the G20 global leaders' summit next week, in Hamburg, a distinguished panel of climate solvers calls for an emphasis on discrete carbon reductions. Writing in the journal Nature, COP21 deal-maker Christiana Figueras and five colleagues propose 2020 as the penultimate "climate turning point," i.e., the year when carbon emissions will have peaked. Any further delay on decisive action – to 2025, for instance -- will create a brutish timetable, as this "Carbon Crunch" graph details.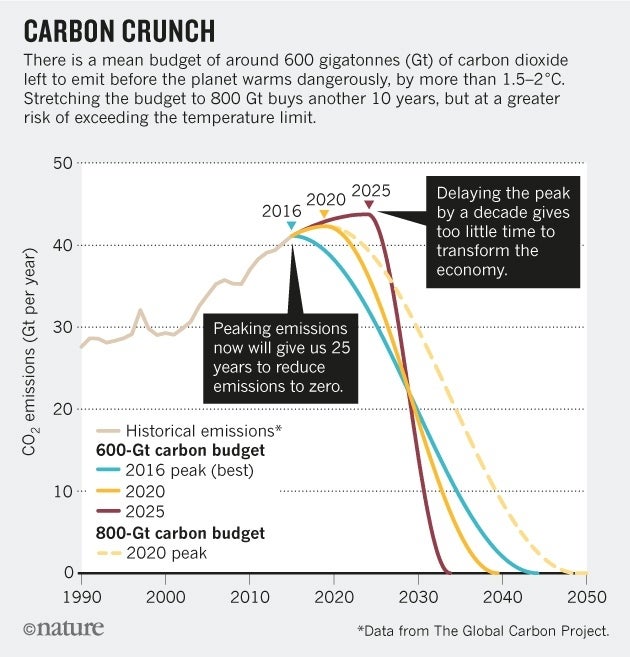 Figueras famously says that she has swallowed an alarm clock on the subject of climate change. She's not the only one hearing the tick-tock. When the history of how we solved this issue is written, decades from now, a growing leadership of expedient climate champions will be the obvious heroes. Because the physics of the planet continues on schedule, unaware of human efforts to either deny it or conform it to a timetable that suits little us. When the history of this decade is written, the skeptics and denialists will comprise a most fascinating and villainous mob. As if conjured by Dante or Dali, in 2017 these characters are elevated to positions of preposterous power where they block progress, fudge facts, confuse constituents, and cling to keywords like "coal" among other fraying vested interests and sunk assets -- apparently oblivious to an American public that is increasingly wise to the obvious effects of a warming planet all around them.
When the history of this decade is written, the opposition of skeptics and denialists will comprise a most fascinating and villainous mob.
Meet Dawn Zimmer, the mayor of Hoboken, New Jersey. In 2012, her city "filled up like a bathtub" as Superstorm Sandy inflicted an estimated $100 million in private property damages in Hoboken; $100s of millions of damage to the transit system there; and $10 million damage to city property. Mayor Zimmer is credited for bringing the city back from that devastating event, including earning a AA+ bond rating to enable the significant financial investment outlined in the "Hoboken Resiliency and Readiness Plan" (2013).
Announcing support for her successor a few days ago, Zimmer said she's leaving City Hall to focus on climate change full-time:
"Especially with President Trump making his decision to take the United States out of the Paris accord, I just feel like I need to do as much as I can on the climate change issue.… I need to help other communities become as resilient, as sustainable as possible," says Zimmer.
She continues, "I can't quite wrap my head around it. I think he's really looking at it the wrong way. The green sector is a jobs creation opportunity…. We are doing that right in Hoboken."
In a surely unintended consequence to the June 1 White House announcement, Zimmer represents a wave of invigorated climate leadership across the country. This month the response from CEOs, university presidents, the medical community, the finance sector, and others has been swift and it has been loud. #WeAreStillIn, say CEOs, doctors, investors, governors, and mayors.
Across the Hudson River from Hoboken, former New York City mayor Mike Bloomberg has emerged as perhaps the Chief Climate Champ of All. Rallying other mayors in this country and around the world; writing nine-figure checks to make up for the US shortfall on the Paris Agreement; and all the while heading up a thriving media company that's expanding Climate coverage (since "it's fundamentally an economic story," of course); 75-year-young Bloomberg gets my vote for responsible leadership and for blasting generational and class barriers.
Follow him on Twitter and via Instagram, if you can keep up, as he jets to Paris to reassure new French President Macron that the US is still in the Paris Agreement (the day after President Trump declared we are out); announces a $200 million American Cities Initiative at the Conference of Mayors, in Miami, where 250+ mayors pledged 100% renewables (Monday); buzzes to a board meeting for the Global Covenant of Mayors, in Brussels (Tuesday); speaks to the European Parliament to reaffirm American commitment to climate action (Wednesday); and Oh by the way simultaneously launches the documentary film From the Ashes, about the declining coal industry. (Pick up his new best-selling book, Climate of Hope, if you haven't already.)
Excuses? Bloomberg doesn't know that word. Neither do Figueras, Macron, Zimmer, Paul Polman, Sheldon Whitehouse, Mindy Lubber or any of our other inspiring and amazing Climate Champions. And neither, if you want to be on the right side of history, should you.
"Tick-tock" has never sounded so good.
Related
Popular in the Community