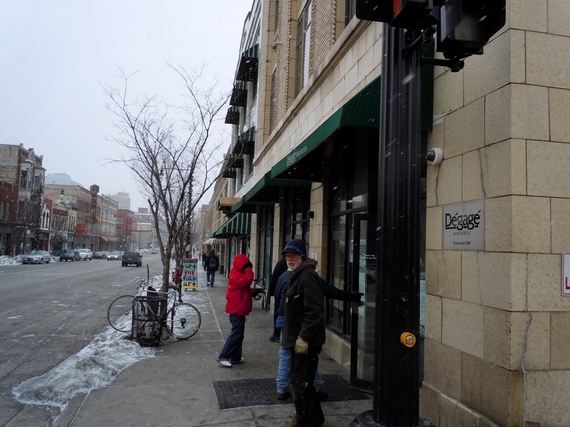 Of all the nights Dana spent in her van, one stands out more vividly than the others. It was Thanksgiving, and she had walked back to the parking lot at St. Andrew's Cathedral, carrying a box of turkey leftover from the meal for the homeless she had attended at a nearby convention center. Downtown Grand Rapids was deserted. She let the engine idle for half an hour until the van got warm, and then she went to sleep. The next thing she remembers is being woken by someone trying to open the door.
"I said, 'Oh my God, let me get out. I'm a sitting duck right here,'" Dana recounted.
When he couldn't get the door open, the young man left. But then a few minutes later a red Dodge Magnum with tinted windows pulled up beside her van. "I'm seeing my life go in front of me. I'm like, what do they want, they're rolling the window down," Dana said.
"When I look in the window, it's a little Mexican girl asking, 'Did you have Thanksgiving dinner?' because they're driving around giving food to people."
Dana was touched -- and very relieved. "I'm like, 'Whew, you're the last thing I expected to see.'"
For several months this past fall, Dana lived in the strange world of victimization and kindness that hundreds of Grand Rapids' homeless live in every day. By the grace of God, she says, she was only passing through.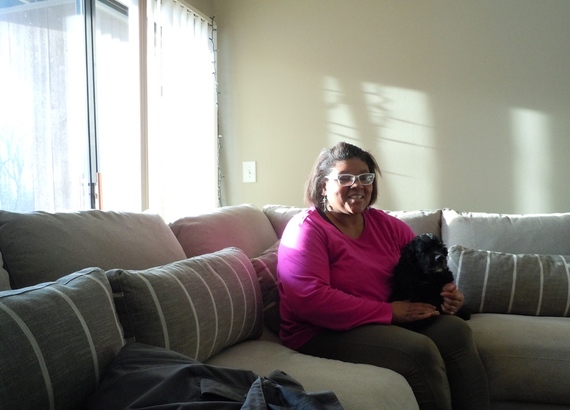 Dana Knight, age 50, grew up in Grand Rapids, Mich., and attended Catholic Central and Union high schools. Her father was an architect who once played professional football for the Montreal Alouettes, and her mother was a special education teacher who used to bring troubled students home for family dinners.
Her father's passion for art inspired Dana to pursue it herself. She graduated from Grand Valley State University with a degree in photography and became an art teacher, despite the warnings of her professors, who promised she'd be "the last to get hired and the first to get fired."
She found a full-time position teaching art in the Muskegon Heights school district. But in 2006, she lost her job and had to start substituting to make ends meet. Around the same time, her aging parents began to require more and more of her time, especially her mother, who was suffering from schizoaffective disorder and would lash out at nursing staff.
"It got so bad that no hospital in the state would take her," Dana said.
After her father's death in 2013, Dana moved in with her mother at a senior housing complex on the southeast side of town. Dana and her niece shared caregiving duties so Dana could continue teaching. After years of deteriorating health, it seemed like her mother's doctors had finally found the right combination of medications. She became calmer and less aggressive. If anything, her progress seems to have made her unexpected death that much harder to bear.
"Saturday is when my mother died," Dana said. "I remember being up with her at 3 .... I remember holding her hand, and it was so soft ... and I rubbed her hair like this, not knowing this is the last time I would touch her."
The next morning, Dana was sitting in the living room, watching TV and waiting for her mother to wake up. She had set the eggs and bacon out on the counter, and, because it was August, all the windows were open in the apartment. That's when she heard the sound of her mother's body hitting the ground.
The investigators ruled the death an accident. They said Dana's mother had been sleepwalking and gone out onto the patio where she fell over the railing.
"You expect your parents to die," Dana said, "but not from falling four stories."
Dana was given a month to move out of her mother's apartment. From September to November, she bounced from motels to friends' couches to a recovery home on the northwest side of town, sleeping in her van in St. Andrew's parking lot when nothing else was available. She came to Degage Ministries on Division Avenue on one of the coldest nights in November.
"You're supposed to be there at 7 or before, and I came in at 8," Dana recalled, "and the lady on the intercom said, 'Let me see if we've got a bed.'"
They had one vacancy left.
"It's hard to express how happy I was to sleep on that mat. I mean, it was heaven."
At Degage, Dana was given a place to sleep, shower, do laundry and eat three meals a day. She could buy a cup of coffee for a quarter. "Being a coffee drinker, I cherished that," she said.
Degage is one of the 1,100-plus hunger-relief agencies in Feeding America West Michigan Food Bank's network. The Food Bank provides much of the food that Degage serves.
"Our goal is to provide as much healthy food options as we can. Feeding America is doing a great job helping with that," said Degage's executive director Marge Palmerlee.
Degage served over 50,000 meals last year, Marge said, and that represents more than just nutrition. "If we didn't have that ability to converse over a cup of coffee and a meal, we would just be a vendor." Instead, she said, they're able to provide a sense of dignity and community for their clients: "They can come to Degage, get a good meal, feel like they're being treated with respect." ("Degage" is a French word meaning "to relax and be at ease," according to the ministry's website.)
Though Dana speaks highly of Degage and its Open Door Women's Center, she never intended to live there longer than she had to. She craved a return to normalcy and a space of her own.
"It's overwhelming to live like that," Dana said. "The humbling thing is I've always had compassion for homeless people, but now I'm one of the homeless people. These are the people you've been driving by on Division all your life and having these thoughts of what type of people they are, and now I'm one of them."
In all, Dana stayed at Degage for just over a week. She met with the management of an apartment complex off of Byron Center Road in Wyoming, a suburb of Grand Rapids. She passed the credit check ("I don't know how") and toured one of the units. It had a big living room that looked out on a tree-lined pond. "I came here and saw that view out there, and I said, 'This will be my oasis.'"
She moved in just before Christmas.
Today, Dana continues to teach. She's started seeing a therapist, though she isn't sure that she's properly dealt with her mother's death yet. She's still angry about the treatment her mother received during her hospital stays, and she's channeling that anger into advocacy by attending a local program that teaches basic advocacy principles like communication, how to address legislators and civil rights.
"Despite everything that's happened to me, I didn't lose faith," Dana said. "I didn't lose my way. I think that's attributed to my parents."
Each year, the Feeding America network provides food to millions of people who, like Dana, lack permanent housing. Nearly 1 in 6 Feeding America clients have been evicted or foreclosed on in the last five years, and 57 percent reported having to choose between buying food and paying rent or mortgage payments, according to Feeding America's most recent study.
Though the road ahead is tough for people in these situations, programs like Degage's Open Door Women's Center can provide a safe haven, a source of food and a listening ear. To support efforts like this, get connected with a Feeding America food bank in your region.
Support HuffPost
The Stakes Have Never Been Higher
Related
Popular in the Community