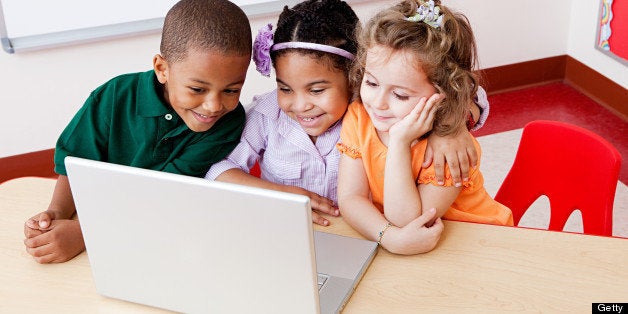 Equipping students with 21st century skills requires new tools and new ways of thinking about education
The time has come to extend digital connectivity to every student in every classroom. Access to the Internet is an essential tool for equipping students with 21st century skills. And as the debate over the future of education heats up, traditional learning methods are being called into question, and we're starting to see the K-12 landscape being reshaped in bold new ways.
As the world continues its love affair with smartphones and tablets, mobile has become so essential to our lives that most people couldn't imagine life without it. Over the next five years, smartphone shipments are expected to surpass the seven billion mark, which is roughly the equivalent of the world's population. There's no question that mobile has had a transformative effect in our homes and workplaces. And now there's growing momentum around leveraging its power to transform the classroom. Its already happening in colleges and universities and the time has come to extend its benefits to K-12 students.
Why now? For starters, the building blocks are finally in place to support the vision of the "connected classroom" -- the 21st century classroom. The proliferation of mobile broadband networks combined with local area hot spots is bringing the dream of seamless and ubiquitous connectivity closer to reality. And today's mobile devices have the computing power to deliver the kinds of features and experiences needed to take learning to a whole new level.
Over the course of my career as an engineer-turned-tech evangelist, I've had the privilege of travelling the world and seeing the extraordinary impact of mobile on people and communities across a broad range of cultures and socio-economic strata. In many ways, mobile is a democratizing force. It empowers us. It inspires us. It extends our reach.
While few would disagree that mobile has tremendous potential to improve educational outcomes, there are still a number of systemic barriers to overcome. For example, many education professionals have concerns that devices in the classroom represent a distraction, and some fear that the shifting emphasis on technology will somehow diminish the traditional teacher-student relationship.
Countering this argument in his book, One World Schoolhouse: Reimagining Education, online learning guru Sal Kahn likens the existing system to an impersonal assembly line and argues that the role of teachers will be elevated in the classroom of the future, where they will be freed to focus on more personalized interactions with their students.
We now have the opportunity and the responsibility to redefine the way young people learn, making the experience more immersive and interactive, and extending learning outside the boundaries of the classroom. It's going to take forward-thinking school administrators, and teachers, and parents to lead the charge. In the physical world, schools are going to need 24/7 connectivity and students are going to need mobile devices like smartphones and tablets they can carry with them, whether at school, on the bus, or at home. And finally, it's going to take creative educational content that takes advantage of multimedia and technologies like augmented reality to open up new ways of seeing the world.
There is exciting progress on all these fronts, thanks in part to emerging alliances between thought leaders in both the public and private sectors. For example, on the content side, News Corps' Amplify division has committed to bringing a tablet-based digital curriculum to K-12 students across the country.
The Institute of Play, a not-for-profit design studio that pioneers new models of learning and engagement, launched a major R&D initiative last year called the GlassLab project, with funding from the Bill and Melinda Gates Foundation, the John D. and Catherine T. MacArthur Foundation, Electronic Arts (EA), and the Entertainment Software Association (ESA).
On the connectivity side of the equation, network operators like AT&T are investing millions of dollars in community outreach programs centered around educational initiatives and dedicating parts of their businesses to providing end-to-end connectivity solutions and discounted data plans to schools.
Here at Qualcomm, and across the high tech industry, we recognize the critical importance of educating the next generation of scientists, inventors, engineers, and entrepreneurs. It's not only the right thing to do, it's also a business imperative as we look to employ the inventors and leaders of tomorrow.
As part of that effort, we are passionate advocates for STEM (Science, Technology, Engineering and Mathematics) curriculum and have launched pilot programs worldwide aimed at extending the benefits of mobile to students in underserved regions. For many people, particularly in emerging regions, the mobile phone may be the first device they will use to access the Internet, and possibly the only computing device they'll ever use.
Whatever part of the world you happen to live in, that mobile device you are carrying is in fact a powerful computer that has tremendous potential as an educational tool: for looking up assignments, talking to teachers and peers, reading online textbooks, watching multimedia instructional presentations, and the list of breakthrough ideas for redefining education is growing. Clearly, mobile technology has the potential to be a transformative force in shaping the future of education, and every student should have access to a mobile device for learning.
I recently had an "aha" moment on the subject when my son, following in his proud mother's footsteps, completed his engineering degree and set out to find a job. During the process, he quickly determined that there were some key skills that would give him the edge in obtaining the job he'd set his sites on, skills that had not been part of his university curriculum. To fill the gap, he completed a series of adjunct courses offered through MIT's online continuing education program. The story ended happily and he landed his dream job.
The lesson for me was that even our most hallowed educational institutions need to get serious about embracing new approaches to learning. My son owes his livelihood to the fact that technology allowed him to tailor his own course of study at his own pace. I believe that nowhere is that principle more critical than in the K-12 years, and I'm excited to play a small part in helping to spark new thinking about technology's increasingly pivotal role in redefining the learning experience, both in the classroom -- and beyond.
Popular in the Community