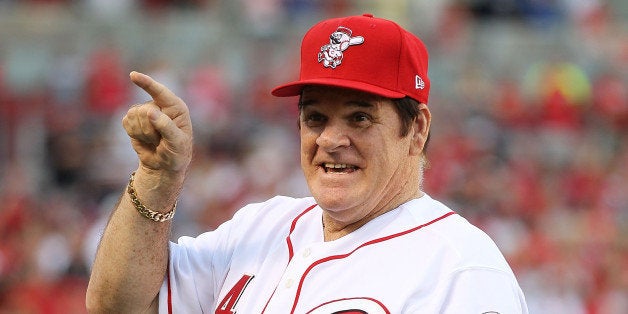 Pete rose has made a new request for reinstatement by MLB, and it is time for baseball to welcome him back. When Rose agreed to the suspension in 1989 based on the findings of the Dowd report that he had definitively bet on baseball games, his understanding was that he could apply for reinstatement after one year. To induce Rose to sign the agreement, the commissioner, Bart Giamatti, included the clause that "Nothing in this agreement shall be deemed either an admission or a denial by Peter Edward Rose of the allegation that he bet on any major league baseball game." Rose arrogantly believed that his illustrious career as the all-time leader in total base hits made him "a national treasure", and that after a limited suspension, the baseball officials would lift the ban. He miscalculated the stance taken by successor commissioners, Fay Vincent and Bud Selig (commissioner Giamatti died from a heart attack eight days after the agreement was signed), and Rose's attempts at reinstatement consistently have been rebuffed for the past 26 years. Vincent has adamantly maintained that a permanent suspension for Rose is necessary as a deterrent for other players who might be inclined to bet on baseball games. In considering whether he had softened on Rose, 10 years later when he was no longer the commissioner, Vincent proclaimed, "Any commissioner who reinstates Rose has to accept responsibility for lessening the deterrent to gambling that has been almost totally successful." Vincent continues to take this position today, but his taking the high moral ground at this juncture may be overkill. I would argue that the prospect of being banned for 26 years is a sufficient deterrent for current players. The inflated and mushrooming salaries that players now receive, also serve as a deterrent against gambling adventures.
At the time of Rose's suspension, the cardinal sin in baseball was gambling, but the culture has shifted and other issues such as PEDs and violence toward women are in the forefront of punishable offenses. It is these scandals by today's modern players that tarnishes the image of baseball as the national pastime.
For many years, i shared the view that by perpetuating Rose's suspension, MLB was serving the greater good in sending the message that in addition to talent, character and integrity count, to the kids who admired Rose's accomplishments and wanted to emulate him. In a letter published by the New York Times in 1989, I wrote that the larger tragedy of the Pete Rose episode was his failure as a role model for the kids who idolized him. My view was shaped by the belief that his sports betting while he was the manager of the Cincinnati Reds was an affront to the game, and reflected his distorted self image in which he felt he could violate the game's integrity with impunity, and not think about possible consequences, or the impact that his actions could have on the multitude of hero worshiping kids. That generation of young fans has moved on, and the landscape has changed; and the present generation must contend on a larger scale with the repeated disillusionment inflicted by the increasing frequency of sports heroes who are crossing the line into moral and legal transgressions.
For a long time, it was hard to feel any sympathy for Pete Rose because of his lack of contrition. He has consistently minimized the importance of his crossing the line, and has portrayed himself as a victim of harsh baseball commissioners. For many years he was self-destructive in presenting himself as not having bet on baseball (only on other sports), despite the overwhelming evidence put forth by the Dowd investigation. Only belatedly in his 2004 book, My Prison Without Bars, did he acknowledge that he had indeed bet on baseball games. He took the position that his punishment should be mitigated by the fact that he had never bet on the Reds to lose. In television interviews, he seemed to underplay his misconduct, and made an emotional grab for compassion for all that he had endured during his lengthy exile. He continues to feel that he has been unfairly treated by the baseball establishment, and I believe that with an expanded lens of the changing culture regarding athletes' transgressions, perhaps leniency in his case is now in order. He never stood a chance with the hard line position of commissioner Fay Vincent or the stonewalling approach of commissioner Bud Selig; but Rob Manfred, the new MLB commissioner, would do well to embrace a more forgiving response.
Rose's ultimate goal is to be elected to the Hall of Fame. If he is reinstated, he becomes eligible for that honor. But it is far from certain that he would get enough votes. His record as a player clearly makes him deserving of that honor, but the current ethos demands that the voters take into consideration character and integrity issues in making their selections. Through the years, Pete Rose has displayed many character flaws. The new bete noire in baseball is cheating, and if he is reinstated, it will be interesting to see if Rose is pushed aside by the Hall of Fame committee like Bonds, Clemens and McGwire or if he is forgiven for his misdeeds in staining the game.
Stanley H. Teitelbaum, Ph.D., psychoanalyst, author of "Athletes Who Indulge Their Dark Side" and "Sports Heroes, Fallen Idols".
Related
Popular in the Community