When we think of where the effects of climate change would be most felt, remote locations like the Arctic Circle or the Amazon rainforest often spring to mind. Indeed turning on news channels it's hard not to see its devastating effects. Consider this though: is it surprising given the vast distances of these places in proximity to the places we know and love that people feel disconnected from the challenge of climate change?
As time marches on, we are seeing the effects of climate change more and more tangibly in our everyday lives. Climate change is no longer an abstract concept which happens in places like Bangladesh, Myanmar and Honduras - three of the top countries featured on the Germanwatch Climate Risk Index . It is now a reality that blights our lives with increasing effect. This is why initiatives like RE100 which has seen BT commit towards ensuring all electricity we use comes from 100% renewable sources by 2020, are vital.
In the UK, Cumbria in 2015 saw the wettest December since records began. Large scale flooding ruined the Christmas holiday for thousands of families with the Armed Forces having to be called in to support the inundated emergency services. Cumbria illustrated starkly why rapid response to climate change-fuelled extreme weather conditions is vital to protect networks and keep people connected. This continues to a priority for BT - over the last 18 months we recruited 3,000 new engineers to continue to support our network.
Rising temperature levels are also impacting the world's favourite pastime - sport. At last year's Wimbledon tennis championship we saw the highest ever temperatures recorded at the All England club - a scorching 35.7C (96.3F). The rising mercury caused one of the competition's iconic ball boys to faint, and Australian Bernard Tomic needed post-match treatment following competing in the heat.
The direction that we're going in prompted me to ask myself, what does climate change mean to me? I've keenly investigated what climate change-induced extreme weather could mean for my own home in Ireland and the outlook is bleak. Considering around 60% of the Irish population are living within 10km of the coast, rising sea levels are a major concern and estimates have claimed they are rising at a rate of 2-4mm each year.
For this, and indeed many other reasons, I signed up to the Show the Love campaign. The campaign aims to highlight the risk climate change poses to all we hold dear; in my case sport, and the country I grew up in.
It's also part of my mission at the company I work for - BT. At BT we recognise the pivotal role ICT is to take in combating the effects of climate change on the things we hold dear. The rewards cannot be overstated: A recent report published by Accenture "The Role of ICT in Reducing Carbon Emissions in the UK" highlighted that ICT could effect a 24% reduction in UK carbon emissions by 2030.
Adapting our approach to monitoring energy output is also is of chief importance. Our smart meter technology also enables companies to closely monitor their energy efficiency and have helped us to reduce our global energy consumption by 4.5% in 12 months.
As a former athlete (I represented Ireland in the 800 metres, in my past life), I've always appreciated the transformative power of sport. At BT we've sought to harness this through the 100% Sport initiative which seeks to inspire sports fans around the world to tackle climate change and reduce carbon emissions by using clean energy.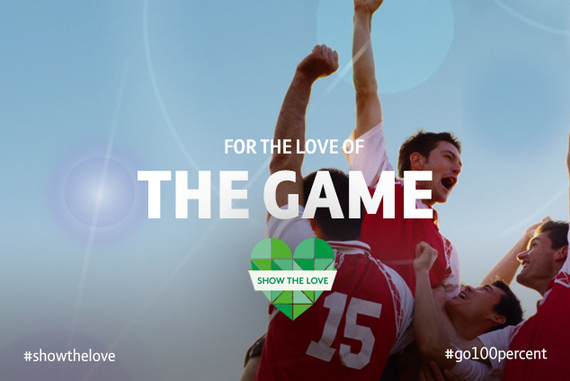 In the run up to Valentine's Day there's a challenge we all need to think about. How could the places and things we treasure be jeopardised by climate change, and what are we going to do about it? Climate change will have such an impact on our day to day lives, that something as trivial as my morning run may be a very different experience in the years to come. Looking forward we should view climate change not as some abstract concept felt worlds away, but as a very real issue that has already fundamentally begun to change our lives and will continue to do so unless it is robustly addressed.
Calling all HuffPost superfans!
Sign up for membership to become a founding member and help shape HuffPost's next chapter