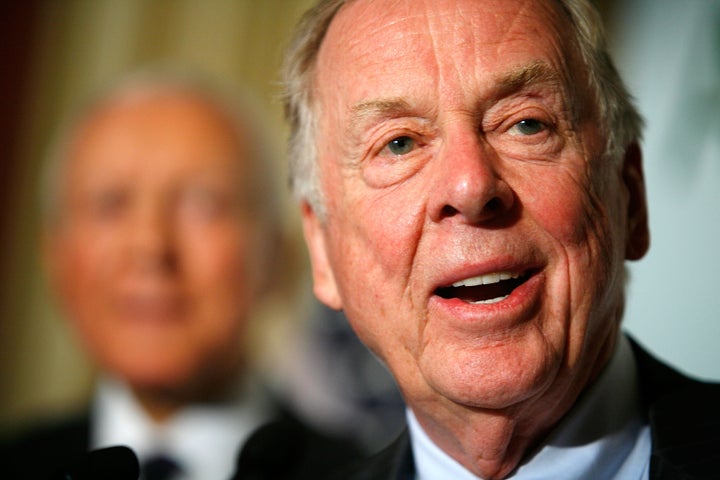 I've always said that the most important quality of a good leader is that you've got to be willing to make a decision. Too often, people fall victim to what I call the "ready-aim-aim-aim-aim" syndrome. Everything has got to be absolutely perfect. The truth is sometimes you've got to be willing to pull the trigger. Only afterward does it become apparent that the time was right.
Yesterday, I witnessed what leadership is all about firsthand. My good friends, Senators Harry Reid and Orrin Hatch, signed on as cosponsors of Senator Robert Menendez's new bill: the NAT GAS Act. This is one of the most important pieces of legislation to be introduced in the Senate over the last 40 years. It goes right to the heart of the question I've been asking since I launched the Pickens Plan a year ago on July 8:
When are we going to put in place the energy plan this country needs and deserves?
The NAT GAS Act will extend and increase tax credits for natural gas vehicles and refueling. It will help encourage the development of natural gas vehicles, a much needed step for our beleaguered auto industry. NAT GAS will also save consumers thousands of dollars on fuel costs and protect our environment by utilizing cleaner burning natural gas.
This bill is the only way I know to quickly and effectively reduce our dependence on foreign oil. No other fuel can replace diesel and power a big semi or a garbage truck, including batteries. For too long, our dependence on foreign oil has been one of the leading factors influencing American foreign policy. If we can eliminate that issue by using our enormous domestic natural gas resources, I am confident that it will benefit our national security, our economy, and the environment.
As I have said many times before, natural gas is cleaner, cheaper, it's abundant, and it's American. That's why Senator Menendez's bill enjoys exceptional bipartisan support, starting at the top with Harry Reid and Orrin Hatch. The House version, which was introduced by Dan Boren, John Sullivan, and John Larson, now has a total of 71 cosponsors from both sides of the aisle. We're pulling together on this one. Not as Democrats. Not as Republicans. But as Americans.
For almost four decades, this country has been floundering without an energy plan. Is now the best time to put one in place? No. The best time to do that was back in the 1970s when we were importing a small fraction of our crude from overseas. But as these leaders are demonstrating, now is the right time.