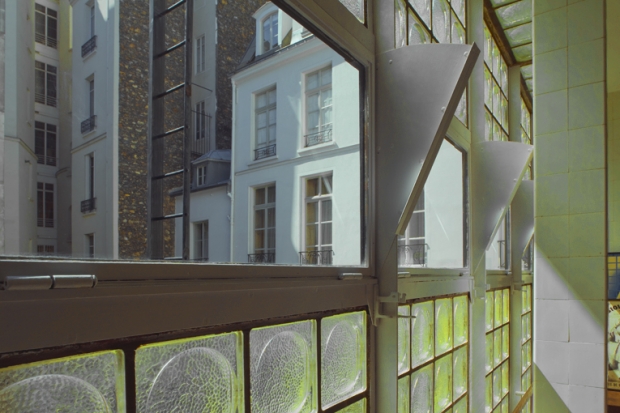 James Welling: Geometric Abstraction | This exhibition will present a selection from two recent bodies of work: Geometric Abstraction (2008) and Maison de Verre (2009), which examine the dialogue between photographic representation and visual experience that is at the core of Welling's work.
In 2009, Welling photographed the Maison de Verre in Paris, France. Designed in 1932 by Pierre Chareau as the medical and home office for a gynecologist, the Maison de Verre was considered an early twentieth-century architectural masterpiece. For Welling, despite its glass walls, the house is dark and somber, and the interior light is shadowed and opaque. Welling photographed the interiors of the house to intensify the existing light found on the first two floors. Using Photoshop Curves, Gradient Maps, and Hue and Saturation adjustments, Welling modified the color in the Maison de Verre to such an extent that he essentially created a new work of architecture on top of Chareau's masterpiece.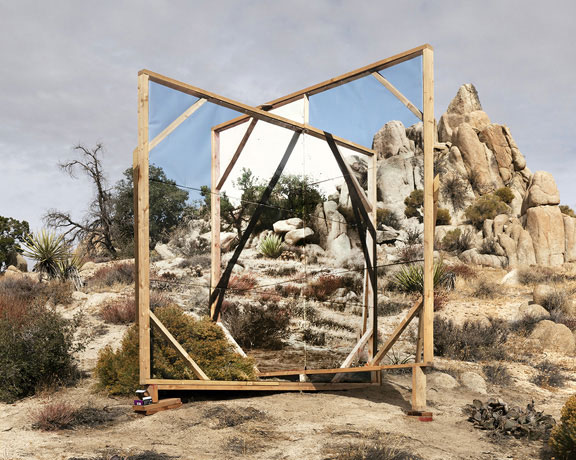 Dualities, Omissions, Loops, And Ruptures | An exhibition of four LA-based artists -- Chris Engman, Cody Trepte, Samantha Roth, and John Houck -- Dualities, Omissions, Loops, and Ruptures navigates between photography, film, drawing, print, and sculpture in order to explore ideas that play with paradox vis-a-vis constructed realities (a place, time, object, thought or dream, etc.) and notions of psychological and emotional dualities (i.e., grandeur and the ordinary, reason and absurdity, struggle and futility, illusion and disillusionment, etc.). The exhibition juxtaposes these four artists' interest in linguistics and narrative, appropriated and mediated imagery, time and spatial perception, content and context, and how meaning is constructed and understood against the fluid dynamics of abstraction and representation.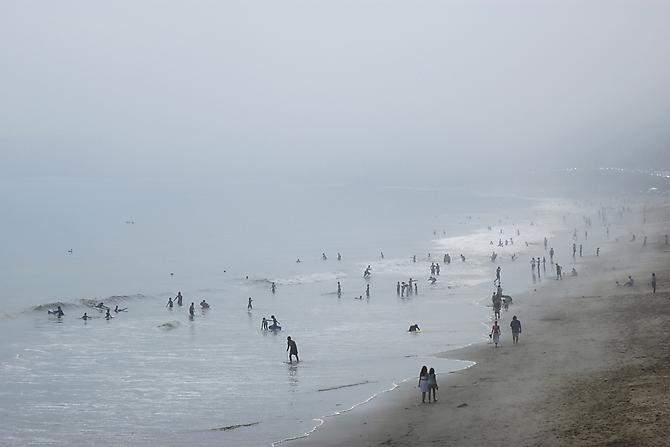 Sharon Johnson-Tennant: Diffusion | In this collection of vibrant yet soothing photographs the viewer is taken to the artist's personal visual escape of Los Angeles. This composed, yet organic series incorporates works from India, Hong Kong, Papua New Guinea, Malibu, and a large portion from Block Island, R.I. where Johnson-Tennant spent her childhood summers. The images carry an ethereal quality reflecting a diffusion of light and sky combining the surreal and bucolic. Diffusion exhibits the artist's intuition while showing a natural sense of harmony in their composition balanced by a sense of color and symmetry.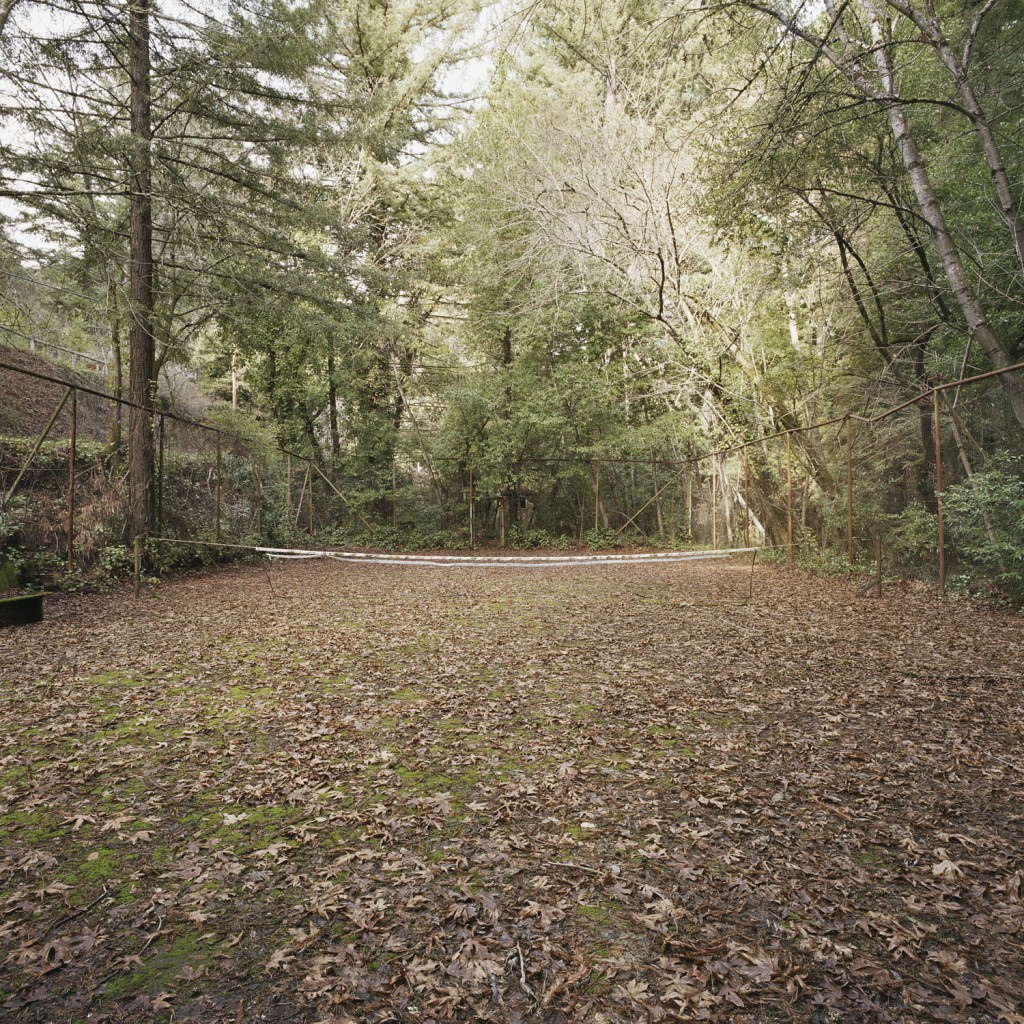 Frick Byers: Tennis Courts | Byers' fascination culminates into creating 43 images of dilapidated tennis courts taken from cities across the States from 2009 to 2011. Tennis Courts represents a study of the human-made existing in nature. Byers, inspired by his 2003 photograph of a forgotten tennis court at an abandoned resort in Salton Sea, CA, revisits this subject matter six years later and becomes interested in photographing the rectilinear quality of tennis courts and the ways in which these constructs commingle with the natural surroundings.
What is uniform about this series is the lens' vantage point. Byers sets up his Hasselblad camera from the center mark on the baseline and same tripod height for each tennis court. One perspective yields multiple universes, resulting in a study of seriality and revealing the ironies where nature trumps the manufactured. No matter how manicured the structures, the natural environment always reclaims its rightful place under the sun.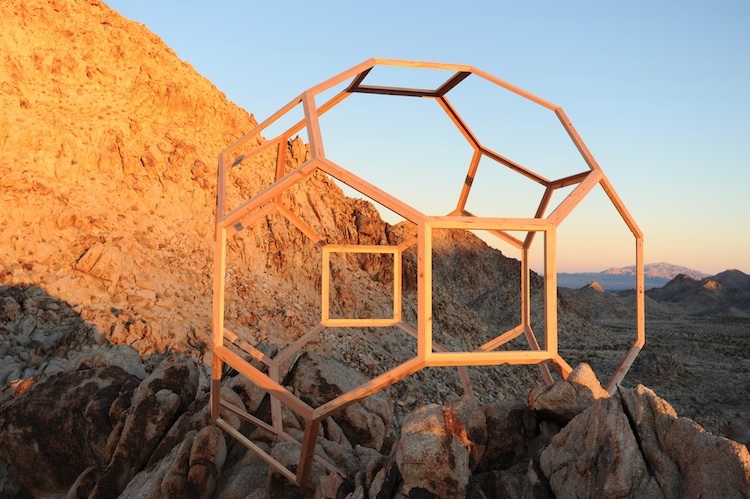 In The Making | The exhibition brings together a group of artists whose primary working strategy embodies a purely multidisciplinary practice that derives from conceptual thought, pushing the envelope as it were between genres and disciplines.
Art making at its best and most persuasive, is essentially a two-tiered process that begins with a stratagem, a singular idea or concept that derives from the impulse to create work that pushes the boundaries of thought. The materials are employed in the service of the concept, extending that thought even further outward. This process or conceptualization also involves the element of simultaneity wherein the work is realized within a physical space, which then becomes yet another element influencing the way the work is seen, received and ultimately talked about. Thus, the "making" of any conceptually based work is ongoing, constantly active and activated.
For the most comprehensive calendar of art events throughout Los Angeles go to Artweek.LA.

Popular in the Community