As any seasoned salesperson, leadership trainer, or parent will tell you, people want to listen to stories. For as long as there have been languages, stories have been used universally to share narratives , across all cultures and geographies, in the form of chants, songs, and epic poems. In an entertaining and compelling way, stories teach us lessons that we as lazy humans may not otherwise be so inclined to try to understand or whose messages may simply pass us by as we are either unwilling or unable to relate to them. And the most powerful stories are often the hardest to tell — the most authentic, with raw emotion, be it for inspiration or education, as caution or as encouragement — which brings us together as humans. Stories are how we connect.
As I'm sure it is for many of you, one of my favorite platforms for listening to inspiring stories is TED. And this past weekend, I had the honor of being one of 18 speakers at London's TEDxEastEnd given the opportunity to share our stories to a sold-out audience at the Hackney Empire theatre.

Since 2011, TEDxEastEnd has been running with the theme Society Beyond Borders, exploring the relationships between identity and borders. This year, as we face the realities of Brexit, a divided America, and an unprecedented number of people having to flee their homes due to war and persecution, this theme hit home more than ever. And in today's society where we find our self-expression being cut down into selfies, 140-character statements or hyper-positive status updates, the opportunity to spend an entire day listening to stories most people shy away from ever sharing hopefully created a worthwhile experience for those who were able to join.
One of the things which most impressed me, aside from the team's tireless efforts to make it all run smoothly, was Founder & Curator Maryam Pasha's skill in putting together a group of speakers who were diverse not only in age, gender, and ethnicity, but also in the range of topics addressed. From mental health to education, family pressures to sexuality, migration to the acceptance of technology and science, the talks covered a broad range of borders or barriers which different people face as they try to make the most with what life has thrown at them. And the unique range of content the team put together helped ensure every audience member walked away with a new perspective and awareness of barriers they may otherwise never have even realized existed.
Rasheeda Page Muir, the 19 year-old poet, feminist and founder of RevolYOUtion, a debate platform for young people, blew the audience away with her insightful outlook on how patriarchal capitalism harms men as well as women. How can we ask men to be allies when they are victimised by the same system?, she asks before challenging assumptions even further by exploring how rap can be a model of healing discourse for these men.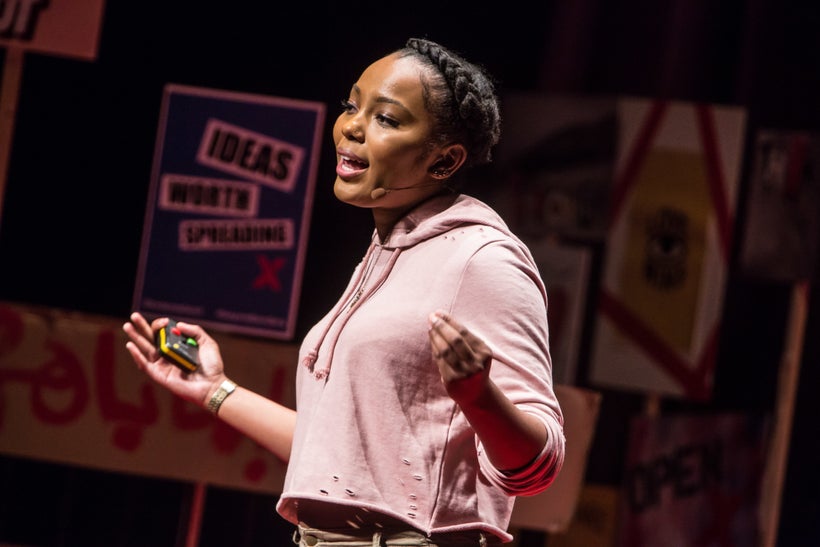 Tom Boon also challenges our norms and fears by speaking openly about depression, PTSD & mental health. Sharing the experiences that he and his brother faced in their early youth, Tom advocated for empathy and understanding around mental illness and for a society in which we are not defined by our worst actions — but rather can create happy and healthy futures irrespective of the past.
Pioneering psychologist Annahita Nezami explored how our current systems of incarceration, medication and segregation are failing to address the root of our problems here on earth. She therefore looks to space, exploring how Virtual Reality, in using the Overview Effect, can be a tool for changing our we see the world, erasing borders and national conflicts and creating empathy and connectivity with our own planet.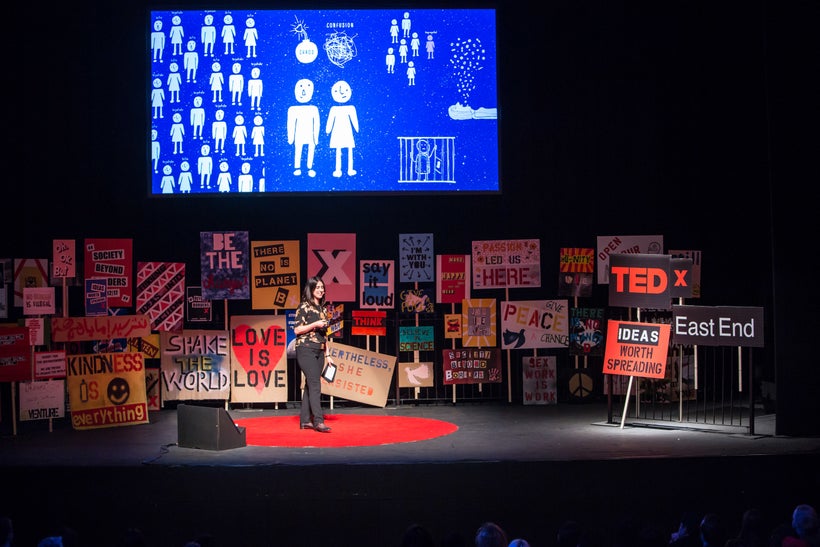 Emmanuel Opoku shared his story of how, despite living in the UK from the age of 9, universities charge prohibitive foreign student fees, how this led him to the Let Us Learn campaign and what it taught him about perseverance against all odds (and showing how these are unreasonably stacked against migrants).
Alix Fox explained why she feels conformity in sex is the weirdest concept, encouraging us to open ourselves to the possibilities for exploration and expression in our own sexuality. George Marshall, founder of Climate Outreach, shared how he learned that properly engaging and listening to your opposition when campaigning is crucial to achieving change. Dhillan Bhardwaj described how he beat all odds — low school grades, family pressures and a gruelling work schedule from a young age, to build his own million dollar clothing company. And Jeremy Burge not only made us laugh but also consider how we represent ourselves — and how we see each other — in the universal language of the emoji.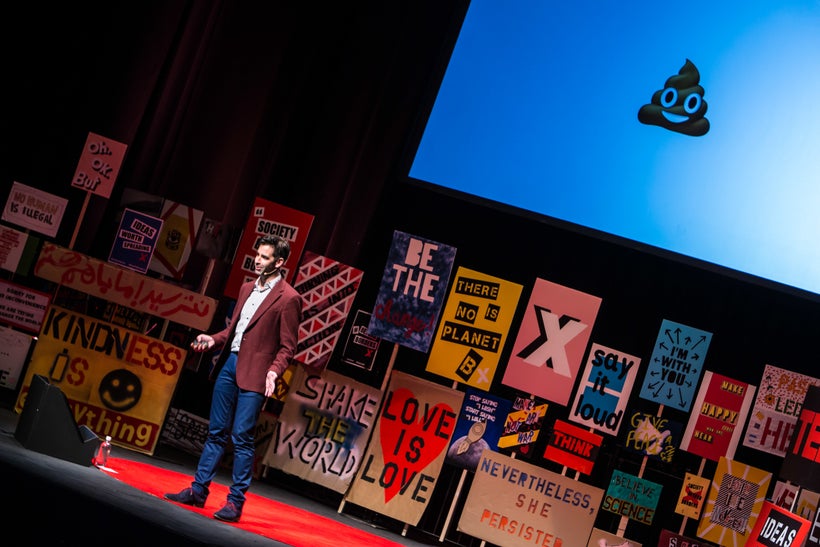 This are just some of the speakers who I had the pleasure of getting to know over the past few months of preparation and who challenged and inspired us last Saturday. For me, not only did they each bring a strong lesson in themselves, but it truly brought to life the unique way in which stories connect us — beyond all borders.
REAL LIFE. REAL NEWS. REAL VOICES.
Help us tell more of the stories that matter from voices that too often remain unheard.
This post was published on the now-closed HuffPost Contributor platform. Contributors control their own work and posted freely to our site. If you need to flag this entry as abusive,
send us an email
.