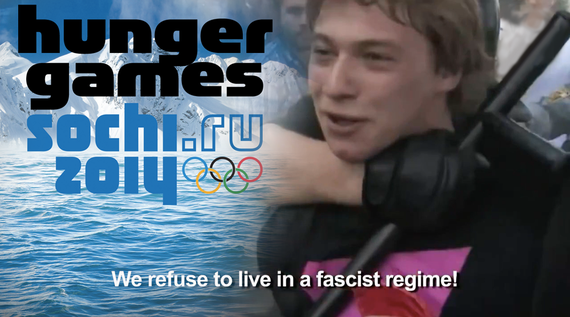 The 60-second clip makes satirical use of the conventions of Hollywood-style action movie trailers to tell the horrifying tale of a maniacal Russian despot who runs roughshod over the basic human rights to free speech and assembly. Aided and abetted by a cabal of his Top Olympic "Partners" in crime, The International Olympic Committee, Coca-Cola, McDonalds, Dow Chemical, Procter & Gamble, General Electric, Panasonic, Samsung, Omega, Visa, Atos, the diabolical Putin terrorizes Russia's gay community daily, with a little help from Neo-Nazi friends.
Though tongue in cheek in tone, the video footage is 100 percent authentically culled from real-life scenes of government oppression and vigilant aggression that are daily reality for Russia's LGBT community. In fact, on day one of the Olympics, several lesbian women were taken on into police custody and were reportedly being beaten, kicked, spit on and threatened with rape by the Russian police.
Of course, this will not actually be playing on NBC. That too is satirical. The network is doing an excellent job ignoring incidents like the police brutality described above.
Previously LGBT activists successfully hijacked social media promotions by Coca-Cola, and McDonald's two global Olympic sponsors. #CheersToSochi -- originally conceived by McDonalad's as a means for consumers to send well wishes to Olympic competitors -- has morphed into an ironic tagline of LGBT Olympic protest. The backlash prompted Forbes to say: "For Coke And McDonald's, Ignoring The Power Of Social Media To Disrupt Means No Medals In Sochi." Mashable piled on saying, "Brands Will Need Those War Rooms They Set Up in Sochi."
A parody website, CheersToSochi.org, now serves as a resource for people to continue the conversation with Sochi Olympic sponsors about their concerns about LGBT rights in Russia.
With huge influential outlets like the New York Times just this week giving big play to the social media backlash, it will be a long Olympic month for the sponsors. The LGBT community worldwide, from New York to Hong Kong to London to Berlin, has not been shy about telling these sponsors what they what: a clear denunciation of Russia's anti-gay laws and an unambiguous call to the Russian government that they must be repealed. They have all thus far stayed shamefully silent, and that is not acceptable way for them to make their mountains of Olympic profits. These multi-national companies' support is much appreciated in Western markets, but they need to support for their LGBT friends -- and employees -- worldwide, not just were it's convenient. LGBT people are increasingly under horrific attack abroad, in countries like Russia, Nigeria, Uganda and elsewhere. It is time for these companies to come out of the international closet with their support.
Related
Popular in the Community