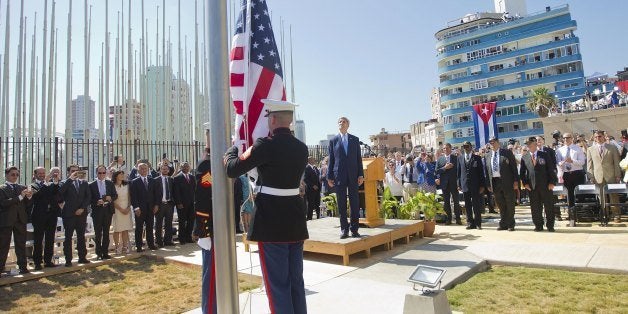 When Secretary of State John Kerry visited Havana this month to oversee the raising of the American flag over the U.S. embassy, it was the culmination of negotiations that guaranteed American diplomats flexibility and freedom to move around the island and meet with the Cuban people. Ironically, the American people continue to be denied the same right, and absurdly it is by our own government. It's time to change that.
One of the myths that emerged immediately after the president announced a change in Cuba policy on December 17 and after embassies reopened was that the embargo had ended. It's true that significant changes in policy were made and that diplomatic engagement is beginning to make a difference. However, the regulatory changes made earlier this year simply eased the process on potential travelers who no longer have to wait for the U.S. Treasury Department to finalize their plans under approved categories of "people-to-people" travel. Restrictions, though, remain and getting to Cuba requires the use of often costly group tour operators and charter flights. There's more the government can and must do.
Recent news that the White House is considering further steps to allow for commercial flights and individual people-to-people travel are good news for Americans and Cubans. Currently, restrictions only allow for travel in often expensive, group packages organized by third-party vendors. This puts it out of reach for many travelers, such as millennials, interested in people-to-people trips on their own or with a smaller, more intimate group. Many Americans are interested in learning more about the island and supporting small independent businesses without joining a pricey formal tour.
Already, the expansion of services like Airbnb on the island and the presence of American diplomats are driving American interest in Cuba. Travel by Americans grew dramatically between January to July, a 54 percent jump from the same period last year. Still, a Congressionally-imposed ban on Americans continues to deny us the right to easily and freely travel to Cuba, and the trade embargo remains in place. This infringes on the freedom of every American who deserves the opportunity to travel without restrictions from their own government.
There are signs of progress. Recently the Senate Appropriations committee voted on a historic bipartisan amendment to lift the travel ban on Americans for one year, and it passed 18-12. Last November, status-quo advocates said there was no chance President Obama would move on Cuba policy. After December 17th, they then said there was no chance any body or committee in Congress would advance pro-engagement legislation. They were wrong then and are wrong now.
Results from new polls are consistently coming out showing growing bipartisan support to end the travel and trade bans. And new business and advocacy organizations are popping up by the day. But while the American and Cuban people wait for House leadership to act, the Obama administration should act immediately to do everything it can to support the Cuban people by further adjusting travel restrictions to meet the realities of this new era.
The impact of further delay on travel is simple. It leaves people out. Educational exchanges, for example, become more difficult for potential participants who can't afford to pay the mark up. For those who do make it there, the rigidity of the regulations and programs means Americans are often limited to government-run hotels and restaurants, for example, instead of being able to support small businesses such as independently-run bed and breakfasts known as "casas particulares," and independent restaurants known as "paladares." The restrictions also make it harder to interact with the Cuban people, or to step off the beaten path to see what's really happening on the island.
In the White House's own documents published on December 17, the administration stated that "we should not allow U.S. sanctions to add to the burden of Cuban citizens we seek to help." We agree. We would argue that the concept should extend to U.S. citizens, and we must not allow U.S. sanctions to add to the burden of Americans trying to visit and support the Cuban people. If we're serious about strengthening civil society and helping Cuba's budding private small business sector continue to grow, it's time for the White House to stop forcing "people-to-people" travel to be hindered by third-party brokers, and time for Congress to allow a vote on ending the travel ban once and for all.
James Williams is President of Engage Cuba, online at www.engagecuba.org and on Twitter @Engage_Cuba.
Support HuffPost
The Stakes Have Never Been Higher
Popular in the Community