"Character Traits" is the summer exhibition of your wildest, wettest dreams. If, that is, you prefer adorably deformed critters to the formal aspects of picture-making; fart jokes to the histories of aesthetic order and structures; boobies to experiments in monochrome.
Which, let us be clear, I absolutely, most definitely do.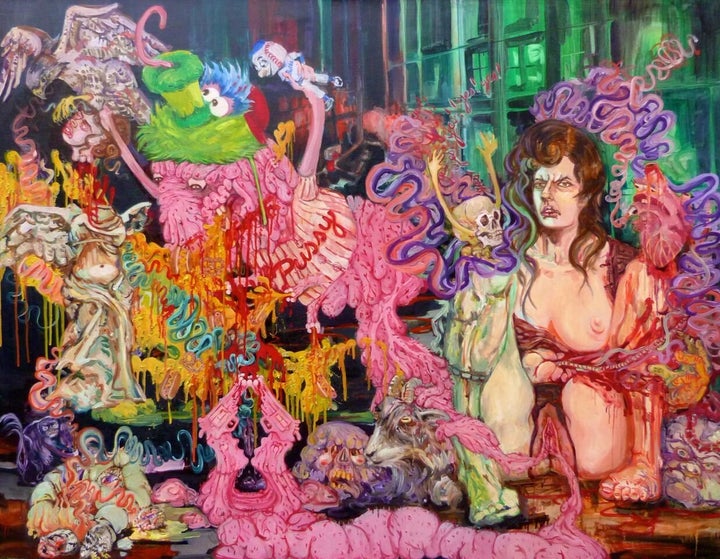 The exhibition, featuring work from artists including Raina Hamner, Nel Aerts, Brian Scott Campbell and Austin English, feels like someone cracked a "Looney Tunes" episode open and spilled its insides into a frying pan, boiling and scrambling them beyond recognition. The artists on view weave together the influence of sources you wouldn't find on the white walls of MoMA -- sources like outsider art, undercover zines, comic books and thrift store kitsch.  
"I was looking for artists that weren't generally represented in New York," artist Matthew Craven, who curated the show, explained to The Huffington Post. "Artists who have more of an interest in cartooning, zines, the stuff I grew up making -- the stuff that influenced me that maybe isn't considered high art by a lot of people. Influences can come from anywhere. Me, personally, I never took an art class until I was 22. I grew up drawing comic books."
Take Dawn Frasch's "Pussy Phanatic," an overflowing cesspool of visual information. In it, a naked lady, vagina spread open, spews pinkish innards from her genitals, coming to life like it was the pornographic sequel to "Flubber." The ejection eventually forms its own muppet-like character, who appears dressed up for a baseball game as he vomits blood. It's all the bad parts of an orgy combined with the even worse parts of an all-you-can-eat buffet.
It's part of an appealing narrative -- plucking the weirdos and perverts from the fringes of the hoity-toity art world and gathering them together for one raucous visual display. Except, the story doesn't quite hold up. The grotesque, excessive aesthetic of "Character Traits" isn't an anomaly. In fact, it's a trend.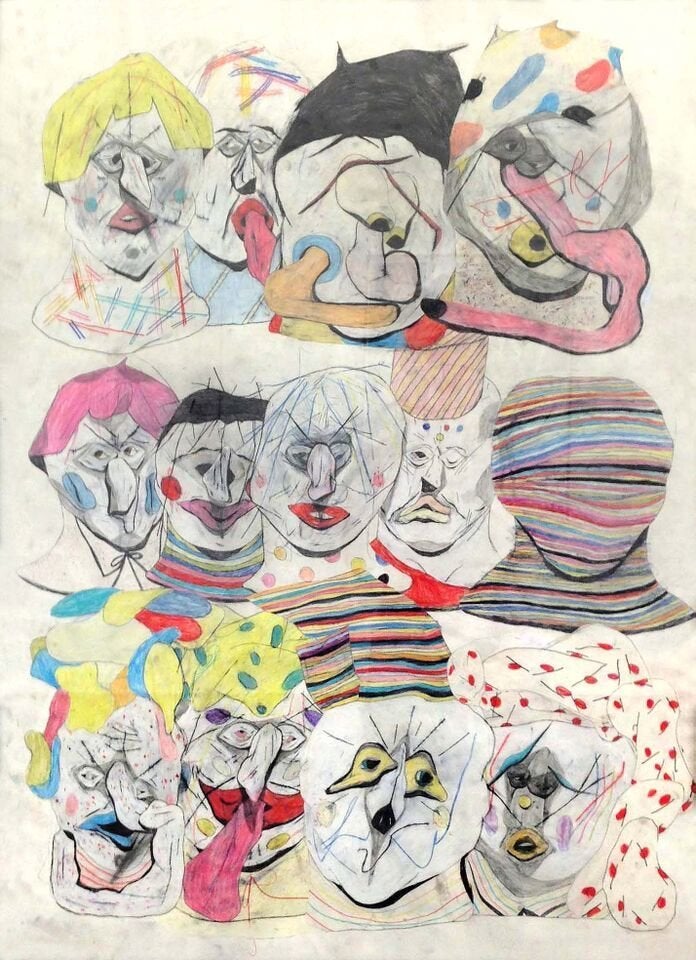 In the past year, a number of New York exhibitions have highlighted artists interested in the styles of cartoon animation, underground comics and punk zines. There was "Puddle, Pothole, Portal" at SculptureCenter, "Heartbeats, Hard-ons and Freakouts" at Marlborough Chelsea, "Far Out" at Malborough Chelsea, Trenton Doyle Hancock at the Studio Museum in Harlem. There was Peter Saul's exhibition of 1960s work at Venus Over Manhattan and "What Nerve! Alternative Figures in American Art, from 1960 to the Present," chronicling outsiders from Jim Nutt to Niagara to Mike Kelley.
Many of the artists in "What Nerve," including Saul himself, have been swapping conceptual quandaries for gory details since the '50s. "Mr. Saul, who was born in San Francisco, started pushing buttons in the late 1950s when he discovered that although he liked the way certain Abstract Expressionist artists painted, he couldn't stomach the Existentialist mumbo-jumbo that surrounded their work," Holland Cotter explained in 2008. "So he adopted the brushy style but dumped the pretensions. Instead of spiritual depths, he painted icebox interiors stocked with soft drinks, steaks, daggers, penises and toilets."
Too many contemporary artists have been inspired by Saul's gloriously bad taste, many of whom are on view in this exhibit. Then there are people like New Zealand-based artist Susan Te Kahurangi King, who stopped speaking at the age of four and had little contact with Western art history. And yet her work would fit right in in "Character Traits," a show Craven acknowledges has somewhat of an "outsider" aesthetic. 
"All of these artists are technically skilled," Craven said, "but they think it's more interesting to tune into a different side of your brain and look a different way. I think what artists are typically trying to do when you see that 'outsider aesthetic'... It's trying to tune out everything you've learned before, to really approach your work in a different way. Getting rid of things you've learned in the past is sometimes a bigger skill than focusing on the skills you've learned over time."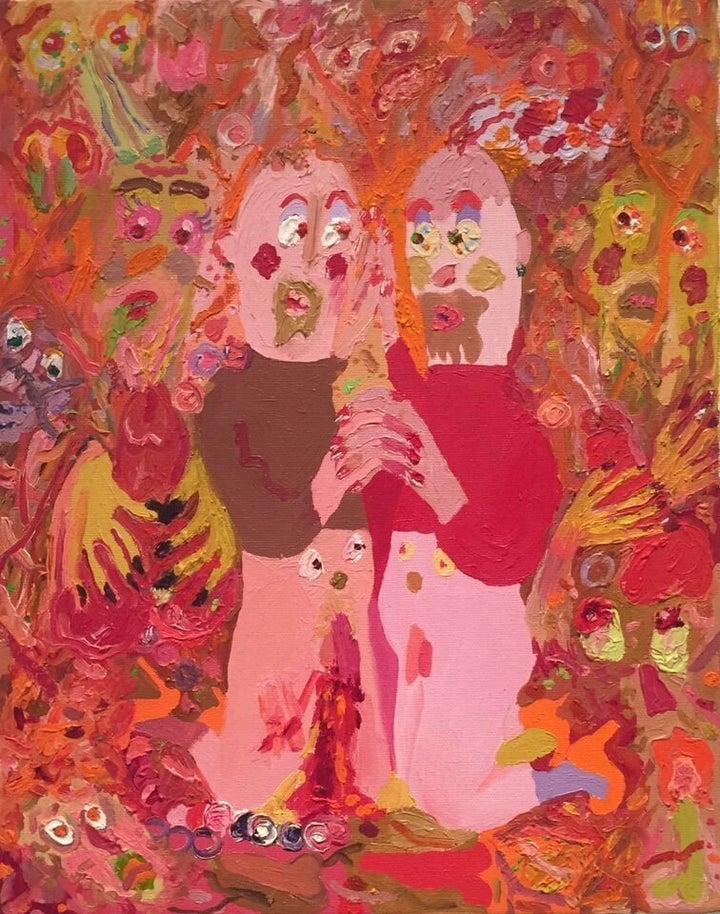 Craven is also the first to acknowledge the timely relevance of this unlearned aesthetic. "I don't think that's a bad thing," he said. "They own it," he said of the "Character Traits" bunch. "They put their own spin on it instead of relying on what's popular at the moment."
That's for certain. Raina Hamner's 2014 "So Much Tenderness Is In My Head, So Much Loneliness In My Bed," featured above, shows two bald men in matching turtlenecks and tangerine heels clasping hands, pants down. Their dangling penises are complimented by eyeballs and noses, so their nether regions resemble two drooling puppies gazing into each other's eyes. If a scorned reader of the 1970s children's books Barbapapas went rogue, this could be the erotic revenge art. 
So, what does it mean when some of the most prestigious galleries and museums across the country adorn their halls with genitalia-happy cartoons? Are art world pretensions giving way to the silly, the sick and and the strange? Or is there a more sinister glint to this turn towards the outsider, a fetishization or appropriation that estranges a style from its original imperative?
Does bringing fringe culture into the spotlight in some way sanitize it or deactivate it? 
The exhibition's content seems to warn against over-thinking, and I'm taking the hint. "Character Traits" is a show of young artists, most of whom are not yet established or mainstream, making work like the stuff they grew up drooling over. If younger artists are opting for more accessible, democratic and underground material instead of haughty art school theses, there's no reason for me to complain.
While "Character Traits" bills itself as a fun exhibition of emerging artists, in reality, it's much more. It's a precise snapshot of the moment the outside successfully squeezes itself in, and let me tell you, it looks good. 
The exhibition, featuring work by Nel Aerts, Brian Scott Campbell, Austin Eddy, Austin English, Ryan Michael Ford, Dawn Frasch, Raina Hamner, Sojourner Truth Parsons and D'Metrius Rice, runs until August 14, 2015 at Asya Geisberg Gallery in New York.
PHOTO GALLERY
Trans Artists Changing The Landscape
Calling all HuffPost superfans!
Sign up for membership to become a founding member and help shape HuffPost's next chapter