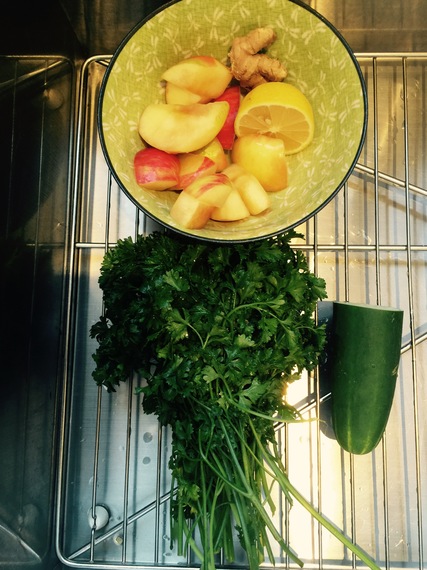 I travel with a sack of food because I detest processed food on airplanes. I try to only eat food that rots or ferments, so generally speaking you have to eat real food pretty fast. Leftover food from my airplane trip earlier this week got put in the fridge. Today, I found a Ziplock bag of lemon-soaked apples in the fridge, beautifully fermented.
I've backed off on my belief that fermented foods need to be eaten all the time. I think we need to eat all "therapeutic" foods in small amounts. This little bag of slightly fermented apples was just right to impart both flavor and therapy to a carafe of green juice.
I started juicing green veggies about 15 years ago with one of those pieces of crap grinder machines that was a royal pain to clean out. I was beyond thrilled when the Vitamix 500 came out. I have one here and one in Kentucky.
You gotta make it easy and it has to taste good too. I consume a low carb diet, so I don't use a lot of fruit. Fruit is all sugar and defeats one of the purpose of green vegetables, which is lowering your blood sugar/insulin levels.
I like making tonics, the kind that make your eyes water and your mouth feel deliciously scalded; with the accompanying sensation of a full body cleanse. I used the fermented lemon-apple slices with Italian parsley, cucumber, more lemon and a pretty big piece of gingeroot. It was a crazy tonic that made me feel high and cleansed.