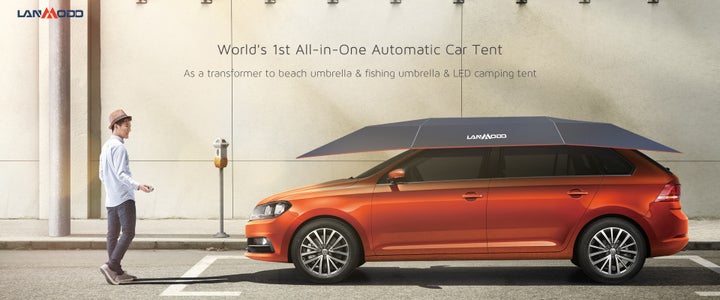 Spring is upon is here in Southern California. The rains are waning and the sun seems to get hotter every year! It's not even summer yet and the car happy lifestyle is heating up! But the midday sun takes its toll on the inside as well as the outside. The necessity for a way to cool down the heat is evident, with climate change on the rise.
While most of us are winging it with the old-fashioned sun shields, just covering the front windshield is not enough. With the onslaught of three digit temperatures commonplace, getting into a car that's been exposed to the heat can feel like touching a hot stove or the shock of a 'hot seat'! You will never forget your first steering wheel burn or spending the day at the beach and then the double sting of a sunburn and a hot car! There is a simple yet ingenious idea, a sunshade. Get ready for Lanmodo, the world's first wireless automatic car tent that also solves a few other issues. With a one-click wireless remote switch that will open and close the umbrella, it covers the roof and beyond of your windshield and windows. You only need to charge it once and it lasts for 45 days. It is built to last the life of an average car and easy to install. With damaging environmental effects to our cars and the contents, what concept, to be able to cool down your car temperatures up to 40 degrees in hot weather.
So this is kind of like a transformer toy, because of its versatility. It can be used as an umbrella for the beach, park or any outdoor activity, picnic tent or a 4 people camping tent. The versatility doesn't stop with a power bank to charge your device and plug in USB LED light, and folds up into a small package. For ultra-luxury owners, it is a must for protecting their vehicle from bird droppings, dust, acid rain, debris, even leaves! Made of super waterproof material to prevent rain & snow. No matter what kind of car, SUV or Luxury Sedan,Pickup, Jeep, Mini, even 4 wheel beach vehicle, this is the best thing since the spoiler! There's nothing out there that compares, even a custom fit. The competition is so limited, from an Hello Kitty designed windshield cover to a Mercedes Out-back shade, the rest look like poor solutions to a real problem.
"Windshield sunscreens are fairly the same. The main difference is the price and the material used on the front facing side. The ones that owned a sunshield before know that silver models offer much better protection as they can reflect more heat and can block 100% of all UV rays."
There are so many new futuristic gadgets for car enthusiasts, like head up displays (HUD) "HUD's allow drivers to check various important info without taking their eyes off the road. It's simple, it's convenient and it's the way of the future! And, at least but not last – they're super cool!"
Many of these new auto advances are using crowdfunding to get it out there. Exploride just had a successful Indiegogo campaign that raised over $700,000 US, with unique features like a quad core processor, 2GB of RAM, 16GB of internal storage, wifi hotspot, dashcam, IR and voice sensors for hands-free controls as well as an OBD-II adapter that fits most cars on the market and more.
This revolutionary new solution to a growing problem is the best solution so far, like heated seats for the winter, this luxury item sunshade is affordable. There are only a few other manufacturers, but the Lanmodo is the only one that is designed to be automatic and controlled by wireless remote. The others are manual. The installation process is less than a minute!
If you're wondering when this new tech auto accessory is coming on the market, through (kickstarter). crowdfunding, it will be sooner than later. "Crowdfunding as a way to get access to funding is an amazing opportunity for business, inventors and those seeking a way to make their ideas turn into reality." Ian Khan
Popular in the Community