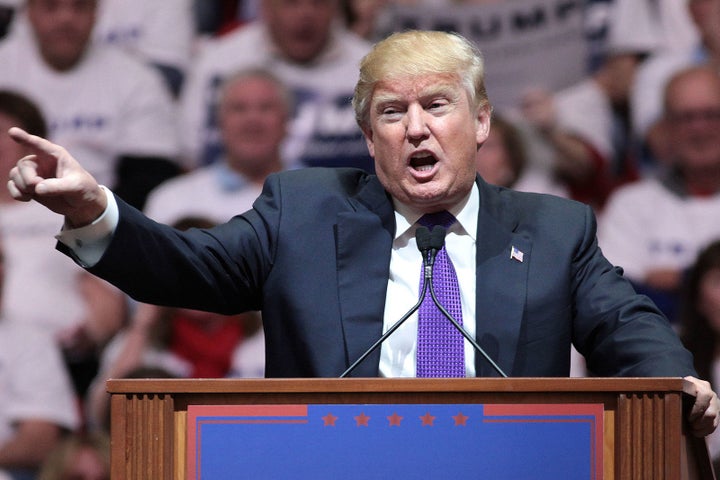 Looking beyond his grammatical error (media is plural), it was more than a bit shocking to have the President of the United States declare the media the "enemy of the people."
We have been so inundated with Trumpisms for the past month, that we are increasingly becoming inured to them. This is one we should not ignore. On Sunday, White House Chief of Staff Reince Priebus reinforced the message. "I think you should take it seriously," he said. And so we should.
Ever since Donald Trump first announced his intent to run for the Presidency, people have made the mistake of underestimating him. It was a mistake that has proven fatal. Where once he put 16 other Republican candidates in his sites; then Hillary Clinton, he now places the news media. He is not messing around.
It is clearly Donald Trump's intent to degrade and debase the American news media in the eyes of the public (or at least a majority of the public), so that whatever they may write or report in the future will have little or no impact. As he once said, "I could shoot someone on Fifth Avenue and not lose voters," is now being tested. If he is indeed in debt to the Russians, if he makes billions from the Presidency, if he shoots someone on Fifth Avenue and the 'New York Times' or the 'Washington Post' report it, he can, once immunized by degrading the press, simply say, "you are not going to believe what THEY say, are you?"
And sadly, the majority of Americans simply won't.
"Trump has clearly learned from Nixon's mistake and won't be caught out by the press. The same thing nearly happened to Vladimir Putin in his first term."
Had Richard Nixon been so smart as to denigrate and debase the 'Washington Post', Watergate would have had no impact at all. Who cares what the lying 'Washington Post' says would have been the only defense he needed.
Trump has clearly learned from Nixon's mistake and won't be caught out by the press. The same thing nearly happened to Vladimir Putin in his first term. He also neutered what little Russian free press there was by crushing opposition newspapers or seizing ownership of television networks. Smart (as Trump might say).
If you look closely, you can see what is happening, and more significantly, what is going to happen. The erosion will continue; the slow drip, drip, drip of debasement and evisceration until the words and reporting of the press, as it is, has little or no impact on a majority of Americans. As Senator McCain (the loser who allowed himself to be captured, speaking of debasement), said last week, this is the pathway to dictatorship.
If that is the case, (and it increasingly seems to be), then what can we do?
We could all up our subscriptions to the 'New York Times' and increase our contributions to NPR (which will be necessary once the GOP gets finished gutting any federal funding), but that won't do it. It won't do it because it won't have any impact on the 319 million Americans who don't read the 'New York Times' or care what it prints.
No… but there is another far more interesting way to fight this.
Donald Trump, no Republican (and in fact, a New York liberal for most of his life) was able to hijack the GOP nomination for the Presidency by using Internet technology (notably Twitter) to bypass the traditional media (and party machinery) and go directly to the people.
"HL Mencken wrote in 1961 that a free press is limited to those who own one. Well, if you own a smartphone or an iPhone, you own a press. Use it."
Opponents of Trump and all he stands for can do exactly the same thing. And while there was only one of him, there are literally tens of millions of people who would like to stop him. And they can, by doing what he did. That is, by also seizing the entirely new levers of power that the Internet provides and also go directly to the people.
On Saturday, at his 'rally' in Florida, Trump said that he liked the rallies because it allowed him to speak directly to 'the people' and not have to go through the intermediaries of the media to get his message across. Take him at his word, and learn.
Pretty much every one of the 65,844,954 who voted for Hillary Clinton has a smartphone or an iPhone (and that is just those who voted for Clinton. I am sure there are not others who also cannot stand Trump). Those iPhones and smartphones are more than phones, and they are also more than just platforms for checking out your Twitter feed or seeing what is on Facebook.
Every one of those phones is also a complete television station – just like NBC or CNN. They all have broadcast quality cameras, editing software and the ability to 'broadcast' or even 'go live' all at the touch of a button, and for no cost.
Now THAT is some powerful piece of technology.
Five hundred years ago this year, a virtually unknown monk named Martin Luther took what was then cutting edge technology (the recently invented printing press) and used it to take his message public. In doing so, he changed the world.
The iPhone is the Gutenberg's printing press of the 21st Century. It allows anyone with an idea (anyone!) to broadcast it to the world.
Donald Trump may not like ABC or NBC or MSNBC. But there are more than 60 million potential NBCs or CNNs or MSNBCs waiting to be born online. They are all out there. The technology is out there. We need only start to use it. We don't have to depend on CNN or NBC to address our concerns and our anger or ask our questions for us. We can do it ourselves.
HL Mencken wrote in 1961 that a free press is limited to those who own one. Well, if you own a smart phone or an iPhone, you own a press.
Chairman Mao said that political power flows from the barrel of a gun. That was in 1949. Today, it flows from your iPhone.
Fire it up. Start broadcasting. Tell Donald Trump what you think. 60 million channels can't be wrong.