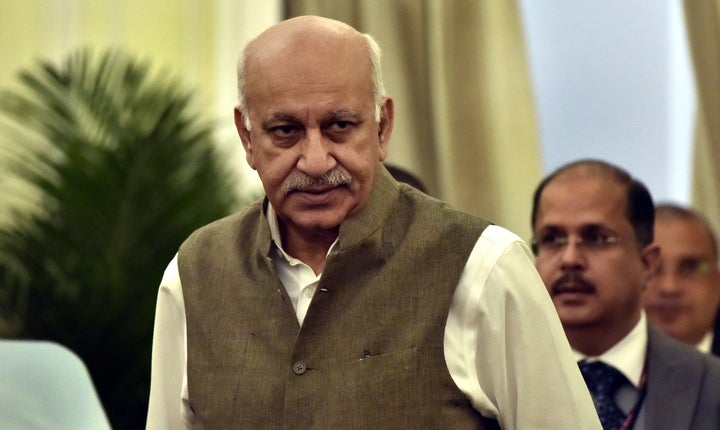 The chief business editor at NPR, Pallavi Gogoi, accused former Indian politician M.J. Akbar of sexual harassment, physical assault and rape in an op-ed published Thursday for The Washington Post. 
Gogoi, who was born in Shillong in northeastern India and now resides in the U.S., wrote that Akbar sexually harassed and later raped her when she worked at The Asian Age over two decades ago when Akbar was the paper's editor in chief. At the time of the alleged rape, Gogoi was 23 years old and Akbar was in his 40s. 
"The M.J. Akbar I knew ― editor in chief of the Asian Age newspaper ― was a brilliant journalist," she began her essay. "He also used his position to prey on me."
Akbar is a highly successful Indian journalist and author who has worked in politics and held office intermittently since 1989. He launched three Indian publications: Sunday magazine, The Telegraph and The Asian Age. In 2016 he became the minister of state for external affairs but was forced to resign last month amid multiple allegations of sexual harassment and assault. 
In her essay, she wrote that Akbar, her editor in chief at the time, raped her in a hotel room in Jaipur around 1994 after he summoned her to his room to look over her work. 
"In his hotel room, even though I fought him, he was physically more powerful. He ripped off my clothes and raped me. Instead of reporting him to the police, I was filled with shame," Gogoi wrote.
"I didn't tell anyone about this then. Would anyone have believed me? I blamed myself. Why did I go to the hotel room?" she continued. "What was worse was that after that first time, his grip over me got tighter. I stopped fighting his advances because I felt so helpless. He continued to coerce me. For a few months, he continued to defile me sexually, verbally, emotionally."
Gogoi wrote that Akbar routinely used his esteem and recognition to wield power over young reporters during her time at The Asian Age. She added that Akbar physically assaulted her twice before he raped her. After both incidents, Gogoi wrote that "Akbar was livid" and threatened to fire her if she did not give in to his demands. 
Akbar categorically denied Gogoi's accusations in a statement to The Times of India, writing that he and Gogoi were in a "consensual relationship that spanned several months."
"I don't know Pallavi's reasons for telling this lie, but a lie it is," his wife, Mallika Akbar, said in a statement. 
Gogoi wrote that she was inspired to come forward with her story after several Indian journalists publicly accused M.J. Akbar of sexual harassment. 
"I've always felt that Akbar is above the law and justice doesn't apply to him. I felt he would never pay the price for what he had done to me," she wrote.
"I am writing this because I know what it is like to be victimized by powerful men like Akbar," Gogoi continued. "I am writing this for my teenage daughter and son. So they know to fight back when anyone victimizes them. So they know never to victimize anyone. So they know that 23 years after what happened to me, I have risen from those dark times, refusing to let them define me, and I will continue to move forward."
REAL LIFE. REAL NEWS. REAL VOICES.
Help us tell more of the stories that matter from voices that too often remain unheard.