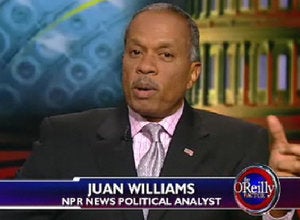 NPR has asked Fox News not to identify its news analyst, Juan Williams, with NPR branding when he appears on Fox News because of outrage among its largely liberal listener-base. And Fox News has happily agreed to do so.
NPR Ombudsman Alicia Shepard wrote Wednesday that in 2008 she received 378 "complaints and frustrations about things Williams said on Fox," including claims that Williams "dishonors NPR" and is an "embarrassment to NPR" and that "NPR should severe [sic] their relationship with him."
Recent listener complaints have centered around Williams' comment that Michelle Obama could be a liability to her husband, seen below.
"Williams tends to speak one way on NPR and another on Fox," Shepard wrote. "As a result of this latest flap, NPR's Vice President of News, Ellen Weiss, has asked Williams to ask that Fox remove his NPR identification whenever he is on O'Reilly."
A Fox News spokesperson told Politico's Michael Calderone, "We were actually doing NPR a favor by even plugging them but we have no problem dropping the mention on the chyron along with their exposure to millions of O'Reilly Factor viewers."
Watch the recent clip below:
Related
Popular in the Community