Being able to kill animals on public lands will provide "more opportunities for Americans to enjoy the great outdoors"
My email inbox has been "ringing" constantly with news that the U. S. House of Representatives passed what has become known as the SHARE Act, more specifically, the Sportsmen's Heritage and Recreational Enhancement Act, According to the National Rifle Association's Institute for Legislative Action, this act "provides enhanced access to public lands while limiting punitive regulations promoted by 'animal rights' extremists." Chris Cox, the executive director of NRA's Institute for Legislative Action, claims that if the SHARE Act becomes law, "There will be more resources available for public ranges, more hunter access to public lands, and more opportunities for Americans to enjoy the great outdoors."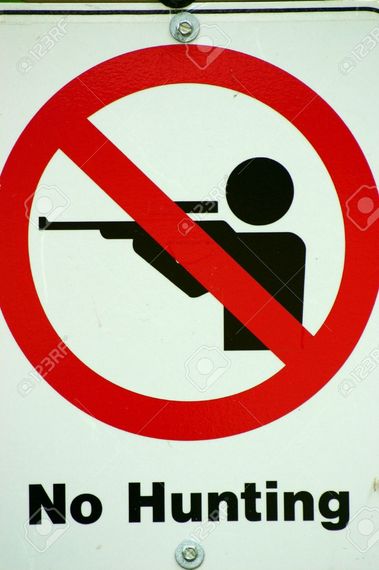 Safari Club International and the director of the USFWS want to increase hunting opportunities on the National Wildlife Refuge System
It'll also come as no surprise that Safari Club International (SCI) also helped move this legislation forward, as they are notorious for supporting trophy hunting, AKA trophy murder, (please see "Is Trophy Hunting Really Trophy Murder? Intentions and Words Should Matter"). They work closely with Dan Ashe, the 16th Director of the U.S. Fish and Wildlife Service. You can see a photo of Mr. Ashe and members of SCI here, at a meeting where they discussed SCI's hunter advocacy mission. We also read, "President [of SCI] Whipple and Director Ashe focused on the need for youth engagement with the outdoors, and building SCI chapter relations with regional National Wildlife Refuge managers nationwide (there are over 500 Refuges in the U.S.). Each spoke passionately about reducing impediments to hunting and increasing hunting opportunities on the National Wildlife Refuge System."
The last time I looked the word "refuge" meant a place where individuals are protected from danger and trouble and free to live in peace and safety.
The House passing the SHARE Act is a rather disturbing move that will now go on to the U. S. Senate. I am amazed at how many people do not know about this legislation.
It's also essential to note that the SHARE Act is not at all about sharing or any sort of peaceful coexistence, but rather about killing an increasing number of nonhuman animals (animals) in places where they should be and have been relatively safe, namely, on public lands. The Act also allows the use of traditional ammunition, containing lead, which of course is bad for the environment.
Those who oppose the SHARE Act are not animal rights extremists
There still is time to act, and I hope that readers here and elsewhere and conservation psychologists and anthrozoologists will weigh in strongly about how there are numerous other and patently obvious ways for people "to enjoy the great outdoors" that do not involve killing other animals on public lands. There have to be some areas where animals can live in peace and safety and where people who frequent these areas can also enjoy nature in peace and safety. And, of course, labelling those who oppose the SHARE Act as animal rights extremists is ludicrous, as many people who support protecting animals in different venues are not extremists in any sense of the word. And, why is protecting animals "extreme" while wanting to kill them is not? Many people get involved in protecting other animals when their moral sensibilities are offended and also because they want to be able enjoy the great outdoors on their own or with family and friends absent hunters and guns. You can contact your U. S. senators here, and I strongly encourage you to do so.
The SHARE Act is a death sentence for countless animals
The SHARE Act is a death sentence for countless animals and lead bullets contaminate landscapes. It also hasn't been lost on me that this essay follows on the heels of a piece I recently wrote called "Are Animals 'Things?' The Evolution of Animal Law" about the evolution of animal law, including wildlife law, and the tireless efforts to protect other animals with whom we share our homes and with whom we should be sharing and coexisting peacefully a wide variety of magnificent habitats.
There always is hope even when something seems hopeless. And, the animals need all the hope and help they can get.
Marc Bekoff's latest books are Jasper's Story: Saving Moon Bears (with Jill Robinson), Ignoring Nature No More: The Case for Compassionate Conservation, Why Dogs Hump and Bees Get Depressed: The Fascinating Science of Animal Intelligence, Emotions, Friendship, and Conservation, Rewilding Our Hearts: Building Pathways of Compassion and Coexistence, and The Jane Effect: Celebrating Jane Goodall (edited with Dale Peterson). (Homepage: marcbekoff.com; @MarcBekoff)
Calling all HuffPost superfans!
Sign up for membership to become a founding member and help shape HuffPost's next chapter