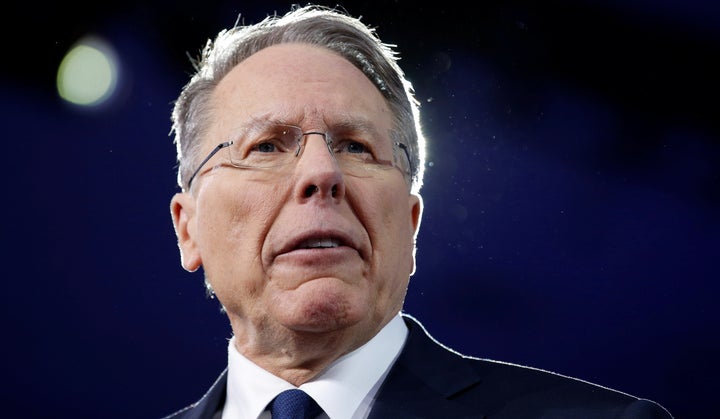 Want to start your day off with a good laugh? Take a look at Wayne-o LaPierre blasting off into outer space in 2016 with a video message about the FBI-NICS background check system which came out two years before last week's Fix-NICS bill was introduced by Senators Chris Murphy (D-CT), a long-time "enemy" of the 2nd Amendment and John Cornyn (R-TX), one of the NRA's best friends.
Everyone loves this bill. The NRA and the NSSF jumped on board; ditto Gabby Giffords and Everytown-Moms. Well, almost everyone. The group which claims it's the only group standing between freedom and fascism, a.k.a. Gun Owners of America, told its members to demand that we stop trying to "fix an unconstitutional system" because background checks of any kind are an "infringement on 2nd-Amendment rights."
But back to Wayne-o patting himself on the back for being a champion of FBI-NICS. Ultimately the NRA had no choice but to support the Brady bill because the idea of an instant background check enjoyed wide public support back then, just as an extension of background checks to secondary transfers appears to enjoy the same degree of public support now. But as a detailed report from the Brady Campaign points out, the moment that the Brady bill became law, the NRA began attacking its constitutional validity even before the system went online.
So when Wayne-o states that the NRA has "fought for 20 years" to put the records of persons adjudicated to be mentally incompetent into the NICS system, what he should have said is that America's oldest civil-rights organization has fought to keep the FBI-NICS system as far away from being an effective tool for reducing gun violence as it can. But when you watch this video and the phrase "the truth about background checks" flashes across the screen, you can be sure that ol' Wayne is getting ready to blast off into outer space.
But now that Congress appears ready to do exactly what the NRA claims should have always been done, namely, to make sure that the data sent to NICS really includes the names of every individual whose background, under current law, does not allow them to own a gun, what should the boys from Fairfax be doing to prove their commitment to 2nd-Amendment "rights?" Because if this bill gets a positive vote and the Trumpster signs it into law, the NRA's rationale for not expanding background checks to secondary sales disappears.
I'm not saying that the process of widening background check procedures to go beyond over-the-counter sales would be a walk in the park or a day at the beach. But the good news is that the NRA has been forced to support the idea that only "law-abiding citizens" should be able to own guns. And if NICS is fixed to everyone's satisfaction in a way that really prevents the criminals, the drug abusers and the mentally ill from walking into a gun shop and buying a gun, the idea that private gun transfers requiring background checks is a violation of the 2nd Amendment wouldn't pass muster in any court.
When all is said and done, the NRA's opposition to background checks boils down to one, simple thing; namely, that government regulation of the gun industry is a bad and unnecessary thing. In that respect, the gun industry's opposition to regulation is no different from every other industry – banks, financial services, energy, you-name-it – who want to lessen the regulatory burden because one way or another, regulations drive up costs.
The NRA, the 2nd-Amendment Foundation, Sean Hannity and every other pro-gun noisemaker can talk about gun ownership as a Constitutional "right" all they want. But it's simply a convenient catch-phrase for obscuring a basic truth. And that truth happens to be the unalterable fact that if someone aims a loaded gun at themselves or someone else and then pulls the trigger, the damage can be immense. And only government has the resources and the authority to prevent such acts from taking place.
REAL LIFE. REAL NEWS. REAL VOICES.
Help us tell more of the stories that matter from voices that too often remain unheard.
BEFORE YOU GO