The National Rifle Association, a major gun rights advocacy group that has spent millions of dollars lobbying against gun control legislation, says bump stocks like the ones used by the Las Vegas shooter this past weekend should be subject to "additional regulations."
Wayne LaPierre, the NRA's CEO and executive vice president, issued a joint statement Thursday with Chris Cox, the executive director of the Institute for Legislative Action, the lobbying arm of the NRA.
"In the aftermath of the evil and senseless attack in Las Vegas, the American people are looking for answers as to how future tragedies can be prevented," LaPierre and Cox said in the statement. "Unfortunately, the first response from some politicians has been to call for more gun control."
While the NRA executives pushed back against "banning guns on the criminal act of a madman," they said that "devices designed to allow semi-automatic rifles to function like fully-automatic rifles should be subject to additional regulations" ― a surprising concession from a group that has been hell-bent on torpedoing almost any type of gun control measure.
"In an increasingly dangerous world, the NRA remains focused on our mission: strengthening Americans' Second Amendment freedom to defend themselves, their families and their communities," the statement concluded.
Fully automatic weapons are strictly regulated under federal law, but bump stocks offer gun owners a relatively easy ― and cheap ― way to get around such restrictions.
Police discovered a cache of weapons, including 12 firearms outfitted with bump stocks, when they stormed the two hotels rooms in the Mandalay Bay Resort and Casino where 64-year-old Stephen Paddock fired hundreds of rounds into a crowd of 22,000 concertgoers on Sunday. Hundreds of people were injured and at least 59 were killed, including Paddock, who died of an apparent self-inflicted gunshot wound.
The gun range at the NRA's headquarters in Fairfax, Virginia, doesn't allow the use of bump stocks, an NRA employee confirmed to HuffPost on Thursday. The NRA did not immediately offer a response to HuffPost's question about why or when this rule was implemented.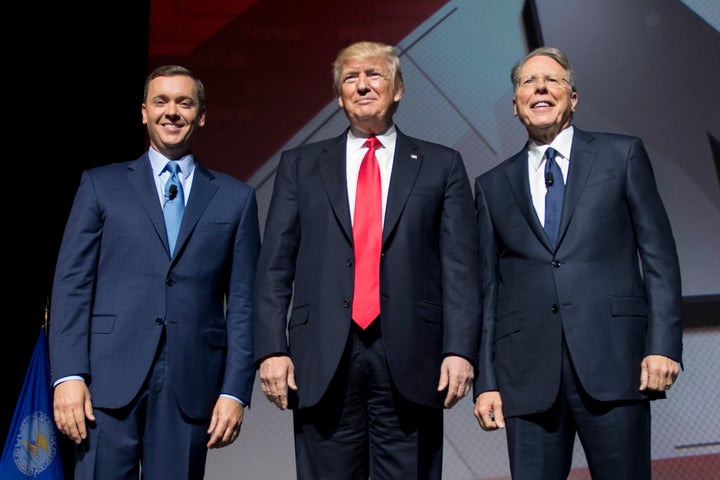 Bump stock sales have surged in the wake of Sunday's mass shooting ― the deadliest in modern U.S. history ― as gun enthusiasts worry lawmakers will move to ban the device.
Sen. Dianne Feinstein (D-Calif.), an avid proponent of tighter gun control legislation, introduced a bill Thursday that would ban the use and possession of bump stocks.
"The only reason to modify a gun is to kill as many people as possible in as short a time as possible," Feinstein told reporters.
But the NRA, which claims to have 5 million members, has repeatedly helped sink numerous efforts by Congress over the years to pass gun control legislation.
The gun rights group noted in its statement Thursday that "the Obama administration approved the sale of bump fire stocks on at least two occasions."
"The National Rifle Association is calling on the Bureau of Alcohol, Tobacco, Firearms and Explosives (BATFE) to immediately review whether these devices comply with federal law," the statement read.
What isn't mentioned in the statement is the fact that the NRA worked to prevent Congress from voting on a 2013 bill, also sponsored by Feinstein, that would have outlawed bump stocks.
After stating Thursday that bump stocks should be subject to more regulations, the NRA encouraged Congress to pass a concealed carry reciprocity bill, which would significantly loosen gun restrictions by requiring states to recognize concealed carry gun permits from all other states.
Popular in the Community