WASHINGTON -- As pressure builds on the National Rifle Association to give up some of its hardline positions in the wake of the shooting at Sandy Hook Elementary School, an advocacy organization is targeting companies that are affiliated with the gun lobbying group.
The NRA's website has a page that lists endorsed companies and services where members can receive discounts. Affiliated businesses include rental car companies, real estate services and hotel chains.
Nearly all of the affiliated hotels are part of the Wyndham Hotels and Resorts group. NRA members can receive 10 percent off at more than 6,500 participating hotels in the Wyndham family.
Avaaz.org is calling on Wyndham to end its affiliation with the NRA. The online activism group has 17 million members worldwide and close to a million in the United States.
"You are no doubt aware that Wyndham Hotels is associated with the NRA by offering discounts to NRA members, and by being listed as an affiliate company on their website," wrote Avaaz in a letter to Wyndham Worldwide and Wyndham Hotels on Tuesday.
"We assume Wyndham does not mean to lend legitimacy to the NRA's often extreme positions, which is why we are writing to request that Wyndham immediately and publicly sever the relationship between Wyndham Hotels, all Wyndham affiliate brands, and the National Rifle Association, unless and until the NRA moderates its position to support common sense gun safety measures within the parameters of the Constitution."
Avaaz has already launched a petition urging the NRA to stop blocking gun safety measures. On Friday, it plans to protest outside the NRA's press conference in Washington, D.C. -- during which time it will also call out some of the companies that have relationships with the gun lobby.
When asked why Avaaz was specifically targeting Wyndham, Joseph Huff-Hannon, a senior global campaigner with the group, replied that it was, in part, due to Wyndham's generally strong reputation.
"I think right now, we're starting with Wyndham because of their status as one of the biggest hotel chains in the world," Huff-Hannon said. "They're a very public-facing brand, and they care about their image. We know they were just rated by the Human Rights Campaign with a perfect rating for LGBT equality this year. ... It's a brand that people have an association with, and it's a mainstream brand. They should reconsider their association with the NRA and their extremism."
In a statement to The Huffington Post, Wyndham's vice president for marketing communications Christina Da Silva replied, "We offer many diverse organizations special discounts for their members. This does not mean that we necessarily endorse their views."
Other businesses have already taken steps away from promoting guns. Dick's Sporting Goods has suspended sales of certain military-style semiautomatic rifles in its stores nationwide and stopped displaying guns altogether from its store closest to Newtown, Conn.
Additionally, Cerberus Capital Management, a $20 billion private equity firm, announced that it was selling its controlling stake in Freedom Group, which is the country's largest guns and ammunition manufacturer. The rifle used by Adam Lanza, the shooter at Sandy Hook, was manufactured by Bushmaster Firearms, which is part of the Freedom Group conglomerate. Cerberus made the move after coming under pressure from the California State Teachers' Retirement System, which has $751 million invested in the firm.
The NRA did not comment publicly after the Newtown shooting, finally breaking that silence on Tuesday. In a statement, the group said it was "shocked, saddened and heartbroken by the news of the horrific and senseless murders in Newtown."
The NRA did not immediately respond to a request for comment for this article, but has announced it will hold a "major news conference" on Friday with further comment.
Before You Go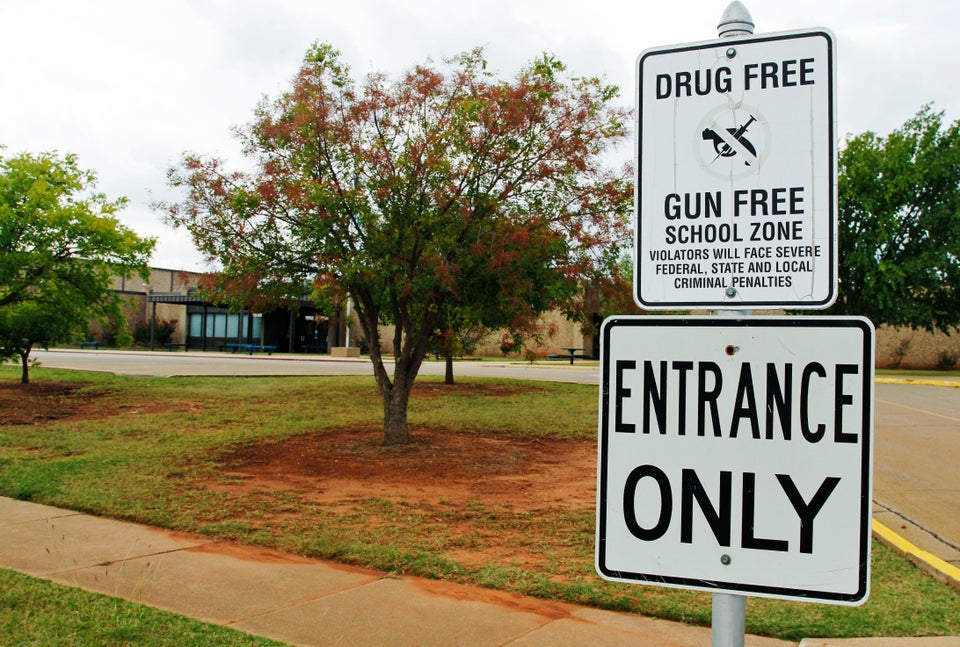 Things Being Blamed For Sandy Hook
Popular in the Community