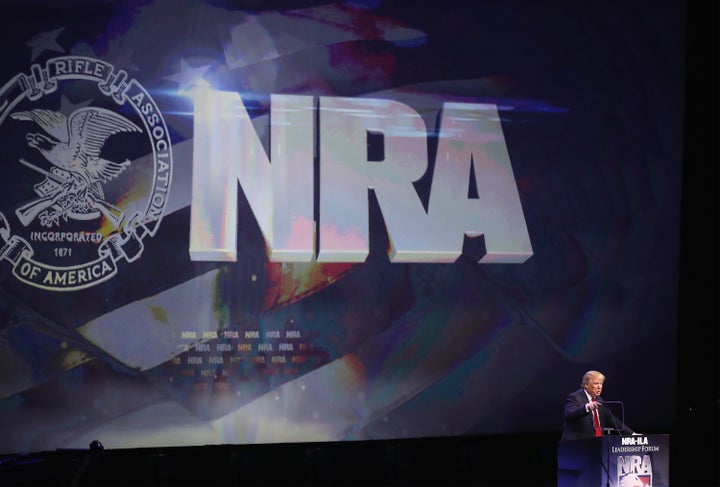 Firearm enthusiasts and protesters are expected to gather in downtown Dallas on Friday for the beginning of the National Rifle Association's Annual Meetings ― a hotly politicized three-day event filled with high-profile speeches, educational seminars and, of course, lots of guns.
It's an opportune moment for the convention, now in its 147th year, as the NRA looks to rally gun-rights supporters who find themselves on the defensive amid a heated debate about firearms in America.
That's something of an unfamiliar position for the nation's leading gun group. Political enthusiasm for gun reform has typically ebbed and flowed in the past, but the momentum appears to have shifted somewhat against the NRA in recent months, following a year of bloody mass shootings in places like Las Vegas and Parkland, Florida.
Survivors of the February massacre at Parkland's Marjory Stoneman Douglas High School have emerged as the face of the resurgent movement, whose members have been quick to portray the NRA as public enemy No. 1 in their campaign for stronger gun laws. The father of one of the slain students is slated to appear at a protest against the NRA in Dallas on Saturday.
President Donald Trump and Vice President Mike Pence are scheduled to appear at the convention on Friday and address a forum for the NRA's Institute for Legal Action, the organization's lobbying arm. Sens. Ted Cruz and John Cornyn, both Republicans from Texas, are also speaking at the gathering, as are Texas Gov. Greg Abbott (R) and a number of top NRA officials.
Trump's speech on Friday will mark his fourth consecutive appearance at the NRA's annual conference. Last year, he became the first sitting president to attend the confab since Ronald Reagan in 1983.
Attendees of the NRA convention will have the weekend to check out firearms, ammunition and accessories from more than 800 companies, partake in an instructional seminar on concealed carry and get a book signed by former Milwaukee Sheriff David Clarke. A number of country music acts will also be on hand, including the Charlie Daniels Band, Travis Tritt and the Randy Rogers Band.
The NRA says 80,000 members will be in Dallas for the gathering, which it's billing as the largest in the event's history.
The tone will likely be different outside Dallas' Kay Bailey Hutchison Convention Center, where national gun violence prevention groups and other local activist organizations plan to hold protests throughout the weekend.
The counterprogramming includes a "die-in" demonstration on Friday evening, and a student-led rally on Saturday in support of a universal background check law and a ban on bump stocks and high-capacity ammunition magazines.
A separate event on Saturday at Belo Garden Park, a few blocks from the convention center, is expected to feature actress Alyssa Milano and Fred Guttenberg, whose 14-year-old daughter, Jaime, was killed in the shooting at Stoneman Douglas.
At his speech last year, Trump vowed to "come through" for the NRA, which spent over $11 million in support of his presidential campaign and nearly $20 million more to attack his rival, former Secretary of State Hillary Clinton. After briefly hinting that he might be willing to defy the NRA and support changes to gun laws in the wake of the Parkland shooting, Trump met privately with the group's leaders at the White House in March and reaffirmed his allegiance.
But Trump has yet to deliver on the promise he made to the NRA faithful last year. After the 2016 election, the NRA had high hopes that Republicans in control of the White House and Congress would be able to deliver on two key priorities: eliminating federal regulations on the sale of gun silencers, also known as suppressors, and passing a concealed-carry reciprocity law, which would allow handgun owners in more gun-friendly states to carry their firearms in states with more restrictive laws.
Neither of those measures has progressed, nor has any other gun legislation at the federal level. Meanwhile, there has been some movement on gun control at the state level with efforts to ban bump stocks ― accessories that allow semiautomatic rifles to simulate automatic fire ― and to pass "red flag" laws, which give police more power to confiscate weapons from individuals deemed a threat to themselves or others.
REAL LIFE. REAL NEWS. REAL VOICES.
Help us tell more of the stories that matter from voices that too often remain unheard.