WASHINGTON -- For nearly a decade, the National Rifle Association successfully blocked a bill in Washington state that would have required alleged domestic abusers to surrender their firearms after being served with a protective order. Only those actually convicted of felony domestic violence, the nation's largest gun lobby argued, should be made to forfeit their gun rights.
This past year, the NRA changed its tune. As the bill, HB 1840, once again moved through the state legislature, the gun lobby made a backroom deal with lawmakers, agreeing to drop its public opposition to it in exchange for a few minor changes. This February, with the NRA's tacit approval, the bill sailed through the state legislature in a rare unanimous vote.
The NRA's decision not to oppose the measure was a stark departure from its usual legislative strategy. For over a decade, bare-knuckled lobbying by the NRA has doomed similar bills in state legislatures across the country. Legislators who backed such bills, particularly in states with strong traditions of gun ownership, could practically be guaranteed a challenger after the NRA withdrew its endorsements or backed their opponents.
But over the past year, the NRA has quietly scaled back its scorched-earth campaigns against stricter domestic violence laws. The group has consulted with legislators in states across the country on bills similar to HB 1840. With the tacit approval of the NRA, Louisiana, Wisconsin and Minnesota have all passed or advanced bills banning the possession of firearms by those convicted of misdemeanor domestic abuse, those served protective orders, or those deemed by the court to pose a physical threat to their families.
Minnesota state Rep. Dan Schoen (D), the sponsor of one anti-domestic violence bill, said he spotted an opening after the NRA helped pass a similar bill in Wisconsin.
"I called [the NRA's] government affairs person and said, 'If they can do something in Wisconsin, a Republican-controlled state, there's no reason we can't do something like this in Minnesota,'" Schoen told The Huffington Post.
Schoen agreed to work on the bill with the NRA in exchange for its support. The original version required people who had been served restraining orders in domestic abuse cases to surrender their guns to law enforcement or a licensed federal firearms dealer. The NRA asked Schoen to make a few changes, one of which gave alleged abusers the option to turn their guns over to a friend or family member instead.
Once Schoen made the alterations, he said, the group became more agreeable. The bill is expected to pass the Minnesota legislature in the coming weeks.
"The NRA has been really good to work with on this particular issue," Schoen said. "It pains me to say, but they have been."
The NRA's shift on domestic violence bills is not a complete about-face. The group still opposes efforts to broaden the definition of domestic violence to include related crimes, like stalking. It also opposes expanded background checks, which could prevent many convicted domestic abusers from purchasing guns in the first place.
So why did it change its stance on this particular issue, and why did it do so without any public notice?
The gun lobby wouldn't say, but the timing suggests that politics, both internal and external, were at play. Documents and press releases reviewed by HuffPost show that the NRA began to relax its position on gun restrictions for alleged domestic abusers after March 2013 -- the same month the New York Daily News reported that a top NRA official, Richard D'Alauro, had pleaded guilty to harassing his wife "by subjecting her to physical contact." A judge served D'Alauro, the NRA's field representative for New York City and its suburbs, a protective order and ordered police to remove all 39 guns from his home.
D'Alauro's wife claimed that he had physically abused her for years. He settled the case by pleading guilty to harassment -- a less serious charge than a misdemeanor. But once the case started attracting media attention, the NRA began softening its position on gun rights for accused domestic abusers.
A spokesman for the NRA confirmed that D'Alauro is no longer employed by the group, but said he could not comment for this story due to the personnel issues involved.
If the desire to avoid the taint of the D'Alauro saga wasn't what compelled the NRA to change course, then perhaps a shifting political landscape did the trick. While the public is fairly split over tighter gun laws in general, people are less conflicted about the idea of taking guns away from domestic abusers. A 2013 poll conducted in Colorado by Project New America/Keating Research found that 80 percent of respondents believe judges should be able to order someone who is "convicted of domestic violence or given a restraining order" to surrender his guns to the court, compared to 55 percent of voters in the state who favor stricter gun laws overall.
Polling also shows a massive gender gap on gun control issues. A 2013 NBC/Wall Street Journal poll conducted a few months after the mass shooting at Sandy Hook Elementary School in Newtown, Conn., showed that 65 percent of women favor stricter gun laws, compared to only 44 percent of men.
And women's opinions clearly matter to the NRA, which is currently engaged in a high-octane effort to recruit a younger generation of women as both new members and gun rights advocates. The group will hold its first Women's New Energy Breakfast on Sunday during its annual convention in Indianapolis. The description of the event, which aims to recruit new female members, says it will allow women to "socialize with other like-minded female NRA members women and learn about the many programs and outreach efforts just for the women of NRA."
The NRA has also launched a new online outreach campaign called NRA Women, which aims to teach young, single women how to be "Armed and Fabulous," fall in "Love At First Shot," and "Refuse To Be A Victim."
For those who follow the debate over gun rights, the NRA's decision to soften its opposition to domestic violence bills suggests that it may be ceding some of its long-held terrain. Instead of fighting for the gun rights of alleged abusers, the NRA appears to be shifting its focus to bringing more women into the fold.
"I think this is a welcome, but calculated retreat by the NRA," said Arkadi Gerney, senior policy fellow at the left-leaning Center for American Progress and author of a 2013 study on guns and domestic violence. "The NRA knows that their message -- which is more guns everywhere and generally doing nothing to keep guns out of the hands of dangerous people -- doesn't resonate very well with most women in the United States."
For gun control advocates, meanwhile, the NRA's shift in position has provided the rarest of commodities: a chance to actually advance legislation. Former Rep. Gabrielle Giffords (D-Ariz.), who survived a point-blank gunshot wound to her head in 2011, was among the most visible advocates of the Senate bill to strengthen background checks that failed last April. She hasn't backed off that push. But, in a telling sign of how she sees the current political landscape, she has also begun demanding that the Senate hold a hearing on the role of guns in domestic abuse.
"Many of those who perpetrate violence against women are still allowed easy access to firearms," Giffords wrote in a letter to members of the Senate Judiciary Committee, which will be delivered next week. "More action is needed – and soon. Women's lives are at stake. We know more about the dangerous connection between domestic abuse and guns than we ever have."
Giffords' political action committee, Americans for Responsible Solutions, has calculated that independent women voters have increasingly aligned with Democrats over the past two decades in support of stiffer penalties and tighter gun restrictions for domestic abusers. A well-funded newcomer to the gun rights arena, ARS plans to spend millions of dollars counteracting the NRA's political influence in both state and federal races in 2014.
"Americans know that more must be done to protect women from gun violence," said ARS senior advisor Pia Carusone. "Research shows that a broad bipartisan majority of voters, including independents in states with high rates of gun ownership, want their elected officials to take commonsense steps to keep guns out of the hands of domestic abusers."
Like ARS, former New York City Mayor Michael Bloomberg's gun violence prevention group, Everytown, sees potential in the NRA's subtle shift in its stance on domestic violence restrictions. The group plans to push for expanded domestic violence protections as part of a broader campaign to tie gun restrictions to women's health and safety.
"We're going to start to talk about the ways gun violence affects everyday Americans, including domestic violence, suicide, and child access to guns," said Erika Soto Lamb, a spokesperson for Everytown.
With the gun-rights lobby in a bit of a retreat, gun control advocates are beginning to feel emboldened. "This is not your grandfather's NRA," Soto Lamb said.
Before You Go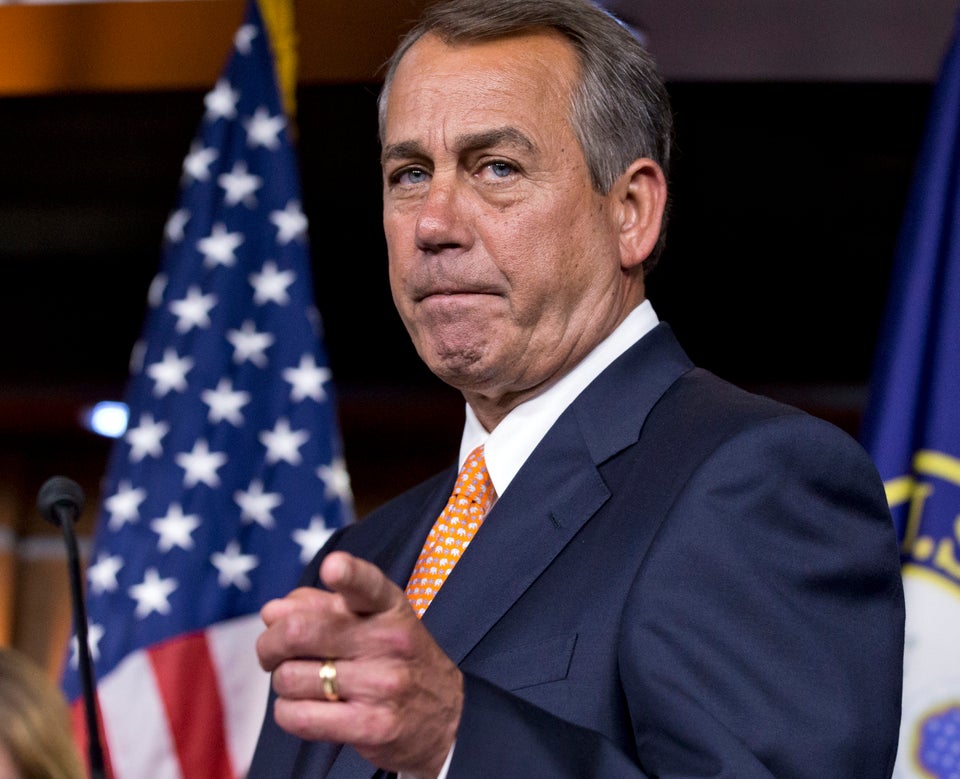 Conservatives Pointing Fingers
Popular in the Community