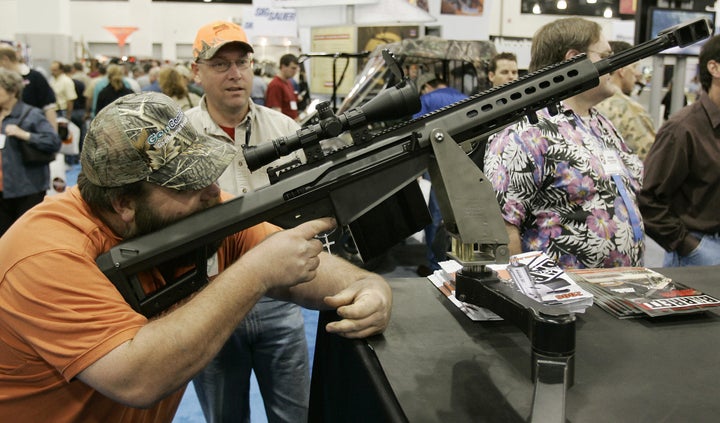 WASHINGTON -- The gun industry plans to file lawsuits on Wednesday challenging requirements that weapons dealers along the U.S. border with Mexico report multiple sales of semi-automatic rifles, escalating the fight with the Obama administration.
The Bureau of Alcohol, Tobacco, Firearms and Explosives last month ordered more than 8,000 gun dealers in Arizona, Texas, New Mexico and California to report such sales to try to stem the "iron river" of guns flowing to the violent Mexican drug cartels.
Dealers are required to report sales of two or more rifles to the same person at one time or during any five business days for semi-automatic weapons greater than .22 caliber and with the ability to accept a detachable magazine.
Two Arizona gun dealers backed by the National Rifle Association, one of the most powerful lobbying groups in Washington, will file a lawsuit in Washington as will the National Shooting Sports Foundation which represents the firearms industry, the groups said.
They will argue that ATF was not authorized by the Congress to require reporting such information about semi-automatic rifles purchases, rather it was only allowed to require reporting about handgun and revolver sales, according to copies of the lawsuits.
"At the time Congress authorized the reporting of multiple sales of handguns, it could have required it for the sale of long guns, but it did not," said Lawrence Keane, general counsel for the National Shooting Sports Foundation.
The gun dealers and groups will ask the courts to block the ATF from imposing the requirements which begin by August 14, they said. Failure to comply can result in losing their licenses to sell firearms.
About 8,500 gun dealers would be subject to the reporting requirement. Some 36,000 reports of multiple handgun sales were made from the four border states in fiscal 2010, according to ATF.
Attorney General Eric Holder told reporters that the regulations were legal and necessary to halt guns going to the drug cartels.
"We will vigorously oppose that lawsuit," Holder said. "We think that the acts that we have taken (are) consistent with the law and that the measures that we are proposing are appropriate ones to stop the flow of guns from the United States into Mexico."
The reporting requirement is one prong of the Obama administration's effort to stop gun trafficking from the border states to Mexico violence has killed tens of thousands since 2006.
One ATF operation to track guns going to Mexico from Arizona has become a full-blown scandal for the Obama administration because agents said they were not allowed to follow guns beyond the initial purchaser. As a result dozens of the weapons have shown up at crime scenes in Mexico.
(Editing by Jackie Frank)

Calling all HuffPost superfans!
Sign up for membership to become a founding member and help shape HuffPost's next chapter