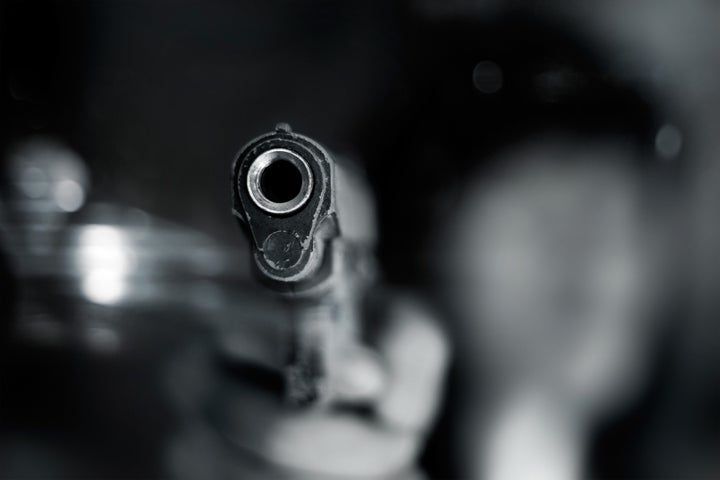 Controversial gun laws that went into effect in two states earlier this month purport to protect domestic violence victims by arming them against their abusers.
The National Rifle Association, which pushed for the passage of both bills, says this type of legislation empowers victims while they are waiting for permit applications to be approved, a process that can take months in some states. "Victims of domestic abuse don't always have time on their side ― they need immediate protection beyond a court issued piece of paper," said Catherine Mortensen, a spokeswoman for the NRA.
But opponents argue that introducing firearms into already volatile situations will make things worse, not better.
Firearms are the most commonly used weapons in domestic homicides. In the U.S., a woman is killed by an intimate partner wielding a gun every 16 hours. Critics of the NRA say arming an abused women at a time of distress will only make it more likely that someone will die or be seriously injured ― whether it's the victim, her children or her abuser. And if she does use a gun, they warn, she may end up in prison for the crime.
The NRA-backed laws have come at a time of success for advocates working to restrict gun ownership for individuals who've committed domestic violence. Since 2014, 23 states, including six states this year, have enacted laws to make it harder for abusers to buy guns, and to remove guns from those who are prohibited from having them.
"The research on the connection between domestic violence and guns is unambiguous: Firearms make domestic violence situations more deadly."
William Rosen, deputy legal director of the advocacy group Everytown for Gun Safety, called the laws in Indiana and Tennessee "fake solutions" that distract from the real issue. "We know that the single most effective way to protect victims of domestic abuse from gun violence is to keep their abusers from getting guns in the first place," Rosen told HuffPost.
Most states require a permit to carry a concealed handgun in public. But in Indiana and Tennessee, victims with a protective order can arm themselves before their permits are approved. That's a problem, Rosen said, since the permit process is designed "to maintain certain core public safety standards, such as ensuring that before a person carries a loaded, concealed gun in the community, he or she has undergone safety training and does not have a violent history."
The idea of making it easier for women to arm themselves in the name of self-defense is not without precedent. Similar bills have cropped up in state legislatures in recent years, but few have been signed into law. In March, Virginia Gov. Terry McAuliffe (D) vetoed a bill to allow a person with a protective order to carry a concealed weapon for 45 days without a permit. McAuliffe said he wouldn't perpetuate "the dangerous fiction" that victims of domestic violence are safer with a gun. He vetoed an identical bill in 2016.
"If you put a firearm into the hands of somebody who is untrained and afraid, everything we know about this says it is much more likely to be used against that person," said Kerry Bennett, legal counsel for the Indiana Coalition Against Domestic Violence, which argued against the proposed law in that state and lobbied Indiana Gov. Eric Holcomb (R) to veto it. Between 2011 and 2012, 100 people were killed in domestic violence incidents in Indiana. Sixty-two of them were killed with a firearm.
If women do fire at their abusers in self-defense, there's no guarantee they won't end up in prison. In Indiana, there are currently 30 women incarcerated for shooting their abusers, according to Laura Berry, ICADV's executive director.
Berry's organization supported a different bill, HB 1534, that would have removed guns from alleged abusers who were subject to an order of protection. Under current Indiana law, judges can order an individual subject to a protective order to surrender their guns, but Berry said it does not happen often.
Davisha Fredericks, 40, a domestic violence survivor in Indianapolis, said she was planning to testify in support of HB 1534, but it did not get a hearing. She expressed disappointment with the legislature's decision to pass a law that would add guns to an abusive relationship instead of removing them.
"I feel like it puts victims in a very risky situation. And in a very fearful situation," she said. "There are so many things that could go wrong."
Robert Spitzer, a State University of New York professor who has written multiple books on gun control, said the NRA's motivation is simple: to get guns in the hands of more women, a demographic that the NRA has tried to capture for years without success. Gun ownership is overwhelmingly male; the rate of gun ownership among women has hovered between 9 and 14 percent since 1980.
It's not new for the NRA to try to appeal to women's fears of violence to promote guns. In the 1980s, the group's message was blunt and simplistic, explained Josh Sugarmann, executive director of the Violence Policy Center. It usually employed this logic, he said: "You're a woman, someone's going to rape you, you better buy a handgun."
The NRA's tactics have become slightly more sophisticated over time, as the group has attempted to frame gun ownership as a form of feminism and empowerment. In a video released by the NRA last year, the popular gun rights pundit Dana Loesch issued a warning to every "rapist, domestic abuser, violent criminal thug, and every other monster who preys upon women" that American ladies are willing to take a life.
"The NRA and gun industry's efforts to exploit domestic violence and fear of crime involving women is one of the most cynical long-term campaigns that I have ever seen in the gun issue," Sugarmann said. "It is never-ending, and they can't let it go because of the potential that these increased sales represent to the industry, and the potential political power it could represent to the NRA itself."
"There is no evidence to suggest that abused women arming themselves makes them safer," said Susan Sorenson, a researcher at the University of Pennsylvania and the director of the Evelyn Jacobs Ortner Center on Family Violence. "There is evidence that women who, regardless of abuse status, arm themselves are at higher risk of becoming a victim of homicide as well as suicide."
Domestic violence victims are in the most danger when they are trying to leave an abusive situation ― which is often the time when protective orders are filed. As abusers sense they are losing control of the situation, violence may ratchet up.
In an email to HuffPost, Zeoli said a better way to improve the safety of victims would be to remove guns from domestic violence offenders who are under protective orders. There is no evidence, she said, "to suggest that victims who have firearms are safer than those who do not."
Popular in the Community