Last year, people around the world watched as a gun lobbyist with his own NRA-sponsored cable TV show stalked a large bull elephant in the African bush, raised his rifle and shot it two times in the face, killing it. The hunter, NRA strategist Tony Makris, and his guide later sipped champagne and relished the "special" act of bringing back the animal's ivory to camp.
But this hunting isn't just for sport (and supposed "conservation"). It's also for the elephants' valuable ivory tusks, trophies that American hunters had, until recently, largely been permitted to ship back to the United States for non-commercial purposes. According to U.S. Fish and Wildlife Service data in a recent National Geographic report, several hundred sport-hunted elephant trophies -- including tusks, skins and bones -- have been imported into the U.S. each year over the past decade. While the sale of this ivory is banned, the practice has given rise to a system that allows hunters and poachers to see elephants in much the same way: The bigger the tusks, the better the prize. Language on the websites for Safari Club International, a hunting advocacy group, and other African safari tours both contain language touting elephants that are likely to carry more or "really good ivory."
Trophy hunters recently suffered a setback in their quest for ivory, however, when President Barack Obama's administration unveiled a set of efforts designed to restrict the material's trade in the U.S., which for years has been the second-largest retail market for illegal ivory, behind only China. In April, the FWS announced a suspension in ivory imports from elephants killed in Tanzania and Zimbabwe during 2014, claiming that even legal hunting in these countries "is not sustainable and is not currently supporting conservation efforts that contribute towards the recovery of the species." Trophy imports from other nations are still allowed, provided the hunter receives proper documentation under the Convention on International Trade in Endangered Species of Wild Fauna and Flora (CITES).
These new regulations followed a higher-profile set of restrictions cracking down on the sale of items containing ivory, unless the seller could provide documentation that items were more than 100 years old or were imported into the U.S. prior to regulations governing ivory sales. These new guidelines outraged the National Rifle Association, which claimed they were an attack on gun owners wishing to sell firearms that contained ornamental ivory.
The NRA found their preferred solution in the form of a pair of Lawful Ivory Protection bills sponsored by Sen. Lamar Alexander (R-Tenn.) and Rep. Steve Daines (R-Mont.). In a release decrying the administration's "overreach of authority," the group called for members to stand up for "honest, law-abiding Americans" wishing to sell their ivory-containing possessions by calling on their representatives to support these bills. Tucked away in the last sentence was a mention of the legislation's secondary purpose, to protect the right of Americans to legally kill elephants for their ivory.
"Your actions today may determine if the sale and trade of firearms that contain ivory, as well as the importation of sport-hunted elephants, will be banned," it read.
Indeed, S.2587 - Lawful Ivory Protection Act of 2014 would amend existing laws to ensure that they don't "prohibit or restrict the importation of such ivory that was lawfully importable into the United States on February 24, 2014," before the more recent trophy import laws went into effect. So while the NRA claims to be fighting for the little gun owner's right to more easily sell an antique pistol with an ivory grip, it's also fighting to make sure the wealthy safari-goer can not just hunt for African elephants, but do so in hopes of bringing home the largest ivory trophy.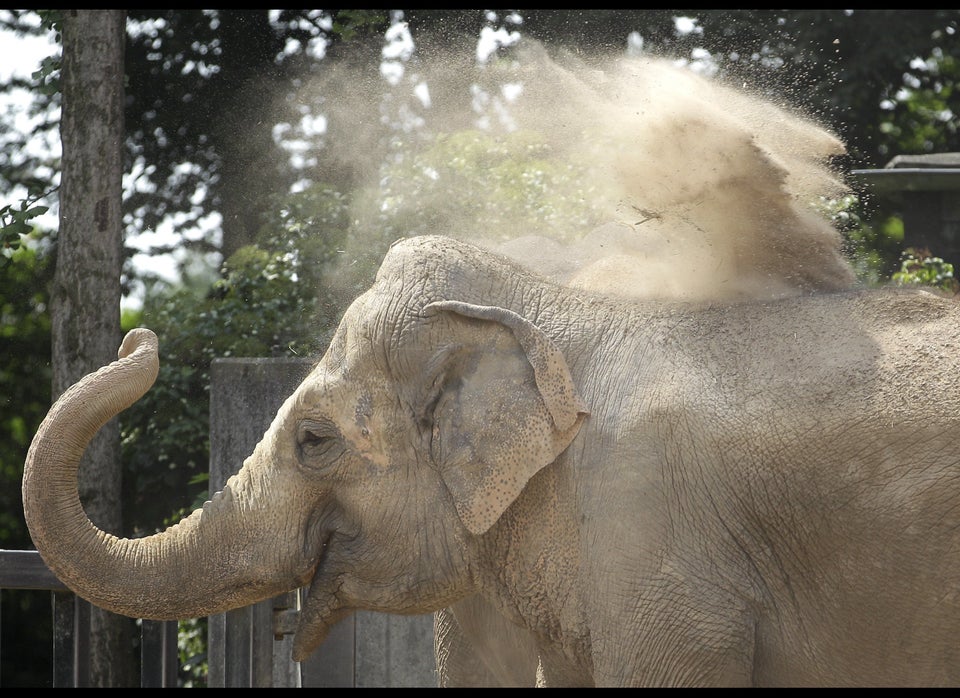 Elephant Overload
Popular in the Community