On Sunday night, a man opened fire on a crowd of concertgoers in Las Vegas, killing at least 58 people and wounding more than 500. It is one of the deadliest mass shootings in history.
As usual, members of Congress quickly put out milquetoast statements offering their "thoughts and prayers," without any indication that they will follow up with legislative action.
And the National Rifle Association, the group most responsible for creating a nation awash in easily obtainable firearms, went into hiding.
Nevada, like many states, has extremely lax gun laws. It's completely legal to walk down the crowded Las Vegas Strip with a machine gun out in the open.
As of Monday afternoon, the NRA had not yet put out a statement on the shooting or acknowledged it on Twitter. A spokesman did not return HuffPost's request for comment. The group has canceled a week's worth of advertising, which was set to begin Tuesday, aimed at Virginians in next month's state elections.
"The NRA has done a very good job of making a lot of people feel that more guns are the answer in America. More people carrying more guns in more places make us more safe. And that's simply wrong," said Avery Gardiner, co-president of the Brady Campaign to Prevent Gun Violence. "When events like the tragedy in Las Vegas happen, the NRA goes quiet because they realize that the myth that they've been peddling to the American public has the possibility of being exposed."
"There's a lot of dog-whistling from the NRA because they want us to be afraid of one another."
The NRA's standard response to mass shootings is to go initially silent, then come out in full force. Anyone looking for contrition from the gun lobbying group in the wake of the Vegas tragedy will likely be sorely disappointed.
After the Sandy Hook Elementary School shooting in Newtown, Connecticut, in 2012, NRA Executive Vice President Wayne LaPierre advocated for more guns to stop mass shootings, famously saying, "The only thing that stops a bad guy with a gun is a good guy with a gun."
Two days after the June 2016 massacre at the Pulse nightclub in Orlando, Florida, a top NRA official blamed the Obama administration and "political correctness" for the shooting.
"I'm sure right now they're huddling and trying to create a message that would make them not vulnerable," Shannon Watts, the founder of Moms Demand Action for Gun Sense in America, said of the NRA. "They have legislation they want to protect. But unlike years past, this will not be an opportunity to say, you better buy guns because the president is going to confiscate them."
While Barack Obama was in office, the NRA constantly warned gun owners that the president was going to take away their Second Amendment rights. Having Obama in the White House was very good for their business.
Watts said that now, with a Republican Congress and a Republican president, the NRA will have to change tactics.
"What we've seen them do is because they don't have a bogeyman in the White House, they're trying to make Americans afraid of one another," she said. "They've gotten very involved in the president's culture war. They're very involved in the national anthem-kneeling drama going on nationally. There's a lot of dog-whistling from the NRA because they want us to be afraid of one another."
The Las Vegas shooting "doesn't fall into any of those categories," she went on. "This is a 64-year-old white man, as far as we can tell, who was a retiree in Nevada. This is the demographic of an NRA gun owner."
Congress famously failed to enact meaningful gun safety legislation in the wake of the Sandy Hook shooting, where the shooter killed his mother, six other adults, 20 children and then himself. Sen. Chris Murphy (D-Conn.), who represented the district as a congressman, has made fighting for gun violence prevention his life's work.
"I realized that I was not going to consider myself a success in public service if I didn't deliver on something here," Murphy said on an episode of the "Candidate Confessional" podcast earlier this year. "And that still scares the hell out of me. I'm now four years into the Senate and I have not delivered any meaningful federal legislative success on this issue. And to the extent I will run for re-election, it is in part because, boy, I just can't imagine hanging up my spikes and having to sit down with [one of the parents] or whomever and tell them, 'Yeah, I didn't get it done.'"
Listen to the full episode here:
Both Watts and Gardiner said they are frustrated by observers who say it isn't possible to fight the NRA. Watts pointed to progress made at the state level, noting that gun safety advocates have "passed many good gun laws at the state level, and we have stopped so many bad bills, because we now have a grassroots army that can go toe-to-toe with the NRA."
"That Congress has not acted on [universal background checks for gun sales] yet means only that we need to work harder to get them to do it now," Gardiner said.
Want more updates from Amanda Terkel? Sign up for her newsletter, Piping Hot Truth, here.
Before You Go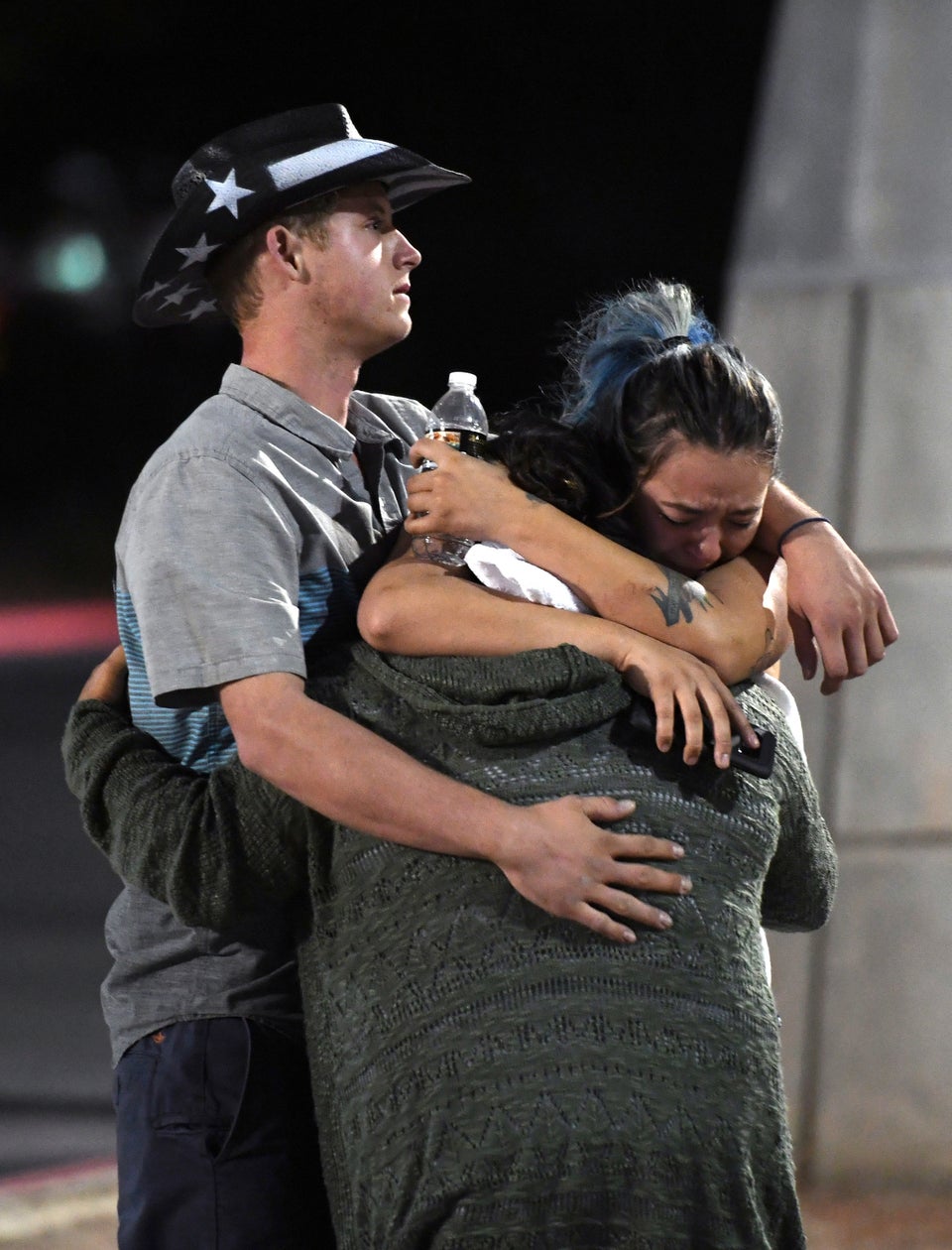 Shooting At Route 91 Harvest Festival In Las Vegas
Popular in the Community