The National Rifle Association has made a concerted effort over the past several years to expand its appeal to women. But in a move that has drawn criticism from many women, the NRA's official magazine has attacked the founder of a grassroots network of mothers against gun violence by claiming she's not a real stay-at-home mom.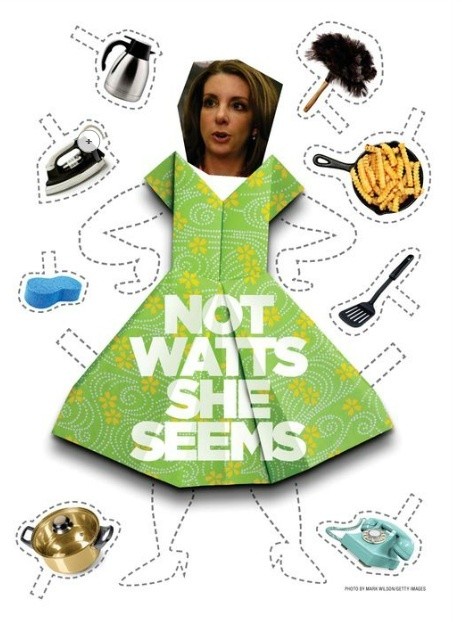 An illustration from the NRA magazine profile of Shannon Watts.
An article entitled "Not Watts She Seems" in America's First Freedom magazine opens with the image of Shannon Watts' face next to pictures of a paper-doll dress, a feather duster, a frying pan, an iron, a spatula, a rotary-dial phone, and other items the magazine apparently associates with stay-at-home mothers. The scathing profile charges that Watts, the unpaid founder of Moms Demand Action for Gun Sense in America, inaccurately claimed to be a stay-at-home mom in her biography because she ran a public relations firm out of her house and opened an art gallery with her husband during the time her kids were in school.
"There's nothing wrong with that, except 'running a streetfront art gallery plus relations business from my house' is not the impression conveyed by 'stay-at-home mom,'" writes Dave Kopel, a gun rights advocate and the article's author.
The article and its controversial image sparked outrage Monday among mothers, who used the Twitter hashtag #MomsNotMaids to speak out against what they saw as a sexist attack on stay-at-home moms.
Moms Demand Action, which has now joined forced with Mayors Against Illegal Guns to form the Michael Bloomberg-funded group Everytown for Gun Safety, has had a number of advocacy victories lately, including pressuring major businesses like like Target, Starbucks, Chili's and Chipotle to request customers not to carry guns into their stores. The group has chapters in all 50 states, and lobbies for gun violence prevention legislation, such as laws requiring comprehensive background checks before gun sales and stronger gun limits on domestic abusers.
A spokeswoman for Moms Demand Action said the NRA article is only the latest sexist move by the powerful gun lobby. For example, days after the mass shooting in Isla Vista, California, the NRA released a provocative web video showing a female model disrobing, swimming, posing against a wall, and then holding an assault weapon.
Amanda Harrington, deputy communications director for Moms Demand Action, said the magazine article "reveals what NRA leadership really thinks about moms and women -- and it's decidedly out of touch."
"To their dismay, today's American moms do much more than just cook and clean," Harrington said. "In fact, a mother's work is never done -- and some of that work is keeping our families and communities safe from gun violence. That's what makes us the most effective counterweight to the gun lobby and it's going to take a lot more than this to slow us down."
Gun rights advocates, of course, beg to differ. "Watts actually speaks only for a relatively small group of highly gullible people, including some mothers," Kopel wrote in the article.
NRA moms, he adds, "know that in the right hands, guns save lives."
CORRECTION: An earlier version of this story stated that stores such as Target, Starbucks, Chili's and Chipotle had prohibited guns in their establishments. In fact, those businesses posted signs asking customers not to bring guns into their stores, but they did not legally ban firearms on the premises.
Calling all HuffPost superfans!
Sign up for membership to become a founding member and help shape HuffPost's next chapter
BEFORE YOU GO
PHOTO GALLERY
U.S. State Capitol Buildings