The choice did not go down well.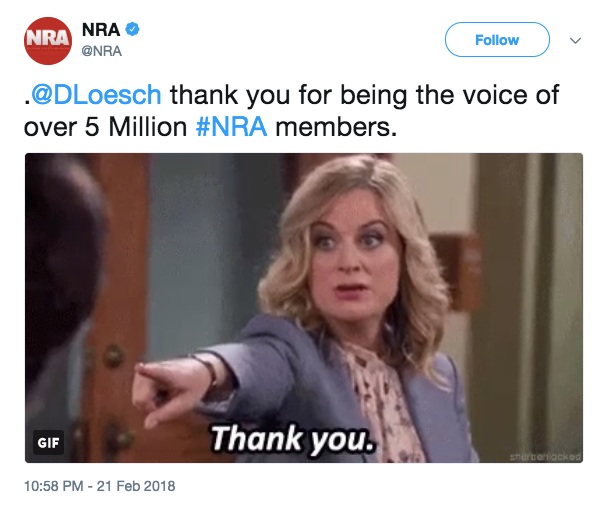 The show's co-creator Michael Schur asked the NRA to take the clip down, and shared a strong rebuke from Amy Poehler, the show's star and the subject of the GIF.
"Amy isn't on Twitter, but she texted me a message: 'Can you tweet the NRA for me and tell them I said fuck off?" Schur wrote.
Nick Offerman, who also starred in the NBC comedy, penned a sharply worded takedown of his own.
The actor said that Knope ― a progressive politician who admires Hillary Clinton and once called President Donald Trump "a giant farting T. rex" ― represents "the opposite of [the NRA's] pro-slaughter agenda."
"Take it down and also please eat shit," he added.
Adam Scott, who played Knope's husband Ben Wyatt on the sitcom, also fired back.
She also took heat from Broward County Sheriff Scott Israel after she claimed that she was "fighting" for survivors of the high school shooting.
"I understand that you're standing up for the NRA … but you just told this group of people that you're standing up for them," the sheriff told Loesch. "You are not standing up for them until you say, 'I want less weapons.'"
Popular in the Community