One month after the tragedy at Sandy Hook Elementary School in Newtown, Conn., the National Rifle Association has released a new game for iPhone and iPad that is being billed as appropriate for ages 4 and up.
The game, which is free on iTunes, is called "NRA: Practice Range," and consists mostly of first-person shooting practice at either indoor or outdoor ranges. The player has a choice of nine guns, though at first, only the pistol and the M16 are "unlocked"; you can unlock other weapons -- like a Beretta, an AK-47 or a Dragunov SVD sniper rifle -- for $1 each through an in-app purchase.
In between shooting rounds, the game displays NRA facts and safety tips. A section on the app's main menu links to the organization's website, with information about new gun legislation, hunting season and various state gun laws.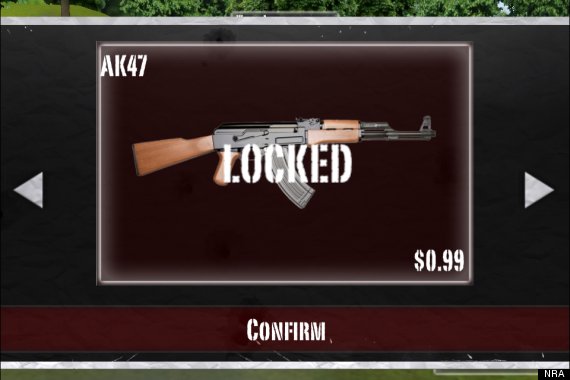 An in-app purchase allows the player to use different guns, like the AK-47 seen here.
TechCrunch speculates that the game was able to squeak through with a 4+ rating (which refers to the appropriate age range for players) because the guns in the game are aimed at non-living targets rather than living, breathing animals or bad guys. Also, the litany of gun safety tips that appear in between screens seeks to educate children about the right practices for responsible gun owners.
Still, the targets are "coffin-shaped... with red bullseyes at head- and heart-level," notes Annie Rose-Strasser at ThinkProgress. Indeed, though the indoor targets don't have human features, they are certainly in the general shape of humans.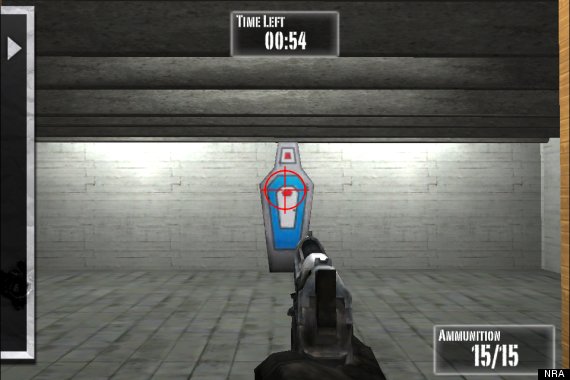 A still from "NRA: Practice Range."
What's more, the release of the game is raising eyebrows and causing outrage around the Internet. The Atlantic Wire's Alexander Abad Santos was first to point out that the insensitivity of the game's release date of Jan. 14, which is one month to the day after the Sandy Hook massacre. (To its credit, the release date was likely not chosen by the NRA; Apple maintains strict control over its App Store and has become notorious for its unpredictable app approval and release schedule.)
The NRA did not respond to request for comment.
You can download "NRA: Practice Range" in the App Store, where it is available for both iPhone and iPad. Be forewarned, though, that it currently has received 1.5 out of 5 stars in reviews. It is unclear, however, whether that rating is due to the quality of the game, or due to more, shall we say, political reasons. As the first review in the App Store so succinctly puts it:

Betsy Isaacson contributed reporting to this article.
Support HuffPost
The Stakes Have Never Been Higher
Related
Before You Go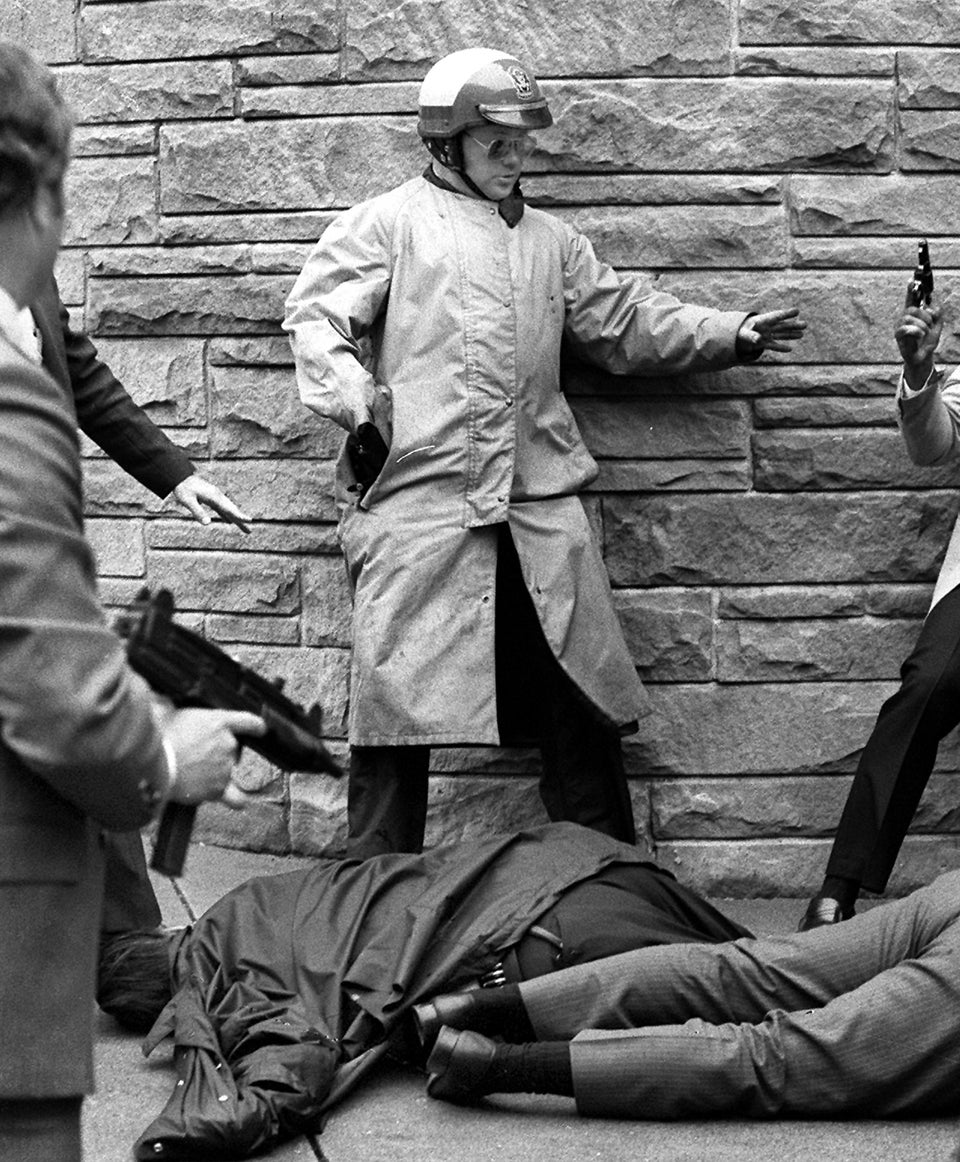 Pivotal Moments In The Federal Gun Control Debate
Popular in the Community