WASHINGTON -- The National Rifle Association came under fire late Thursday from members of a gun-control advocacy group in Newtown, Conn., after reports surfaced of Newtown residents receiving robocalls and pro-gun postcards from the NRA.
The advocacy group, the Newtown Action Alliance, posted a Facebook message Thursday about the calls, prompting responses from people who said they'd received communications from the NRA and were upset by them.
"I received one of these," Newtown resident Christopher Wenis wrote on Facebook Thursday afternoon. "I was insulted and offended." Wenis told The Huffington Post in an interview Friday night that in the 36 hours since he first posted his response, he received two more robocalls from the NRA, one later on Thursday night and one on Friday evening.
"I've got a 5-year-old son who went to preschool on the Sandy Hook Elementary School campus," Wenis explained. "And this was a really hard week for me on a lot of levels. These calls were the very last thing I needed."
Wenis said that he called the NRA twice to request that his name be placed on a "Do Not Call List" -- first on Tuesday and again Thursday. He said an NRA phone operator assured him he would be removed from NRA call lists. But the calls kept coming. By Friday night, Wenis said, he was desperate to be left in peace.
Another woman, Lisa Abrams, wrote on Facebook that she had "received a call and a postcard asking me to call my congressmen and tell them 'NO ASSUALT WEAPONS BAN' [sic] ... I was not happy and needless to say did just the opposite!"
LISTEN: NRA robocall in Connecticut, sent by a HuffPost reader:
Tom Maurath, a 40-year resident of Newtown, said he was having dinner with his family on Tuesday when the phone rang at 6:37 p.m. "Our caller ID announces who is calling, and when I heard 'National Rifle Association,' I jumped to answer the phone so my 6-year-old son wouldn't get there first," he told The Huffington Post in an interview. "Our son loves to answer the phone because it might be Grandma."
Maurath said he listened to a prerecorded message about Connecticut state gun legislation for about 30 seconds -- a call that he was stunned to realize took no account of who might pick up the phone.
"The idea that this message could have been delivered to a sibling of one of the families who lost children at [Sandy Hook Elementary School] is just appalling," he said.
In the months since the tragic school shooting in December, Newtown has become a focal point for the nation's renewed debate over gun control, as well as an international symbol of America's epidemic of gun violence. The Connecticut Legislature is considering a bevy of gun-control measures in the wake of the Sandy Hook massacre. On Tuesday, a bill requiring universal background checks for gun purchases in Connecticut cleared a key committee. The state already has a ban in place on military-style assault weapons.
This week Maurath also received a postcard from the NRA, which he shared with HuffPost. The blaze-orange card proclaims, "Despite public outcry, anti-gun legislators in the Connecticut General Assembly are aggressively forging ahead with numerous proposals that are designed to disarm and punish law-abiding gun owners and sportsmen."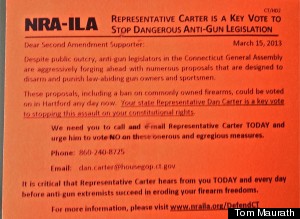 (Rep. Dan Carter, mentioned on the card, is the state legislator who represents Newtown.)
Maurath said the script of the phone message sounded a lot like the postcard. He also said that at least a half-dozen of his fellow residents in Newtown had told him they received similar robocalls.
A spokesman for the NRA, which opposes the measures being proposed in Connecticut, said robocalls in the state were made to NRA members and supporters, and were designed to be informative about the legislation being considered.
As is the case in other states, "We have members, contributors, and supporters in Connecticut who expect us to do our jobs and keep them abreast of developments on the legislative front in their state," NRA spokesman Andrew Arulanandam told HuffPost.
Maurath, however, could think of no reason why he would have been singled out to receive such a call. A registered independent, he said he has "thought over and over about any reason I would have been on their lists, but there isn't one. I have zero connection to this group or any affiliated group."
Robocalls are nothing new for the NRA or for many large advocacy groups. Tax-exempt groups like charities and advocacy groups, as well as political campaigns, are exempt from many of the restrictions placed on commercial telemarketing calls by the Federal Trade Commission. It's common for advocacy groups on both sides of the political spectrum to purchase mailing lists and phone lists from other like-minded organizations, such as political parties that generally support the same issue platform. The NRA is known for being very protective of its member lists.
Maurath is still in shock over why Newtown residents weren't exempted from this round of NRA robocalls.
"There are only three phone number prefixes here in town, and it's less than three months after the most horrific tragedy imaginable," he said. "You'd think they could have scrubbed the list, just to be decent. Instead, you're making an unsolicited call with no opt-out that my children could answer.
This article has been updated to include the comments of Tom Maurath.
Connecticut readers: Have you received a robocall about gun control? The Huffington Post wants to hear from you. Email any tips, audio recordings of the calls, or other information to openreporting@huffingtonpost.com.
Before You Go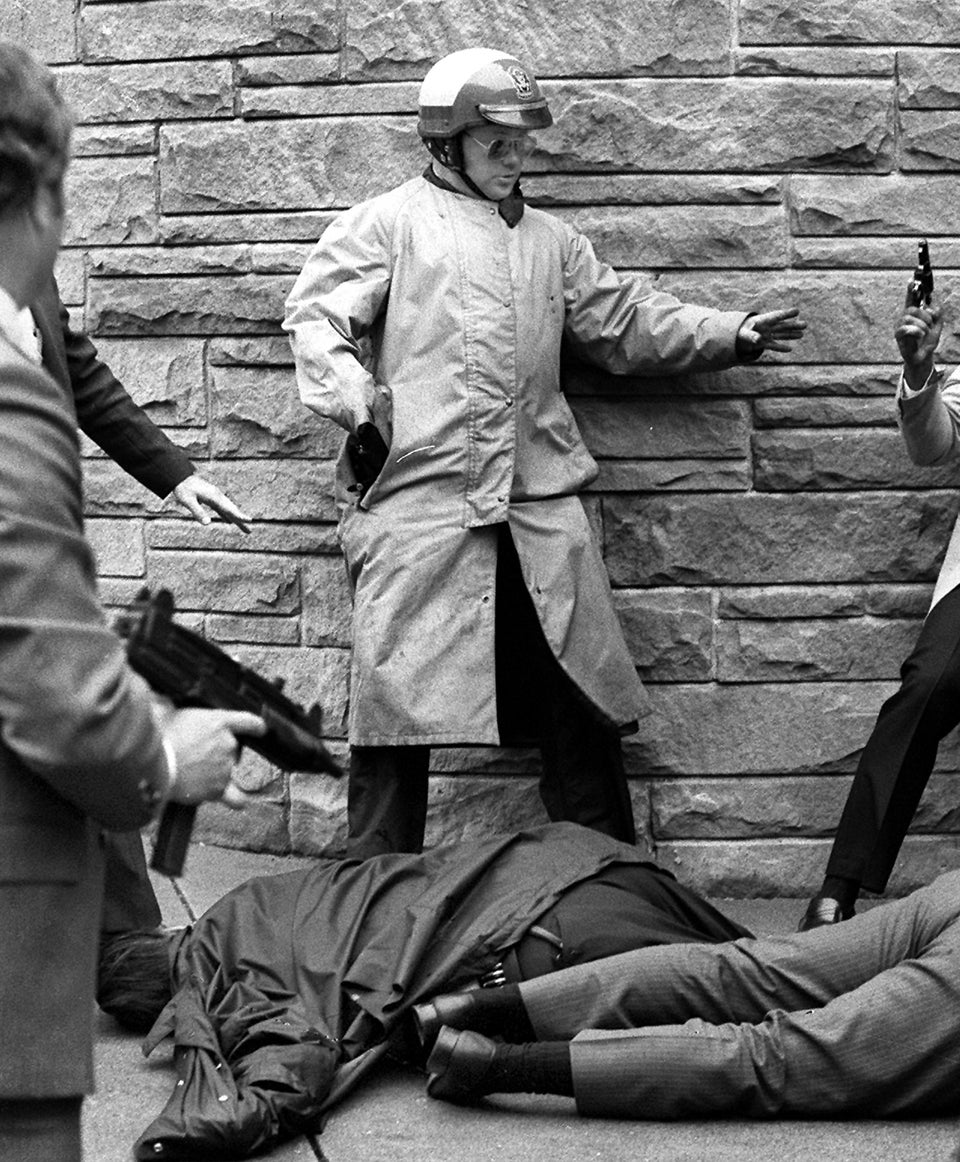 Pivotal Moments In The Federal Gun Control Debate
Popular in the Community