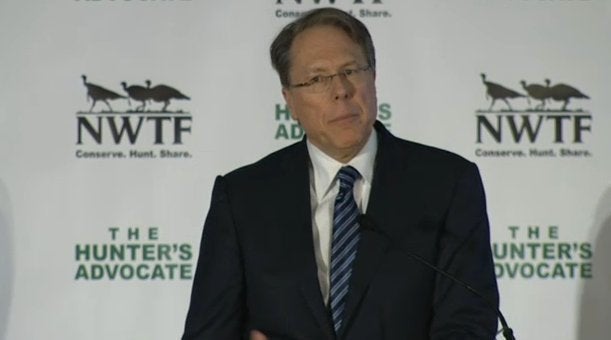 WASHINGTON -- National Rifle Association CEO Wayne LaPierre on Thursday renewed his call for armed guards in every school and said President Barack Obama's State of the Union address showed the president cares only about his "gun control agenda" and not about the safety of children.
"In an hourlong speech, nowhere were the words 'school safety' to be found," LaPierre told an audience at the National Wild Turkey Federation in Nashville, Tenn. "Less than two months after saying we had to look at our schools, the president made not one mention, in his entire speech, of the need to improve security for our schoolchildren."
LaPierre's accusation conveniently ignored the contents of Obama's speech. As he began his mention of gun control, the president told Congress, "What I've said tonight matters little if we don't come together to protect our most precious resource -– our children."
LaPierre zeroed in on school security, touting the NRA's idea to place armed guards in schools. "Already, more than 23,000 schools have armed guards," LaPierre told the hunting and conservation group. "And in all 50 states, government officials, local authorities and school districts are considering their own initiatives to protect schools with armed security."
Obama and congressional Democrats, LaPierre argued, "only care about their decades-old gun control agenda -- ban every gun they can, tax every gun sold and register every gun owner." The president, he said, "has taken the art of public deception and manipulation to a whole new level."
Obama has repeatedly emphasized that the safety of children is his top priority. He said he does not endorse the NRA's proposal to place armed guards in schools.
After tearing into the president on the topic of school safety, LaPierre pivoted to familiar arguments he has made in the two months since the Sandy Hook Elementary School massacre.
He said expanding the universal background check system for gun purchases "sounds like a reasonable, good idea." But in reality, he said, "It's a universal failure from the start."
Only "law-abiding, normal, sane, decent Americans" will be checked through the system, LaPierre said, resulting in the names of "good people" landing in "a massive database, subject to potential federal registration and abuse of privacy."
In his only reference to proposed legislation to ban military-style assault weapons and high-capacity magazines, LaPierre declared, "We will not be duped by the frauds … who would deny our right to semi-automatic technology and all the magazine capacity we want to defend ourselves and our families."
LaPierre's 15-minute rebuttal contained plenty of his trademark hyperbole, but its tone and topics were tamer than the darkly threatening vision LaPierre laid out a day earlier in an op-ed in conservative publication The Daily Caller. He described a nation in mortal danger from threats that include hurricanes, tornadoes, riots, terrorists, drug gangs, and deranged criminals. In such a "hellish world," he wrote, the decision to buy a gun was one of "survival." The NRA followed up the op-ed with a similarly ominous Web ad Thursday morning.
In Nashville, LaPierre gave the impression that he was merely a concerned father, albeit one who supports broader gun rights. "We will continue to support what will work to make our children and our families safer," LaPierre said, because "when it comes to keeping our kids safe at school, nothing else matters."
The tonal dissonance between what LaPierre wrote on Wednesday, and what he said on Thursday, reflects a debate within the NRA over how to communicate the powerful gun lobby's message to two very different audiences.
National horror over the Sandy Hook massacre -- and a disastrous public response to LaPierre's first press conference after the shooting -- demanded that the NRA adopt a measured tone, or risk alienating mainstream America. The new gentler NRA was first on view during a Senate Judiciary Committee hearing earlier this month, where LaPierre argued that gun control measures may sound "reasonable," but would never work and should therefore be scrapped.
While LaPierre tries to appeal to the political center, the NRA faces a legislative crisis. Public support for gun control has grown since Sandy Hook, and lawmakers on Capitol Hill need to be reminded of the NRA's influence, and its core membership of nearly 5 million potential voters. For this, the NRA needs to rally its smaller base of politically active gun owners, who statistically tend to be conservative, male, Christian, and white. In many ways, LaPierre's op-ed this week -- with its racial undertones and call to arms -- was tailor-made for this core membership.
Back at NRA headquarters in Virginia, two advertising firms have been retained to help craft the messages. For the more incendiary spots directed at the politically active base, the NRA has relied on its longtime advertising firm, Oklahoma-based Ackerman McQueen.
OnMessage's unique style was represented in a Web ad the NRA released Tuesday, ahead of the State of the Union address, which used Obama administration internal documents to suggest that Justice Department officials doubt whether gun control works.
Before You Go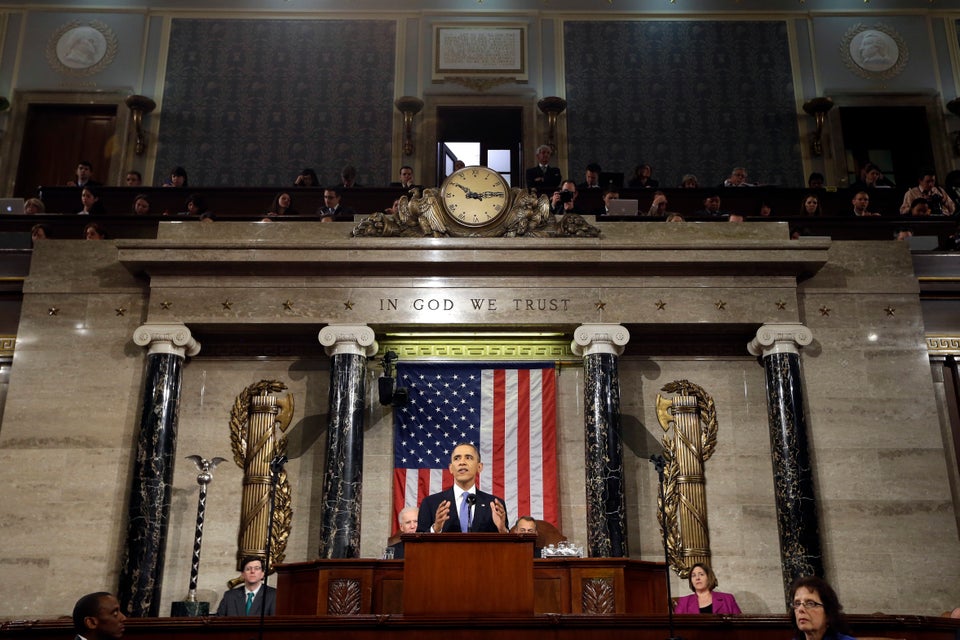 State Of The Union 2013
Popular in the Community