The National Rifle Association -- recognizing negative long-term trends in hunting and gun ownership -- is betting heavily on the participation of military personnel to sustain its future. Last year the organization unveiled its "Life of Duty" sponsored membership program.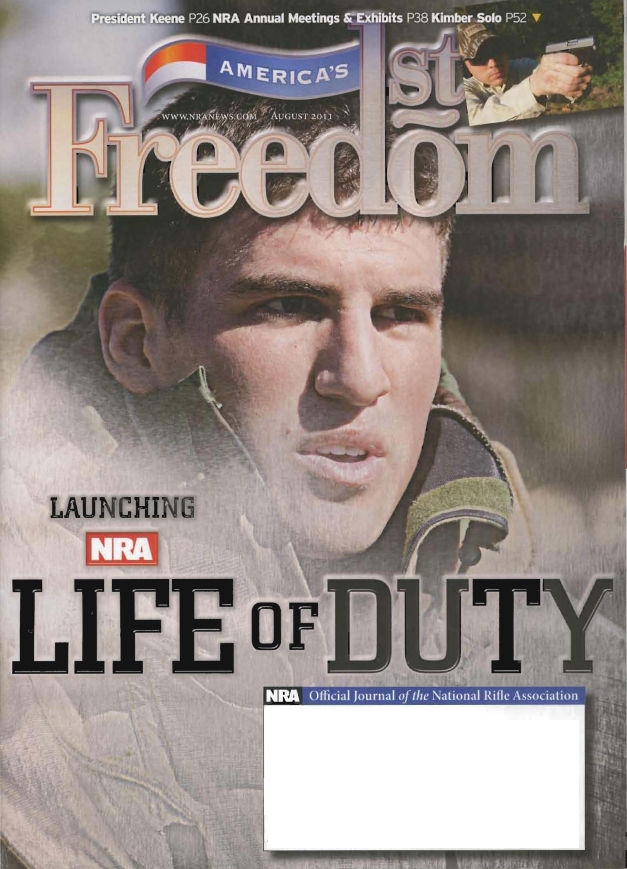 This new membership marketing push -- funded apparently in large part by members of the gun industry -- offers a potpourri of publications, videos, articles, gun-related doo-dad discounts, and insurance products "to help the NRA's mission of honoring, embracing and supporting America's true heroes in the military and law enforcement who fight daily for our freedoms and our American way of life."
Coinciding with the NRA's efforts to latch onto America's soldiers is a stunning increase in the incidence of gun suicide in the military. Last week, the Army issued a new study documenting the problem of suicide in the armed forces. According to the study:
The active duty Army suicide rate steadily increased between CY2004 and CY2009 from approximately 9.6 per 100,000 to 21.9 per 100,000... surpassing the demographically adjusted national suicide rate for the first time in CY2008... Although the Army active duty rate has slowed since CY2009, suicides have continued to increase with a projected high of approximately 24.1 per 100,000 for CY2011.
Most of these suicides -- 68 percent -- were completed with gun. This compares to approximately 51 percent suicides involving a gun in the civilian population.
Last week, General Peter Chiarelli, the Army's Vice Chief of Staff and the officer who heads the Army's efforts to reduce suicide among its soldiers, told CNN:
A majority of them (suicides) have two things in common, alcohol and a gun. That's just the way it is... And when you have somebody that you in fact feel is high risk, I don't believe it's unreasonable to tell that individual that it would not be a good idea to have a weapon around the house.
Not unreasonable, unless, of course, you're the NRA.

Although the NRA like to wrap itself in the flag of others' valor while professing to look out for the best interests of U.S. military personnel, its concern evaporates when a soldiers' health butts up against the chance to sell just one more gun.
Despite the fact that 48 percent of military suicides in 2010 were committed with personal firearms, last year the NRA rammed through a new federal law prohibiting military commanders from being able to "collect or record any information" regarding the personal firearms held by U.S. troops living off base.
In an interview with the Christian Science Monitor, General Chiarelli expressed concern that the NRA gag law interferes with commanders' ability to have important discussions with soldiers about weapons and personal safety.
The article cited a Center for a New American Security policy brief that found that:

[A]lthough only 1 percent of Americans have served during the current wars in Iraq and Afghanistan, former service members represent 20 percent of suicides in the United States.
This sad and life-threatening situation is just the latest evidence than when faced with the choice of public safety or increasing the profits of firearm manufacturers, the NRA will always choose their patrons in the gun industry -- even when the lives placed at risk are those of U.S. military personnel.
Or that of any other American for that matter.

Calling all HuffPost superfans!
Sign up for membership to become a founding member and help shape HuffPost's next chapter